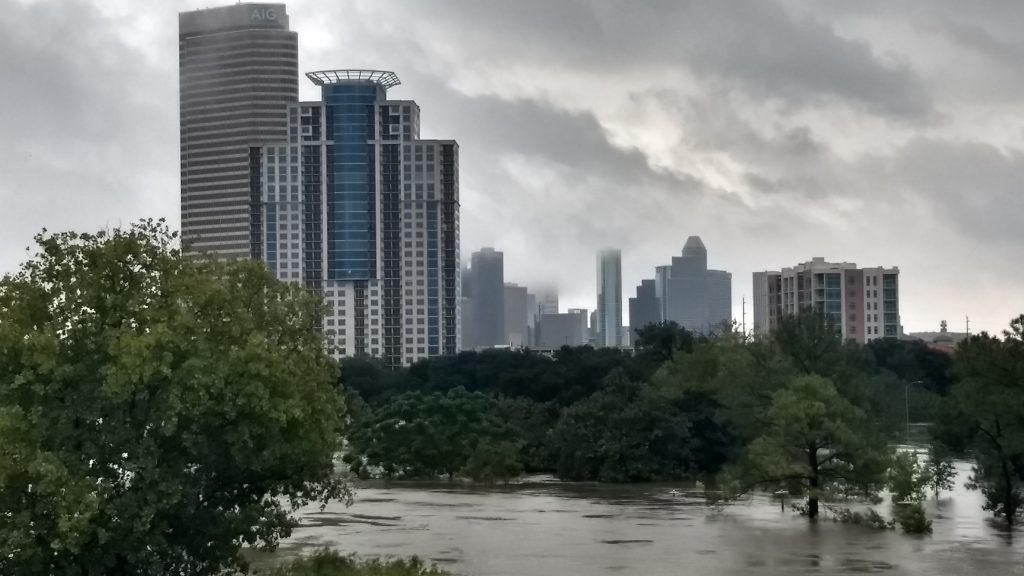 Houston's mayor has insisted that America's fourth-largest city is "open for business", but with areas under water, people not yet in their homes, and billions in damage to repair, major disasters that Hurricane Harvey created are by no means resolved.
Sylvester Turner said much of the city was hoping to get back on track after Labor Day.
"Anyone who was planning on a conference or a convention or a sporting event or a concert coming to this city, you can still come," he told CBS. "We can do multiple things at the same time."
One concern – of further explosions at a damaged chemical plant – eased after officials carried out a controlled burning of highly unstable compounds at the Arkema plant in Crosby on Sunday evening. Three trailers had previously caught fire after Harvey's floodwater knocked out generators.
Authorities said they would keep monitoring the air, and people living within a mile and a half of the site outside Houston are still unable to return home.
Floodwater has also inundated at least five toxic waste Superfund sites near Houston though Environmental Protection Agency officials have yet to assess the full extent of the damage.
Texas Governor Greg Abbott told CNN the EPA is "working on some of them already", but "they have restraints on their ability to check out some of them just simply because of the water".
Mayor Turner said Houston's drinking water had not been affected by the storm, but told CBS: "We would hope that the EPA would be on the ground now to take a look at those Superfund sites, to make sure that contamination is contained and limited."
Other issues across the region are too much water still in houses, but no water to drink.
Utility crews went door-to-door on Sunday, shutting off power and warning those still in some waterlogged homes in western parts of the city that more flooding was possible – not from rain, but from releases of water from overtaxed reservoirs.
Thousands of Houston dwellings were under mandatory evacuation orders, though about 300 people were thought to be refusing to leave.
People briefly returned on Sunday to some homes in the area, including brick two-storey and ranch homes bordering Buffalo Bayou, to try to salvage valuables.
More than a week since the storm hit, the 4ft (1.2m) of water in her parents' home had receded just a foot, said Karen Mace. She was trying to retrieve family photos from the one-storey ranch her parents built and have lived in for 56 years, which backs up to Buffalo Bayou.
"It came up fast. They had to get out by canoe," Ms Mace said, adding that they thought the home would have to be demolished.
Harvey slammed into Texas on August 25 as a Category 4 hurricane, but brought the worst flooding to Houston and other areas as a tropical storm. The rain totalled nearly 52in (1.3m) in some spots, and the storm has been blamed for at least 44 deaths.
In other storm-ravaged neighbourhoods, people worried about thefts.
Police in the south-west Bellaire area received reports of scavengers picking through water-damaged possessions and urged those cleaning up to keep anything left outside to dry closer to their homes and separate from what was considered a total loss. In the suburb of Dickinson, one home-owner used orange spray paint on a sheet of dirty plywood to warn "Looters Will B Shot".
Meanwhile, repairs continued on the water treatment plant in Beaumont, about 85 miles (137km) from Houston, which failed after the swollen Neches River inundated the main intake system and backup pumps halted.
And outside the town of Liberty, about 45 miles (72km) from Houston, dozens of people were still cut off by the swollen Trinity River. A Texas National Guard helicopter landed at the local fire department with pallets of drinking water.
President Donald Trump has asked Congress for a 7.9 billion US dollars (£6.1 billion) down payment towards Harvey relief and recovery efforts. Governor Abbott suggested the cost of recovery could be as much as 180 billion US dollars (£138.9 billion).