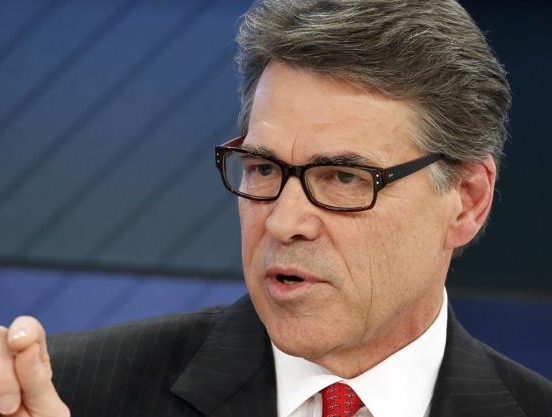 Russia and its nuclear power company, Rosatom, have inked deals this year to develop nuclear plants in Bangladesh, Argentina, Congo and Mongolia. China is working on projects in the United Kingdom and Pakistan. South Korea, Japan and France also are seeking to export nuclear power technology to developing nations hungry for energy.
The increasing activity around nuclear energy is adding to the pressure on the Trump administration and Energy Secretary Rick Perry as they try to revive a U.S. nuclear industry that has not built reactors with any regularity in decades and pursue their policy of American "energy dominance." With demand for nuclear power rising in the developing world, U.S. rivals are competing for contracts that are not only expected to generate large returns, but also offer the chance to control what is expected to be a major source of energy as the global economy grows and governments clamp down on carbon emissions.
 All eyes are now on Saudi Arabia, which is expected to spend more than $80 billion on 16 nuclear power plants over the next 25 years, part of a larger effort to diversify the kingdom's oil-dependent economy. When the Saudis last summer announced plans to begin construction on the first two plants, they sought bids from companies in South Korea, China, France, Russia and Japan — but excluded the United States.
That prompted intervention from Perry and Commerce Secretary Wilbur Ross, who managed to get the U.S. manufacturer Westinghouse into the mix. Earlier this month, Perry scrapped a trip to India so he could travel to London to meet with the Saudis and discuss the terms of a non-proliferation agreement required for countries using U.S. nuclear technology. On Tuesday, Perry met with President Donald Trump and Saudi Crown Prince Mohammed bin Salman at the White House.
"The civil nuclear business has been left by the wayside," Perry said in a Senate hearing Tuesday. "We've tried to reinvest in [nuclear energy] and say, we need to lead the world in this technology."
While nuclear energy has fallen out of favor in the United States, the country remains the world's largest nuclear power producer, accounting for 30 percent of electricity generated by nuclear reactors around the world. By exporting nuclear technology, policy makers believe, the Trump administration would not only revive the moribund U.S. industry, which has built only one new reactor in past 20 years, but also provide the nation with a geopolitical advantatage,
U.S. nuclear technology means an American presence on the ground, experts say, a presence that gives the U.S. government leverage over the countries that buy the technology and need U.S. consultants to operate their nuclear reactors.
The leading competitor to the United States is Russia, which has an experienced nuclear sector developed during the heyday of the former Soviet Union. In exchange for signing with Rosatom, countries can get Russian engineers and low-interest loans backed by the Russian government, said Ian Williams, a fellow at the Center for Strategic and International Studies, a Washington think tank.
"They're making a lot of inroads into a lot of developing countries," he said. "Those contracts gives Russia huge influence in those countries, and like we've seen before, they like to use energy diplomacy."
This first appeared on the Houston Chronicle – an Energy Voice content partner. For more click here. 
Recommended for you

Europe braces for rationing risks in Russian gas showdown