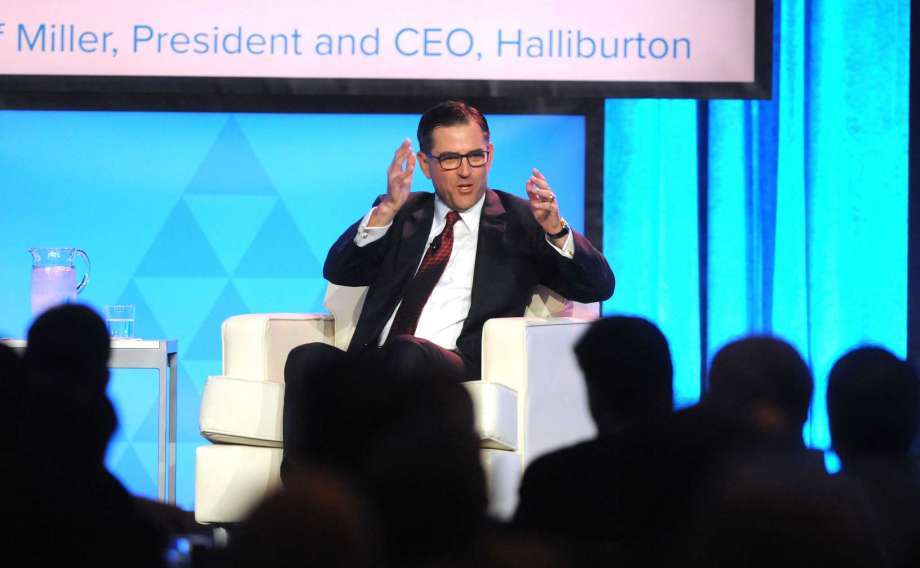 The chief executive of Halliburton has touted the Houston energy sector's rebound from the recent oil bust and the brightening outlook for the industry, predicting that the world will continue to rely on oil and gas for many decades to come.
Jeff Miller, speaking at the Greater Houston Partnership's annual State of Energy luncheon, pushed back against any arguments that the world needs to move away from fossil fuels and Houston is at risk of losing its place as the global energy capital as the role of renewable power, such as wind and solar, continues to expand.
While wind and solar are the world's fastest-growing energy sources, they're still a small portion of the global mix, with renewables accounting for less than 15 percent of global energy consumption — even when including hydroelectricity. Miller doesn't see oil and gas losing much ground, despite the push to combat climate change by replacing fossil fuels with renewable energy.
Growing global energy demand makes a world powered by renewables a distant goal, he said.
"I think economics sort of trumps aspiration," Miller said. "Nothing is more abundant, affordable and effective than oil and gas."
How quickly the world's reliance on fossil fuels will begin to wane remains a subject of debate, however. The European oil major Royal Dutch Shell projects global oil demand will peak as early as 2025 as electric cars and other non-polluting technologies advance. Others predict oil demand won't peak until 2040 or later.
Some companies are betting that growing energy demand will be met by cleaner-burning natural gas. But others, such Norway's Equinor, formerly Statoil, are investing heavily in offshore wind projects and other renewables.
Miller just completed his first year heading the Houston-based oilfield services company, which is the leader in the hydraulic fracturing, or fracking, market in North America. The company will celebrate its 100th anniversary in 2019.
Halliburton is back to turning a profit this year, following a long string of losses in the wake of the oil crash that started in 2014 and reached bottom in 2016. Halliburton earned $46 million in the first quarter.
"I'm constructive right now. We're coming off the heels of an awful downturn — really the worst we've ever had," Miller said,. "The right things are happening."
The U.S. onshore sector is booming, especially in West Texas' Permian Basin. The growth there is so rapid Halliburton is hiring 200 people per month. Miller warned against predicting any demise in U.S. oil and gas production in the future.
"The mistake that gets made is we underestimate the creativity and drive of North American operators," he said.
While the U.S. has driven global oil production growth for the past year or so, Miller said there's growing optimism in international markets. The Middle East remains resilient and drilling in the North Sea is starting to pick back up again, Miller said. He added he's especially encouraged that the U.S. shale drilling techniques are being replicated in Argentina, which may be on the verge of a boom.
Both Mexico and Brazil are expected to increase oil and gas production as they welcome foreign investment, Miller said. Mexico recently ended the nearly 80-year monopoly of its state-owned oil company Pemex, while Brazil recently began allowing international companies to lead drilling operations in its deep waters.
This article first appeared on the Houston Chronicle – an Energy Voice content partner. For more from the Houston Chronicle click here.
Recommended for you

India can do more on climate by 2030 even as it snubs net-zero