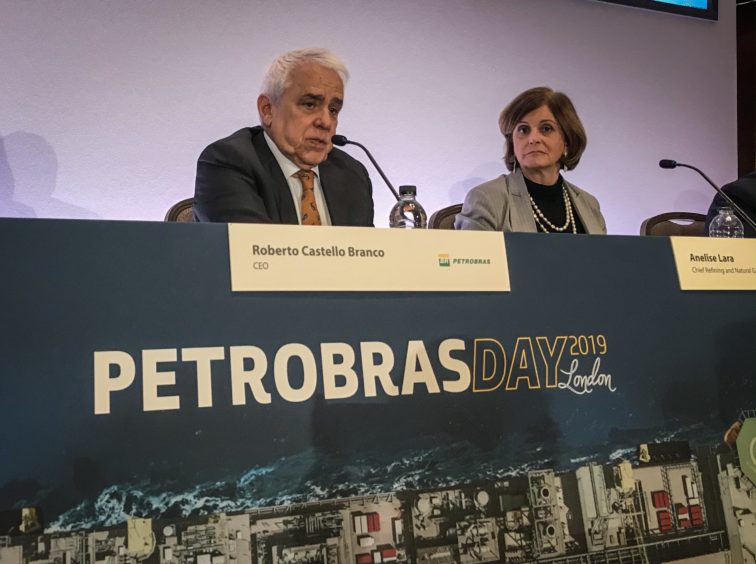 Petrobras is in a state of transformation, company officials said at a press conference in London, with an eye on selling down assets and tackling debt – in tandem with major expansion plans.
The company has managed to reduce its debt load by $21 billion over the last nine months, with the aim of reaching $60bn in 2021. At this point, it intends to maintain its debt level and pivot to a new dividend policy, which will provide greater rewards to shareholders. The company is focused on a new quest for value, rather than growth for its own sake. As with all state-owned companies, though, Petrobras faces challenges in how to navigate the various drivers propelling its strategies.
Asset sales
Playing a major part in its debt reduction plans are asset sales. Petrobras' CEO Roberto Castello Branco, who took over the role in January, said there was strong appetite for the company's assets. "Non-binding offers were received a couple of weeks ago for the first four refineries and the offers were very good, with binding offers expected. It's been very positive. There remains demand for infrastructure, as seen by the sale of gas pipelines, which surprised on the upside," Branco said, as did the sale of the LPG distribution unit.
The company is benefiting from improved confidence from global investors in Brazil, where macroeconomic plans are focused on regaining fiscal responsibility, the executive said.
"We are not in the business of building refineries, we are in the business of selling refineries," Branco continued, in reference to the Comperj refinery plan with China National Petroleum Corp. (CNPC). "CNPC will be welcome to partner with us in other plans, not in the building of refineries."
Petrobras has already sold 65 mature fields, in the onshore and shallow waters, and the company plans to remove itself from this area entirely by the end of 2020. It will focus instead on deep and ultra-deepwater production.
Mature fields are not appealing to Petrobras, as productivity is low and lifting costs relatively high, when compared with its offshore options. "[Mature fields] are of low value to us but to small companies, focused on small assets with technology, they are willing to pay a much higher price than our internal valuation. A byproduct of this is that it creates a new oil industry in Brazil of small and medium-sized players – there will be a more diverse and vibrant oil industry in the future."
The company is also selling off overseas upstream stakes, including its stakes in three major Nigerian oilfields: Agbami, Egina and Akpo. A deal was struck on this sale in October 2018 but two of the three buyers subsequently pulled out, leaving Africa Oil to go it alone. Branco said Petrobras was dealing with Africa Oil and the Nigerian authorities and expected to have the transaction completed this month.
Another asset Petrobras is keen to sell down is its holding in petrochemical unit Braskem. Branco was dissatisfied with the pace of change from co-owner Odebrecht, which had said a sale would take three years. "We understand this as a signal [from Odebrecht] that it doesn't want to sell anything. We disagree." A sale should be completed within 12 months, the CEO said, spelling out December 2020. A plan to wait three years is "the intention of someone who has no intention".
Output
Rystad Energy recently suggested Petrobras could be one of the world's largest listed producers by 2030, with nearly 3.8 million barrels per day of output, driving Brazil's total volumes to more than 5.5mn bpd.
Petrobras' head of exploration Alberto Pereira de Oliveira said the company did not make projections that far out, aiming for 3.5mn barrels of oil equivalent per day by 2024, with the recently acquired Buzios likely to play a key role in the company's expansion.
Petrobras gained the right to produce more oil from the Buzios field in an auction in early November. This field will play a particularly important role in the company's expansion, with plans for up to seven floating production, storage and offloading (FPSO) vessels. Four FPSOs are currently producing from Buzios and another is to be installed in 2022, de Oliveira said. The field "aggregates a lot of value" for the company, the executive said, with no plans to reduce its equity further in the area.
In terms of the model of future FPSO holdings, de Oliveira appeared relaxed. It will be assessed on a case-by-case basis, he said, with Petrobras keen to drive competition among suppliers. "It's not just a question of own or lease, each project is considered by itself."
The focus for the company is to "add value for the shareholder, not just production", Petrobras' CFO Andrea Marques de Almeida said.
New markets
In recent years, while Petrobras has scaled back its international footprint in the upstream, it has seen new opportunities emerge for exports.
The company chalked up significant losses through its move into the US, Branco noted, with an "oversized" office in Houston. Petrobras now maintains a trading office there. A major new market is Asia, where there has been growth for the last 20 years, the CEO said. Petrobras has storage assets in Singapore in order to chase this opening, particularly around the changing fuel standards for shipping.
"China is a large market for our oil and we have more than 30 private sector clients there. It is also the supplier of equipment to us, so we have a lot of trade with China," Branco said. Petrobras has a group in Singapore, focused on bunker fuel trading, with new demand for fuels compliant with the International Maritime Organisation (IMO) 2020 standards offering an opportunity. As one demonstration of the company's interest in the region, executives said it planned to hold an investor relations event in the area – in Shanghai or Hong Kong – in 2020, in addition to New York and London.
Around 75% of production from the Lula field goes to China, Petrobras' head of refining Anelise Lara said, describing it as a "champion" there, while Buzios is also well received. "Our intention is to increase this trading with China and Southeast Asian countries, but we are also receiving more interest from the US and Europe due to the IMO 2020 requirements."
Domestic responsibilities
Petrobras, as a state-owned company, has number of responsibilities it must shoulder, beyond simply generating cash. While Branco took care to highlight the importance of value, the company also has a social aspect that it cannot avoid – as demonstrated by its response to the oil spill in northeast Brazil.
"We're co-operating with the government and we've collected more than 30 samples of the oil and analysed it, they all have the same origin of three fields in Venezuela," Branco said. Petrobras has taken action in order to remedy the problems caused by the spill, hiring more than 1,000 people, deploying drones, ships and helicopters, while also donating equipment to help clean beaches, the CEO said.
"The spill was a very serious and unprecedented environmental incident on our beautiful beaches," he continued, "it was a crime. Who committed this crime is still unknown. The Brazilian navy and federal police, helped by international institutions, are actively looking for the author of this aggression to our beaches."