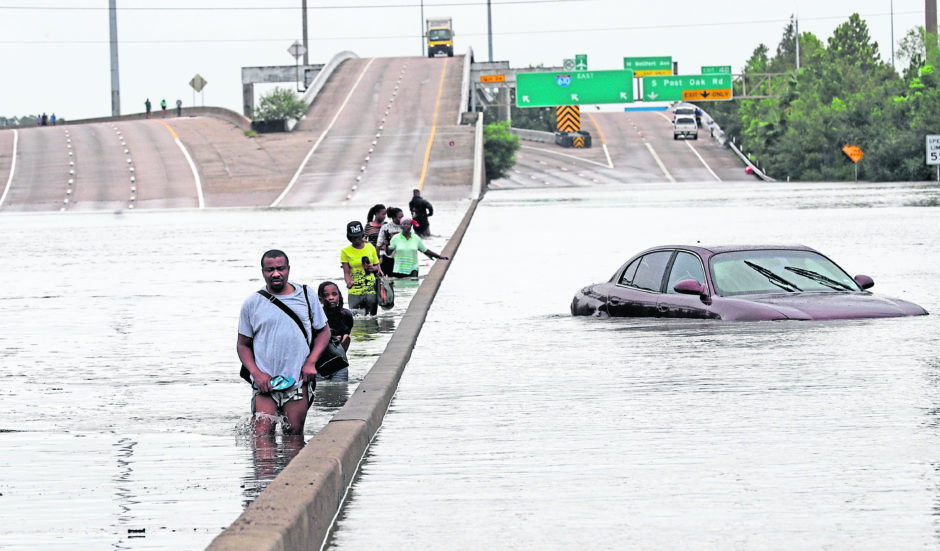 Most people whose home and business were swept away by a hurricane would be stopped dead in their tracks, consumed by the disaster.
Yet Katie Mehnert, chief executive and founder of Houston-based Pink Petro, isn't someone who lets life brush her aside.
Working for BP in 2013, a long-haul flight from London to Texas would see her create the female advocacy group after she was quizzed by a man about why, as a woman, she wasn't at home looking after her child?
"At one point he asked what I did and I told him I worked in the oil and gas industry. He said: 'What is a pretty young lady like you doing in a dangerous business like that?' she said.
"It was in that moment that I realised that I had to do something to fix this."
Pink Petro, now representing more than 17,000 women and men across 120 countries, will celebrate its fifth birthday this month.
Not even Hurricane Harvey could halt its evolution.
The episode still haunts Mehnert and the knowledge that she too could've been taken when the brown river water rose and snatched her house, just one more trophy on its trail of disaster.
Mehnert, who soon left BP after that fateful transatlantic flight in 2013, also had to contend with launching Pink Petro in the midst of the global oil downturn – yet she quickly signed up Halliburton and then Shell.
She said: "It really mushroomed from there. And this was all  happening as oil prices were sinking and budgets were freezing up. Despite volatility in the market and losing my home and business in 2017 due to Hurricane Harvey, we're thriving.
"Our mission is to tell the story of women and to change mindsets by giving them different experiences to get them to think differently."
Pink Petro is a global community and career resource aimed at disrupting the gender gap in energy.
Today it represents around 500 companies in oil and gas, power and utilities, and renewable energy.
The CEO's background in health and safety with BP and Shell has informed a lot of how Pink Petro operates.
Women are strongly encouraged to speak up if they witness  something harmful or dangerous where they work, just as they would if they saw something unsafe in the workplace.
Mehnert said: "Because it's a high-hazards industry, and we've been very focused on the safety of our people, I like to believe that the energy industry has created that space where people can speak up about things that aren't right.
"One of the things Pink Petro has always promoted is transparency and having an open and honest  discussion about issues."
The World Economic Forum estimates women will have to wait another 200 years for gender equality.
To Mehnert, the energy sector doesn't have that sort of time, she believes the story needs to be told correctly about the industry  alongside women's place within it, particularly as it transitions.
She said: "I come at this problem from a more immediate perspective.
"If we want a green economy and move away from a fossil fuel-based economy we're going to need diversity and inclusion to be the secret ingredient.
"We don't have 200 years."
Mehnert claims oil firms must look at the "socialisation of these entities through a different lens", even suggesting that firms employ climate activists to understand the scale of the problem.
She said: "We can't solve this without people.
"We need these young people to help us solve these challenges because we've done a poor job of communicating our value as an industry."
With the energy industry ranking second last of all the major
industries on gender diversity, Mehnert similarly believes that creating greater opportunities for women must also come from a "reaching out" by men.
She said: "We know men are often more confident than women when going for those bigger jobs, but we need men to also look for that in women to make those opportunities happen.
"Women need male advocates. This is a real opportunity for men."