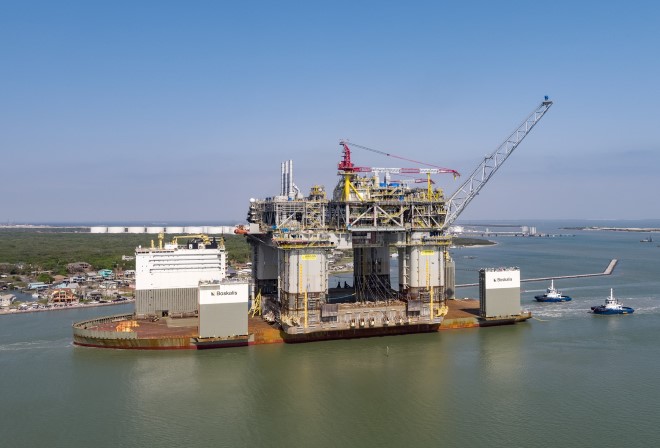 The Argos platform for the BP-operated $9 billion Mad Dog 2 project has arrived in the US after completing its 16,000-mile journey from South Korea.
BP said the arrival of the semi-submersible at Kiewit's yard in Ingleside, Texas, was a milestone towards the completion of the project.
It will support about 800 jobs during the work in Ingleside and about 250 jobs once in operation.
Argos will be the company's fifth operated platform in the Gulf of Mexico – and the first new platform since Thunder Horse began production in 2008.
It will provide BP with growth potential and an estimated 25% increase in production capacity in the region.
Gordon Birrell, executive vice president, production and operations, said: "When Argos is fully in place, Mad Dog 2 will be set to deliver resilient barrels from one of the most prolific basins in the world, strengthening our position in the Gulf for years to come."
Construction of the 60,000-ton platform – with a deck the length and width of an American football field – began in March 2018 at Samsung Heavy Industries shipyard in South Korea.
It was transported to Texas over the past 60+ days onboard the Boskalis BOKA Vanguard heavy transport vessel.
While in Texas, Argos will undergo final preparatory work and regulatory inspections before heading offshore.
Starlee Sykes, senior vice president, Gulf of Mexico and Canada, said: "This project illustrates the innovative and collaborative spirit of BP at its best.
"Our team consistently puts safety at the heart of everything we do, and the work on Argos has been no exception – notably throughout a global pandemic.
"We continue to successfully deliver world class projects, and I could not be prouder of everyone who has played a part in achieving this exciting milestone."
Following work at Kiewit, Argos will be towed to its offshore home in the Gulf of Mexico, and will be installed about six miles from the original Mad Dog spar, about 190 miles south of New Orleans, where it will operate in 4,500 feet of water.
At peak, the facility will produce up to 140,000 barrels of oil equivalent per day (boe/d) through a subsea production system from 14 production wells.
Start-up of Mad Dog 2 is projected for the second quarter of 2022.
BP discovered the Mad Dog field in 1998 and began production there with its first platform in 2005.
Continued appraisal drilling in the field has more than doubled the resource estimate of the Mad Dog field to more than 5 billion barrels of oil equivalent, requiring the need for another platform at the super-giant field.
BP has a 60.5% working interest in the field, BHP has 23.9% and Chevron has 15.6%.