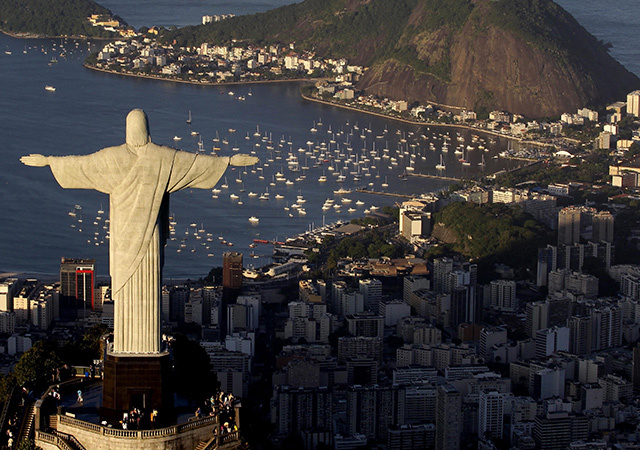 Petroleo Brasileiro SA is boosting fuel prices as Brazilian President Dilma Rousseff gives the state-run producer some relief from inflation-fighting policies and the lowest oil prices in four years. Shares gained.
The Rio de Janeiro-based company known as Petrobras was scheduled to raise its subsidized refinery gate prices for gasoline by 3 percent and diesel by 5 percent at midnight local time, it said yesterday in a regulatory filing.
Petrobras booked more than $44 billion in operating losses mainly from selling fuel at below-market prices during Rousseff's first term and became the world's most indebted producer. It was granted permission to raise fuel prices even after crude's 25 percent plunge this year brought them more into line with international benchmarks. The decision comes after Rousseff won re-election by the narrowest margin in Brazil's history and the central bank raised interest rates sooner than expected last week.
"Rousseff has been very unkind to this company, it's a step in the right direction," Robbert van Batenburg, director of market strategy at Newedge USA LLC, said in a phone interview from New York. "They needed it, look at the stock."
Shares rose 3.3 percent to 14.52 reais at 2:53 p.m. in Sao Paulo. Earlier today, the stock fell as much as 3.8 percent as Brazil's currency fell to a nine-year low signaling more expensive fuel imports and Brent oil headed for a seventh straight weekly drop amid the U.S. shale boom.
Petrobras is the worst performing major oil company in the past four years losing 60 percent in dollars, data compiled by Bloomberg show.
The "counterintuitive" measure to increase fuel prices for the first time in a year just as the discount to global benchmarks narrows, "does nothing to improve investor confidence in the company's commitment to a pricing policy," Itau BBA Paula Kovarsky wrote in a note to clients.
Management received support from Finance Minister Guido Mantega at a Nov. 4 board meeting to raise fuel prices, without setting a date or an amount, said a person familiar with the matter. The company presented charts during the meeting based on an eight percent increase, the person said.
At the previous month's board meeting, Chief Executive Officer Maria das Gracas Foster said the company needs at least a 10 percent increase in fuel prices, a person with knowledge of the matter said at the time.
The board reconvened this week after suspending an Oct. 31 meeting in which it failed to reach a decision on a proposal to dismiss an executive cited in a money-laundering and bribery investigation that has put Rousseff, who was Petrobras chairwoman from 2003 to 2010, on the defensive.
Sergio Machado, head of the producer's transport unit Transpetro, said Nov. 3 that he will take 31 days unpaid leave. That followed a refusal by auditor PricewaterhouseCoopers to sign off on the company's quarterly results bearing his signature, said two people with knowledge of the issue. Machado said he's done nothing wrong and called the allegations absurd.
In a separate filing, Petrobras said its board will meet Nov. 14 to approve earnings and denied PwC rejected the results. PwC said in an e-mailed response that it can't comment on clients. The three-year audit contract ends Dec. 31.
Grupo BTG Pactual reduced its 2015 earnings estimate for Petrobras by 14 percent, citing weaker currency and lower oil prices in a note to clients today.
"The new conditions make us see less of a chance that Petrobras' balance sheet improves," BTG analysts including Gustavo Gattass wrote. "As such, we've raised our chances for a capital increase in 24 months to 80 percent from 70 percent."
Recommended for you

Italy mulls support for fossil fuels despite climate promise