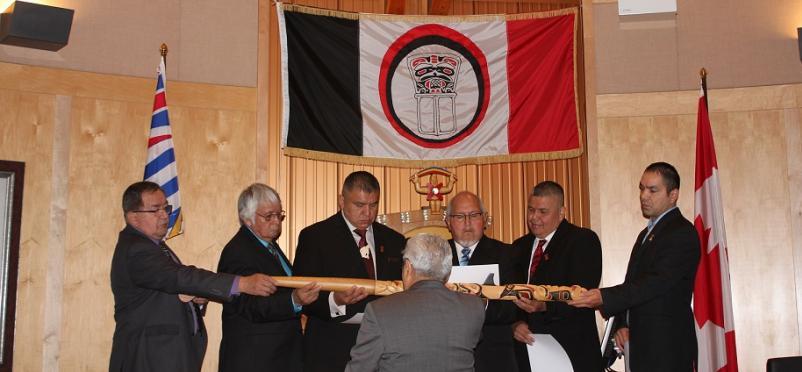 A new floating LNG (FLNG) export plan is taking shape off Canada's west coast, with an eye on achieving net zero.
The Ksi Lisims LNG project aims to reach commissioning in late 2027 or early 2028. It will produce 12 million tonnes per year at peak. Feedgas will be 1.7-2 billion cubic feet per day.
The Nisga'a nation, Rockies LNG and Western LNG are backing the project, in British Columbia.
Local needs
A Rockies LNG representative, Janet Annesley, said while there was a desire to move ahead, it was "most important to do it right. If you don't do engagement right, you can run into all sorts of issues."
Annesley went on to note the importance of having a First Nation, the Nisga'a, on board with the project. "The next step is engagement with First Nations communities," she said, and with regulators on scoping the environmental process for the facility. It will follow with commercial agreements.
However, the land claims are not entirely straightforward. The Lax Kw'alaams Band and Metlakatla First Nation assert claims to the island and waters, while Kitsumkalum and Kitselas claim marine waters.
The BC regulator approved an initial project description and engagement plan for Ksi Lisims LNG on July 16. This starts the early engagement phase of the environmental assessment process.
It will launch a 45-day public engagement and comment period shortly.
Concerns are likely to focus on the potential for offshore pollution. The plans cite an instance in 2014 when a Russian ship, the Simushir, lost power during a storm. A crisis was narrowly averted.
"I believe that, done properly, in a way that respects our rights, our culture and our environment, a successful LNG project can help lift our Nation to new heights. But to get there, a lot of hard work is still ahead of us, work that we can only do together as a Nation for this and future generations of Nisga'a," president of the First Nation, Eva Clayton said.
Carbon counting
"The project is very well positioned for low carbon production. From well to vessel, we're aiming to have among the lowest LNG intensity rate of any project in the world," Annesley said.
The Montney shale will provide gas for Kis Lisims LNG, with Annesley noting the low emissions from the basin. Local hydropower generation will drive the liquefaction work, although there will also be gas-fired generation as backup.
The project will "pull some other levers, including carbon credits, to achieve net zero", she said. It is considering carbon capture and storage (CCS).
Rockies LNG's Annesley said "low carbon LNG" was an attractive feature of Canadian exports.
"Future projects have to fit in climate frameworks. We see that from customers, they're concerned and looking at emissions. Any energy project today has to understand how it will compete in a carbon-constrained world," she said.
The province of BC instituted legislation in 2014 requiring facilities meet an emissions benchmark of 0.16 tonnes of CO2 equivalent for each tonne of LNG.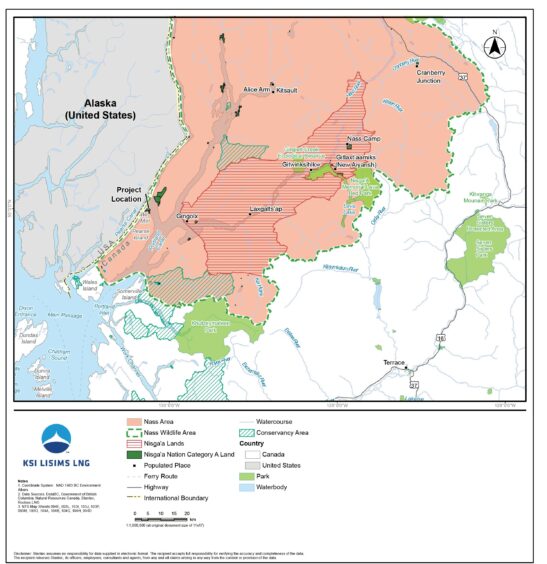 The Nisga'a nation signalled its support for BC's gas industry early on. The First Nation struck a benefits agreement with Prince Rupert Gas Transmission (PRGT) in 2014.
A statement at the time said it was also seeking investors to work with it on an LNG project. It would use capacity from the PRGT.
However, Malaysia's Petronas pulled the plug on the Pacific Northwest LNG project, which the pipeline was to feed, in 2017. The Malaysian-backed plan was around 75 km to the south of Pearse Island, where Ksi Lisims LNG will be sited.
PRGT's construction permits are valid until 2024, while Enbridge's West Coast Gas Transmission project is also an option.
Floating plans
Houston-based Western LNG had not responded to queries on the Ksi Lisims LNG plan at the time of going to press. The company has developed projects before, getting so far as commissioning a front-end engineering and design (FEED) study from Wison for an FLNG plan.
The plan for Ksi Lisims LNG consists of two or three FLNG modules, according to documents filed with the BC authorities.
Rockies LNG is made up of seven gas producers: Advantage Energy, ARC Resources, Birchcliff Energy, Bonavista Energy, NuVista Energy, Paramount Resources and Peyto Exploration and Development.
FLNG is a still largely under explored option for liquefaction. There have been some successes, offshore Cameroon and Malaysia for instance. However, Shell's major Prelude LNG plan off Australia has suffered a number of setbacks.
Ksi Lisims LNG will be in shallow water with the modules next to the shore. It will have more similarities with projects such as another proposed plan in BC, Cedar LNG.
A First Nation, the Haisla, who are being consulted as part of Ksi Lisims LNG, back Cedar LNG. This is a smaller project, at 3mn tpy, which is also aiming for low-carbon production.
Recommended for you

Delta gets environmental nod for Vietnam LNG-to-power project