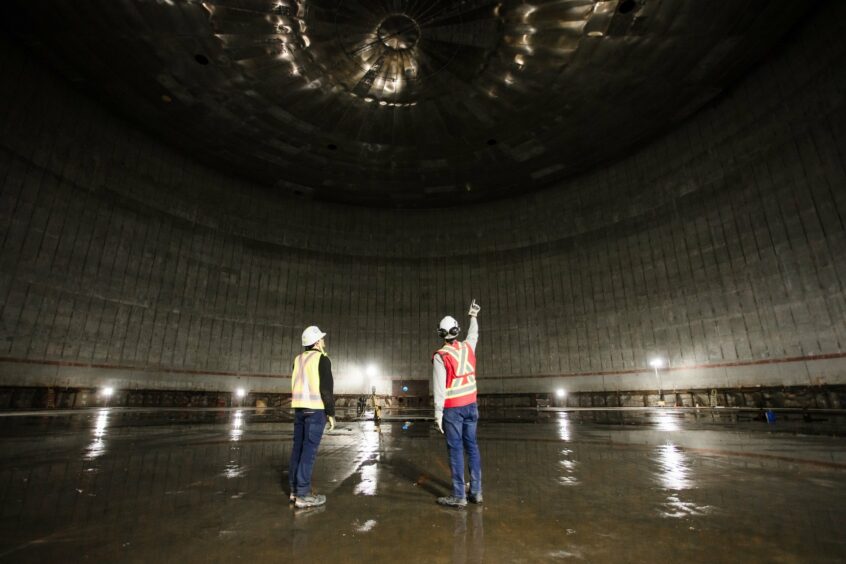 LNG Canada has raised the roof at its LNG storage tank, which will be one of the largest in the world.
The company reported the circular roof weighs 1,540 tonnes and is 56 metres off the ground, covering 7,000 square metres. The tank will have 225,000 cubic metres of storage once completed.
It is the largest tank in North America, and the second largest in the world, officials said.
Contractors raised the roof using two blowers, using low pressure. LNG Canada said the roof was raised from ground level using fans at just 22 millibars – less than one-one hundredth of a car tyre.
The roof's diameter made the move possible, as it spans 92 metres. Raising the roof into place took two hours and 20 minutes.
First, the team raised the roof a couple of metres in order to ensure the pressure seals were working correctly.
A team of 30 welders and 25 boilermakers secured it, once it had reached the top. Once it was secured, the air pressure was released.
"This is a very complex project, with multiple work scopes and contractors," Naman Maheshwari, the LNG tank project lead said. "The tank is now roughly 40% finished," says Maheshwari. "The critical path now moves from civil works to mechanical, and provides the opportunity to open more work fronts inside the tank."
Planning ahead
Contractors will go on to encase the roof in concrete. Other work includes the installation of an inner tank, of 9% alloy steel.
LNG Canada CEO Peter Zebedee noted the progress made on the project. The company received its first main cryogenic heat exchanger in June, with a first module due in the autumn.
Vinci Construction won engineering, procurement and construction (EPC) work on the LNG Canada tank in July 2019. It reported the work was worth C$400 million ($317mn).
Primary contractor on the LNG Canada project is a joint venture of JGC Fluor.
While progress is moving ahead, LNG Canada has raised concerns about its pipeline. TC Energy, which is building the link, has increased cost estimates and also asked for more time, Zebedee warned in June.
The company has set 2025 as its target for first gas.