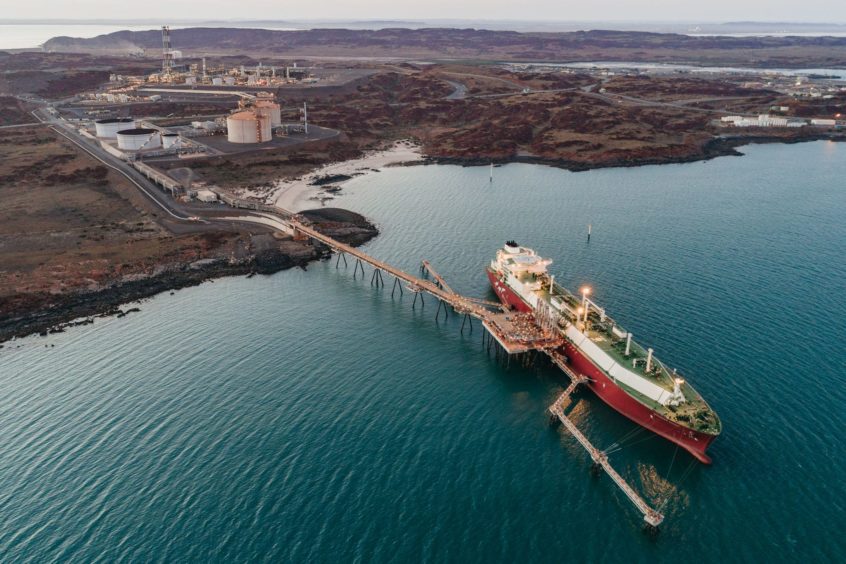 Looming wave of final investment decisions (FIDs) will provide massive boost for offshore oilfield service sector in Southeast Asia
A wave of major project approvals is expected this year in Asia Pacific. As much as $35 billion of new development expenditure and 4.6 billion barrels oil equivalent (boe) of resources could be approved in 2020, predicts Wood Mackenzie. This compares with only $5.5 billion and 1.2 billion boe of new projects getting the go-ahead in 2019, data from the energy research company shows.
Australia makes up about half the investment forecast to proceed in 2020, driven by the proposed big LNG backfill projects.
David Low, senior analyst at Wood Mackenzie, said: "Barossa is closest to the line as new operator Santos looks to backfill the Darwin LNG plant. We expect Woodside to sanction Scarborough to underpin the Pluto Train 2 expansion, and Shell is set to take FID on the Crux field to backfill the Prelude FLNG facility."
Elsewhere, the other big projects in the region expected to get investment approval include Repsol's Kali Berau Dalam (KBD) in Indonesia, Petronas's Kelidang Cluster in Brunei, as well as Jadestone Energy's U Ming and Nam Du scheme in Vietnam, Andrew Harwood, Asia Pacific research director at Wood Mackenzie, told Energy Voice.
Indeed, the new wave of offshore project approvals across Southeast Asia could boost greenfield investments in the oilfield service space by almost 70% this year, estimates Rystad Energy.
The expansion will be driven by a handful of mega-projects across Malaysia, Myanmar and Vietnam that will see nearly $12 billion committed to offshore developments across Southeast Asia by 2021, said the Norwegian energy consulting company. New final investment decisions (FIDs) are expected to trigger large service contract awards in Vietnam, Indonesia and Brunei.
Established local yards, as well as major international suppliers, are set to benefit. Fixed platforms and floating units are projected to bring in more than $2.5 billion in equipment purchase commitments and over $4 billion for the construction and installation of platforms and vessels, estimates from Rystad show. This will likely be driven by large developments, such as Woodside's A6 ultra-deep water project in Myanmar, Petronas's deep-water Kelidang off Brunei, ExxonMobil's Ca Voi Xanh (Blue Whale) in Vietnamese waters and Jerun off Sarawak in Eastern Malaysia.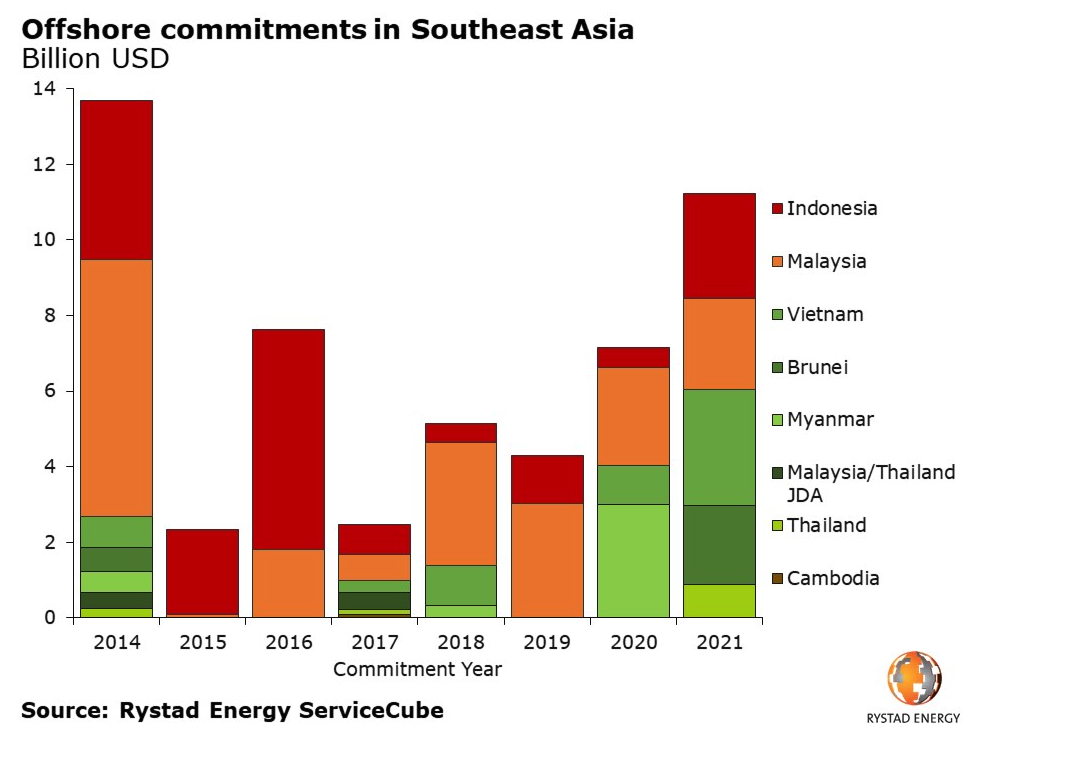 The FPSO market is also expected to get a boost with regional players, such as MISC, Yinson and Bumi Armada, positioning themselves for awards at Petronas and Shell's Limbayong field off Sabah, East Malaysia, as well as the Chevron-led Ubon scheme in Thailand and Jadestone's Nam Du development off Vietnam.
Chinmayi Teggi, an oilfield services analyst at Rystad, said: "All in all, the subsea market could see greenfield commitments worth more than $1.3 billion over the next two years, nearly double the $700 million in subsea commitments in 2019."
However, it will not all be plain sailing in 2020, cautioned Harwood. Regulatory delays, uncompetitive economics and political agendas will continue to hinder final project approvals in Southeast Asia. For instance, in Vietnam, approvals for ExxonMobil's Ca Voi Xanh and PetroVietnam's Block B could be delayed to 2H 2021, said Harwood.
Still, elsewhere there is room for more optimism. During the first quarter 2020, Malaysia's Petronas will be seeking to develop its deep-water expertise close to home through Limbayong, offshore Sabah, and the Kelidang Cluster, offshore Brunei. Given its deep-water ambitions in Mexico and Brazil, the NOC will be keen to show its proficiency in bringing similar domestic projects online, added Harwood.
Meanwhile, Myanmar's first ultra-deep water project – Woodside and Total's A6 scheme – will soon start pre-FEEED after securing a fiscal framework to underpin the field development. FEED for the A-6 development, which includes the drilling of up to 10 ultra-deep-water wells, is targeted in 2H 2020. Woodside said last month that by allowing the A-6 development to move ahead, the Myanmar government has shown that it is "open for business, commercially-minded and disciplined in its approach to attracting investment".
The potential wave of investments, particularly in Southeast Asia, bodes well for the Asian region, which is increasingly desperate for hydrocarbons as existing supplies are in decline. If the projected uptick in new investment is realised, it could signal that the downturn in activity, triggered by the 2014 oil price crash, is finally over. Crucially, it seems 2020 is shaping up to be a pivotal year for the upstream sector in Asia Pacific.
Recommended for you

$24bn subsea spend eyed in Asia Pacific over next five years