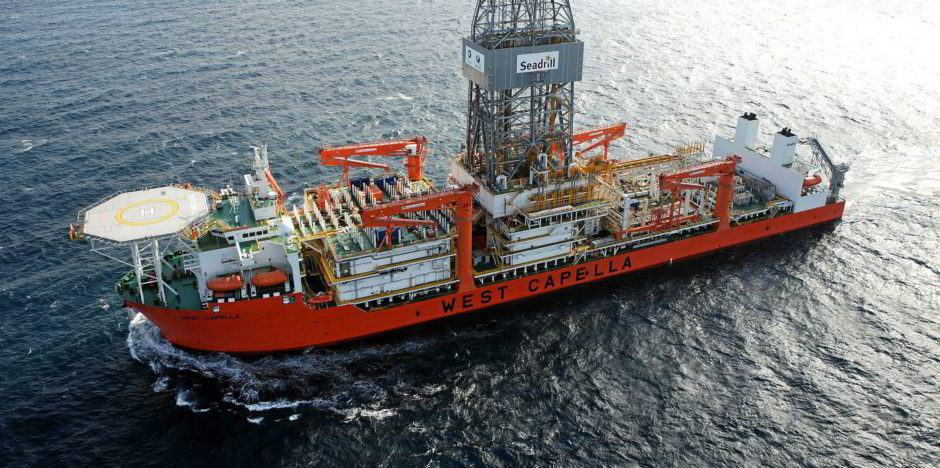 Tensions are rising in the resource-rich South China Sea following a recent standoff between Kuala Lumpur and Beijing over Malaysian oil and gas exploration.
A tense encounter around the West Capella, a drillship operated by Seadrill and contracted to Malaysian NOC Petronas, started last December, but the situation, fraught with danger, escalated dramatically with the deployment of a Chinese survey ship and its escorts in mid-April 2020.
The West Capella has been carrying out exploratory drilling off the Malaysian state of Sarawak on two prospects: Arapaima-1 in Block ND1 and Lala-1 in Block ND2. The drillship apparently completed drilling at Arapaima-1 and has been at Lala-1 since March 6, reported the Asia Maritime Transparency Initiative (AMTI). However, Chinese vessels have consistently harassed the drilling rig and its supply ships throughout March and early April, said AMTI. In response, Malaysian navy and law enforcement ships have been regularly patrolling the area to protect the rig's operations.
But the situation escalated when the Chinese state-owned survey ship Haiyang Dizhi 8 arrived in the area where the West Capella has been operating, near the outer edge of Malaysia's 200-nautical-mile exclusive economic zone (EEZ). The waters in this area are also claimed by China through its sweeping claim to most of the South China Sea within its U-shaped 'nine-dash line', which is not recognised by its neighbors or internationally by The United Nations Convention on the Law of the Sea.
Nevertheless, since mid-April, the survey ship along with its escort of multiple coastguard and militia ships has actively been surveying a swath of the Malaysian continental shelf near the West Capella, said AMTI. It has approached as close as 8.5 nautical miles from the drillship. And its track has occasionally crossed into Bruneian waters or the Joint Defined Area also claimed by Vietnam as part of its extended continental shelf. But the survey has mostly stayed within Malaysia's 200-nautical-mile EEZ, reported AMTI.
Significantly, the standoff took another turn when US naval vessels and an Australian naval ship approached the area of the West Capella on April 18, lending an escalatory geopolitical dimension to an already tense situation, wrote Euan Graham, Director, International Security at the Lowy Institute for International Policy, in his essay "U.S. Naval Standoff With China Fails to Reassure Regional Allies".
But Malaysia, the partner the US was there to help had mixed feelings about the uninvited arrival of US and Australian naval ships, said Graham. Malaysian Foreign Minister Hishammunddin Hussein issued his own statement affirming Malaysia's commitment to safeguard its interests and rights in the South China Sea. "Characteristically, Hishammuddin sought to position Malaysia in between the US and China," said Graham. Acknowledging that "international law guarantees the freedom of navigation," Hishammunddin added that the presence of warships and vessels in the South China Sea has "the potential to increase tensions that in turn may result in miscalculations which may affect peace, security and stability in the region."
Indeed, "within a few days, and without further incident, the USS America, its escorts, and the Australians quietly left the scene. China's warships withdrew around the same time," reported Graham.
"The rest of the world has since moved on, but from Malaysia's perspective, the episode is anything but over," said Graham. Indeed, the Haiyang Dizhi 8 remains active within Malaysia's EEZ, guarded by four Chinese coastguard vessels.
Ultimately, it is impossible to say exactly when and how this standoff will end, but Vietnam's experience with similar intimidation last year offers hints, said the AMTI. "The Haiyang Dizhi 8 and its Chinese coastguard escorts will most likely call off the operation when the West Capella pulls out, as they did when the Rosneft-contracted Hakuryu-5 rig finished its work off Vietnam last October," reckons the AMTI.
Documentation from Seadrill shows that Petronas has contracted the West Capella through May 2020, which means everyone is likely to head home within the next month or so, assuming its operations have not been hampered by the Chinese harassment. But "in the meantime, there will be considerable risks of an accidental collision and violent escalation," warned the AMTI.
"Beijing's apparent aim was to intimidate and disrupt Malaysia's exploration activity, coercing it and other Southeast Asian littoral states into accepting joint development with China," said Graham.
Indeed, "once the West Capella finishes its current round of drilling, Malaysia could well be tempted to accept joint offshore energy development on China's terms," reckons Graham. This could make sense, as oil and gas investors seem less likely to front up cash for future exploration and development work in disputed waters given the rising geopolitical risks.
Crucially, once Petronas wraps up drilling at the Lala-1 probe, "Southeast Asian governments and commercial operators will have to come to grips with the reality that new oil and gas exploration anywhere in the South China Sea without Beijing's permission will probably face the same level of high-risk intimidation," warns AMTI.
"Beijing is sending a clear signal to Southeast Asian states and commercial operators that any attempt to unilaterally develop new offshore projects located within China's nine-dash line will trigger a backlash," Hugo Brennan, an Asia analyst at geopolitical risk consultancy Verisk Maplecroft, told Energy Voice.