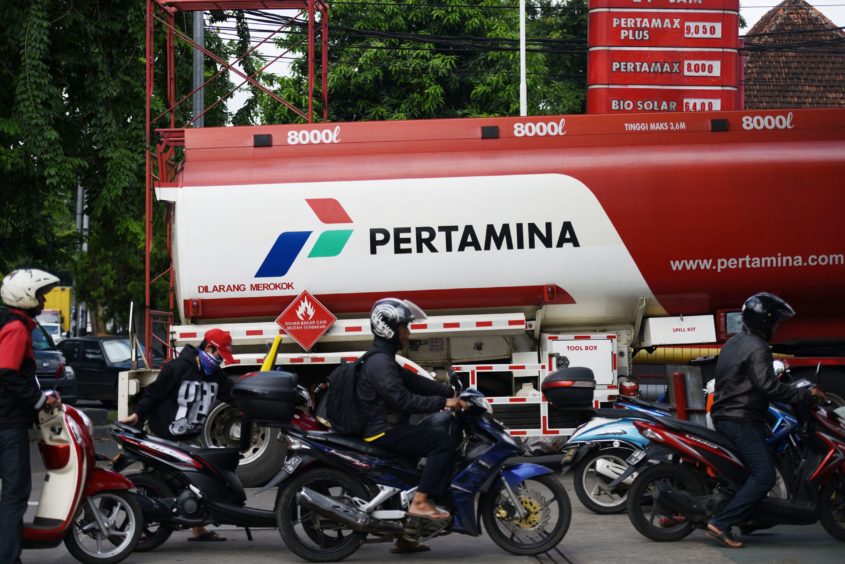 Saudi Aramco's experience may offer a cautionary tale to other investors considering multi-billion-dollar refining partnerships with Indonesian NOC Pertamina
Indonesia is accelerating plans to almost double its oil refining capacity to reduce its dependence on fuel product imports. Pertamina, the state-backed oil company, said it will spend $48 billion over the next seven years to boost processing capacity to 1.8 million barrels per day from 1 million now. However, sourcing investment for the expansion, which includes some of the largest capital projects in Indonesia's history, will be a huge challenge for Pertamina.
That challenge was underscored when Saudi Aramco walked away from discussions covering the development of a multi-billion-dollar oil refinery in Cilacap, Central Java, which had dragged on for more than four years. Ostensibly, the point of disagreement was in the valuation of the existing refinery in Cilacap, which the Saudi giant considered too high. This ended up in a disagreement, and Aramco decided in late April to withdraw, leaving the NOC on its own.
Aramco had raised its refinery valuation from $2.5 billion to $5.1 billion. But Pertamina insisted the cost of developing the entire Cilacap refinery would be at least $5.7 billion, according to analysts at Jakarta-based research firm Tenggara Strategics.
However, industry sources reported that Aramco's rejection was triggered by other factors. "Aramco CEO Amin H. Nasser was said to be uncomfortable with Pertamina's current board of directors, particularly with president director Nicke Widyowati. Also, Aramco felt that it had been used as a means to secure Nicke's position as Pertamina president director, by Nicke making it appear that the Saudi company would definitely finance the Cilacap refinery project," said Tenggara.
Despite her failure in securing a partnership for the Cilacap refinery, Pertamina president director Nicke Widyowati kept her position as number one person in the company, the government announced last month.  The government decided to retain her to avoid causing turmoil, as political parties and businesspeople have long sought to secure the leadership role at the state-owned company, which holds the most assets in the country, for their own benefit, reported Tenggara.
Nevertheless, Pertamina is still seeking new investors to replace Aramco. However, to date they have been unsuccessful. Indeed, the NOC will need to attract multiple global partners if it is to achieve its lofty expansion goal. Only Abu Dhabi National Oil Company (ADNOC), Russia's Rosneft and Abu Dhabi's Mubadala are still actively considering potential refining joint ventures with Pertamina.
But, since 2014 more than 30 potential joint ventures for refinery projects have failed. Aside from Aramco, big names, such as ExxonMobil, BP and Shell, have all walked away from potential joint venture opportunities. Largely because the refining expansion plans are politically driven and do not make commercial sense, Jakarta-based industry experts told Energy Voice.
"It is far cheaper to import finished oil products than import the crude oil and refine it in Indonesia," said one expert.
Still, the expansion will help Indonesia halt refined products imports and improve energy security, according to Pertamina. However, analysts report that the expansion plans are based on misguided nationalist objectives. The government claims Indonesia will become totally self-sufficient in refinery capacity and will no longer need to import oil products. Significantly, amid the nationalistic bluster there is never any mention of where the crude oil to supply refining expansion will come from.
Oil output is fast declining in Indonesia. The country's goal of becoming self-sufficient in energy supply cannot be met by expanding refining capacity alone, research from Wood Mackenzie shows. Oil production has fallen to around 700,000 barrels per day from a high of 926,000 bpd in 2008, underscoring the need for long-term crude oil imports. Therefore, energy security will not be improved as crude supplies, which will need to be imported, could be disrupted.
The government has set a target of boosting domestic crude production to 1 million bpd by 2030. It hopes to achieve this by encouraging investment in enhanced recovery techniques at ageing fields and more exploration. However, given the current price environment, there is limited capital available for investing in exploration and enhanced recovery from mature fields in Indonesia, according to energy research company Wood Mackenzie. The country's poor fiscal terms, lack of transparency and political risk continue to deter potential upstream investors.
Pertamina reports that is it making progress in all its refinery plans despite the COVID-19 pandemic, which has been slowing down economic activities in Indonesia. The Cilacap refinery project is one of four ongoing refinery development master plans, in addition to two grassroots refinery plans and the Plaju biorefinery standalone project. The refinery development master plans consist of Dumai II Refinery Unit, Cilacap IV Refinery Unit and Balongan VI Refinery Unit. Meanwhile, the grassroots refinery plans cover oil and petrochemical refineries in Bontang and Tuban.
Recommended for you

Indonesia's Pertamina and ExxonMobil sign CCS and hydrogen pact