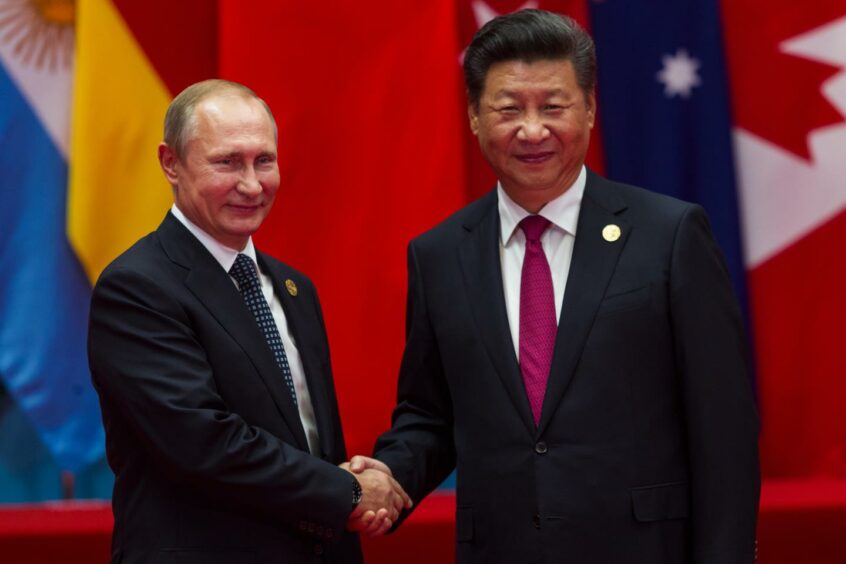 The Ukraine crisis has pushed Moscow and Beijing closer together as Russia and China jointly push back against US dominance.
This was evident in early February, during the opening of the Beijing Winter Olympics, when China and Russia announced another long-term gas supply deal.
The new gas supply deal via the Far East route underscored how escalating tensions with the West have pushed forward Russia's 'Pivot to the East', a long-term strategy to diversify its resource exports to Asian countries, especially China, reported Verisk Maplecroft, a strategic risk intelligence company.
Moreover, the pivot to the East looks set to accelerate after Western nations started to impose new sanctions on Russia. German Chancellor Olaf Scholz said that the certification of the Nord Stream 2 pipeline cannot go ahead following Russia's move on 21 February to recognise two breakaway regions in eastern Ukraine as independent states.
On 22 February, US President Joe Biden announced new sanctions against Moscow for what he called "the beginning of a Russian invasion of Ukraine," after Moscow had deployed troops into the two pro-Russian separatist regions of eastern Ukraine.
In the interim a raft of oil majors have announced plans to exit their Russia partnerships.
Crucially, the probability of more international sanctions against Russia remains high. This will push China and Russia closer together.
"Since the Crimea crisis in 2014, China has been benefiting from Russia's anxiety to seek cooperation with Asian economies to counter the impact of sanctions from the West and the delayed Nord Stream 2 project," Verisk wrote in its latest report.
Consequently, Russia, already China's third-largest gas supplier, has been bolstering ties with China, the world's biggest energy consumer, to reduce its dependence on its traditional European energy customers.
The Power of Siberia (POS-1) pipeline, Yamal LNG, and Arctic 2 LNG developments are examples of largescale projects in which China took the opportunity to advance energy cooperation with Russia after it was sanctioned by the West eight years ago.
Sanctions Drive Russia Towards China
And any new financial and technology sanctions against Russia will make it even more difficult for Western companies to invest in Russia's energy and resource projects, warned Verisk.
"We expect further sanctions would speed up Russia's opening of its energy and resource sector to Chinese investors. Chinese investments in POS-1 pipeline, Yamal LNG and the Arctic LNG-2 have unlocked Russia's resources in East Siberia to build more energy infrastructure for exporting resources to destinations other than Europe. The significant progress of these projects and generous Russian fiscal incentives for offshore and Arctic developments have also made the region attractive for Chinese investors," said Verisk.
Indeed, China's pipeline gas market and global liquefied natural gas (LNG) market are becoming more important in Russia's export portfolio when European demand for Russian piped gas is projected to fade in the long term.
"Although piped gas supplies to China are sourced from the fields that are not connected to the pipelines exporting to Europe, it still reduces Russia's dependence on the European market," said Verisk.
"A greater Asia-central resource market will also allow Beijing to diversify sources of supply to boost energy security. With more imports from Russia, China is in a better position to bargain with other major suppliers such as the US, Australia, and Central Asia," added the research firm.
Latest Gas Deal Brings China and Russia Closer Together
The latest gas supply deal, announced at the Winter Olympics, underscores the fact that the two powers are now closer than ever in the face of Western pressure.
On 4 February, Gazprom signed an agreement with China National Petroleum Corporation (CNPC) to supply Russian pipeline gas to China via a new Far Eastern route for 30 years. When the gas starts flowing from Sakhalin Island, in Russia's Far East, to China's Heilongjiang province, in two to three years' time, it will boost Russian volumes to China by an extra 10 billion cubic metres per year (cm/y).
This will be on top of the existing 30-year Power of Siberia-1 (POS-1) contract for yearly supply of 38 billion cm. "The new deal will eventually bring total piped gas supply from Russia to China to 48 billion cm/y. Gazprom supplied about 11 billion cm in 2021 via Power of Siberia-1 (POS-1), with a plan to reach full contract volumes in 2025," Anna Galtsova, a director at IHS Markit, told Energy Voice.
The latest deal, allowing settlement in euros, is also important as it reflects Russia's continued efforts to de-dollarise or reduce the role of the US dollar in their trade, Rachel Ziemba, a US-based macro strategist focused on country economic and political risk, told Energy Voice. "Overall, Russia has been successful in shifting many of the payments for its fuel exports away from USD to EUR, CNY, and other currencies," she added.
Vandana Hari, founder of Singapore-based Vanda Insights, which tracks energy markets, said that "a Euro-denominated contract is no surprise. Russia and China have been united in trying to break the US dollar's stronghold on international energy trade for the past few years."
Nearly 90% of China-Russia trades were settled in US dollars in 2015. This has fallen to under 50% as of 2020, reported consultancy Rystad Energy.
A Rushed Deal?
However, Tony Regan, a Singapore-based LNG consultant, noted that the latest gas supply deal itself was a surprise. "This deal came rather from the left flank as the parties were supposed to be focused on discussing a Power of Siberia-2 (POS-2) deal," he told us.
Regan added that many observers felt the deal was rushed together to enable Gazprom to openly show contempt at its European critics.
Keun Wook Paik, a China expert and author of the Sino-Russian Oil and Gas Cooperation, said that the most important supply deal between the two powers will be the POS-2 contract, which has yet to be finalised.
"The failure of not mentioning the POS-2 deal during the 4 February summit indirectly signals Beijing is not desperate enough for another big pipeline contract at the moment," he added.
The 10 billion cm/y supply deal from Sakhalin Island "was a kind of a face-saving act for the Putin-Xi Jinping summit meeting in Beijing," said Paik.
Competing With Europe
Power of Siberia-2, or POS-2, assumes the supply of 50 billion cm/y along a new route, possibly via Mongolia, with the gas coming from the Western Siberia reserves. Significantly, "this will bring it into competition with Europe, as it would join up Russia's internal gas network, connecting China with the same gas fields in Russia's Yamal peninsula that supply Europe (and Yamal LNG/Artcic LNG 2)," said Regan.
"There had been suggestions that this deal might be signed during the Beijing Winter Olympics. It wasn't, but the 10 billion cm/y Sakhalin deal was probably the consolation prize," added Regan.
However, Russia is progressing its plans for POS-2. In January, Gazprom reported that a feasibility study for the 963 km Soyuz Vostok pipeline that would transit Mongolia for POS-2 was officially approved. But "the signing of the POS-2 deal will depend on China's long-term gas needs and energy balance," said IHS's Galtsova.
The Resource-Driven Geopolitical Advantage
Nevertheless, looking ahead Verisk expects Chinese financing to be a silver lining for Russia to offset some of the Western sanctions and maintain its resource-driven geopolitical advantage. To speed up its 'Pivot to Asia' strategy, Russia will likely push forward the discussion of a new China-Russia gas pipeline POS-2, said the research firm.
Moreover, to avoid over-dependency on China, Verisk expects Russia to simultaneously advance its outreach to other Asian markets, such as India, ASEAN, Japan, and South Korea, to balance its dependency on China.
However, the strength of the Putin-Xi relationship remains the cornerstone of bilateral ties for now. "Although it is a relationship of convenience, we expect China and Russia to remain strategically interdependent in the long-term as long as they share the same rival – the US and its allies. They will increasingly rely on each other as a leverage against the West. After all, the enemy of an enemy is a friend," noted Verisk.
Recommended for you

Gazprom starts up ex-BP gas field with exports to China