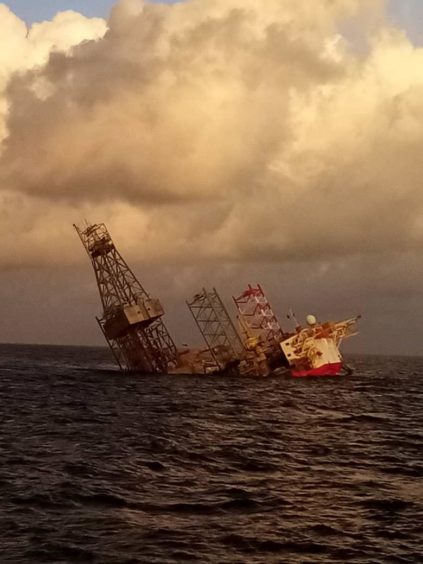 Boskalis has been hired to recover a sunken Velesto (KLSE: VELESTO) oil rig off Malaysia.
The Naga 7 was abandoned in May 2021 while on contract with ConocoPhillips off the coast of Sarawak after one of the legs penetrated a soil formation on the seabed.
According to marine notices from the Malaysian coastguard, Boskalis Malaysia has been hired for the recovery of the capsized Velesto rig, with work due to take place over two seasons.
The Dutch contractor's Taklift 7 crane vessel will be involved, supported by Panama-flagged Eastern WB300 accommodation barge, along with the tug vessels ASL Beaver and Daya Indah Satu.
The first season of work is May to November of this year, then the second is March to November 2024.
All 101 crew members were safely taken to shore during the incident, and some industry observers speculated the sunken rig could be left as a man-made reef.
The Naga 7 rig was at the site of the Salam-3 appraisal well in waters about 90 metres deep when the incident occurred – ConocoPhillips later went back to the appraisal drilling site off Sarawak.
Velesto Energy later made a net profit for 2021's second quarter after an insurance payout for the Naga 7.