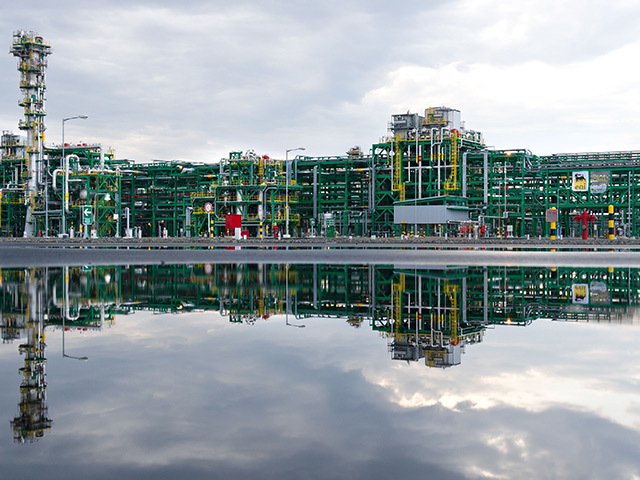 The oil majors behind the giant Kashagan field have started talks with Kazakhstan's government seeking to settle a dispute over a $5 billion environmental fine, according to people familiar with the matter.
The Kazakh authorities ordered the North Caspian Operating Company, which runs Kashagan, to pay a 2.3 trillion tenge ($5 billion) fine earlier this year for allegedly storing too much sulphur at the project. The operator has denied any wrongdoing and mounted a successful legal challenge to the decision, but the government is still pursuing the penalty at the country's court of appeals.
International partners in NCOC including Eni, Shell, Exxon Mobil and TotalEnergies have opened initial discussions, which currently include a proposed cash settlement of about $200 million that could be spent on social projects, the people said, asking not to be named because the talks are private. The talks also include commitment by oil companies to reduce sulphur storage to minimal levels, the people said.
If agreed, the settlement would help to open the way for an expansion of the Kashagan oil development, including construction of new gas-processing plants needed by the government, the people said.
The Kashagan partners are already involved in a separate arbitration over $13 billion in disputed costs. The oil companies have denied being at fault in both cases.
Kashagan, the $55 billion offshore oil field, has been plagued by delays and cost overruns. In 2013, sulphurous gas corroded and cracked pipelines from the offshore field to onshore processing facility, forcing the facility to be halted just weeks after it first started. Last year, the Kashagan venture was forced to curtail output for an extended period beyond scheduled maintenance to repair a preliminary gas separation unit — known as a slug catcher — at the onshore facility.
Kazakhstan, Central Asia's largest energy producer, has become a crucial supplier to Europe after the bloc banned most imports of Russian oil following the invasion of Ukraine. It will grow further in importance next year when its latest large expansion of oil production is scheduled for completion. That will leave the country in need of new developments to bring investment and jobs.
The Kashagan joint venture partners, which also include Chinese National Petroleum Corp. and Japan's Inpex Corp., made the request for settlement talks last month, warning that they could seek international arbitration if negotiations didn't happen. Their approach to the government came after a legal ruling in June that nullified the results of the sulphur-storage inspection at Kashagan conducted by the regional environmental protection department.
Kazakhstan's Energy Ministry referred questions to the Environment Protection Ministry, which didn't respond to a request for comment. Exxon, Shell, TotalEnergies, Eni and Inpex declined to comment. CNPC and NCOC didn't respond to requests for comment.