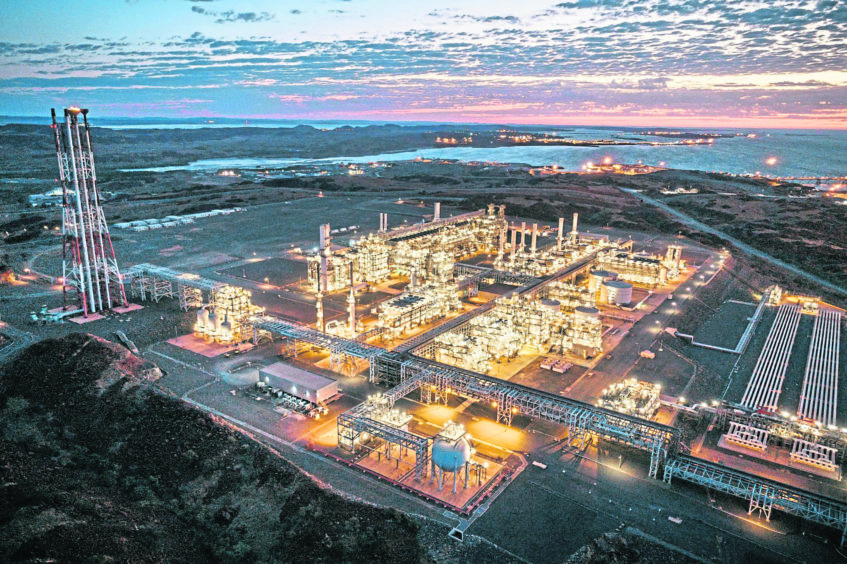 Woodside Energy (ASX:WDS) has signed a deal with LNG Japan which will see the East Asian firm take a 10% equity stake and offtake contracts from the Scarborough gas project.
The new "strategic relationship" sees LNG Japan acquire a 10% non-operating participating interest in the Scarborough joint venture, as well as non-binding agreements for LNG offtake and future collaboration on "opportunities in new energy."
Located in the Carnarvon Basin, around 230 miles off the coast of Western Australia, the Scarborough gas field will be developed through new offshore facilities connected by an approximately 270-mile pipeline to Train 2 at the existing Pluto LNG onshore facility.
Development includes up to 21 wells drilled over the project's lifespan, which will be tied back to a semi-submersible floating production unit (FPU) moored in 950 m of water close to the gas field. First cargoes are expected to be shipped in 2026.
Approximately 5 million tonnes per year of gas will be processed through Pluto Train 2, with up to 3 million tonnes routed through the existing Pluto Train 1.
For its 10% stake LNG Japan will pay $500 million, subject to adjustments – a figure that includes reimbursements to Woodside for its share of expenditure from the effective date of 1 January 2022.
On completion of the deal, expected in Q1 2024, the estimated total consideration comprising the purchase price, reimbursed expenditure and escalation is approximately $880 million, Woodside said.
As part of their new relationship, the two energy firms have also entered into a non-binding heads of agreement for the sale and purchase of 12 LNG cargoes per year – equivalent to around 900,000 tonnes per year – for a period of 10 years commencing in 2026.
Further non-binding agreements may also see the two work with Sumitomo and Sojitz on "global opportunities in new energy", which could include ammonia, hydrogen, carbon capture and storage (CCS) and carbon management technology, Woodside's statement added.
CEO Meg O'Neill welcomed LNG Japan as a partner in the Scarborough venture.
"The support of LNG Japan is testament to the quality of the Scarborough project. It also underscores the ongoing demand from Japanese buyers for new supplies of gas and the role of gas in supporting Japan's energy security," she said.
"Our new energy agreements with Sumitomo and Sojitz provide further opportunities for us to work closely together on our shared decarbonisation and energy security ambitions.
"We look forward to working with LNG Japan to deliver this world-class project," she said.
LNG Japan CEO Kyo Onojima said: "We are very pleased to join the Scarborough Joint Venture and are looking forward to finalising the LNG offtake agreement and exploring business opportunities in the new energy sector."
It comes as Japanese firms look across the globe to secure supplies of LNG under long-term contracts in a bid to offer certainty over local energy prices following shocks in the wake of Russia's invasion of Ukraine.
Its government also proposed the creation of a global stockpile for natural gas, similar to the emergency reserve in the oil sector, to help avoid future shortages and stabilise prices.
Recommended for you

Woodside launches CCS study with Japanese industry