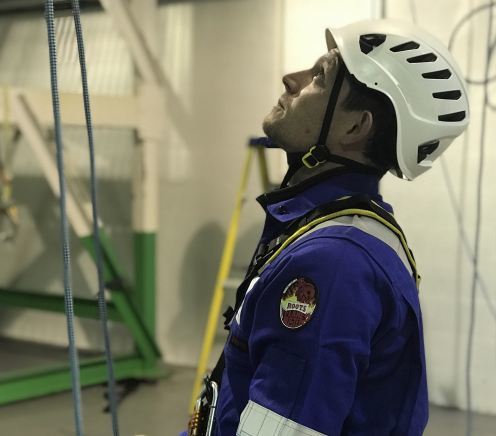 Aberdeen-headquartered MInteg has opened its first international base in Australia for entry into the country's oil and gas market.
The facility in Perth,Western Australia will be a "launch pad" in to liquefied natural gas (LNG) in the region, as well as the upstream oil and gas and industrial sectors in Australasia.
MInteg, a subsidiary of engineering services group EnerMech, will focus on integrity management, testing and mechanical rope access services.
There are presently 10 staff at the site, with plans to recruit a further 30 technicians in the next year.
The company says it will aim to add to EnerMech's current presence in Australia, with plans for other facilities in Gladstone, Darwin and Melbourne.
MInteg director Patrick Gallagher believes the firm's experience in North Sea projects will be attractive to Australian clients.
"We believe there are opportunities for MInteg services in LNG and upstream gas on the East Coast, in Victoria, Queensland, the Northern Territory and South Australia and in oil and gas across Western Australia.
"Australia has gone through a massive construction phase over the last 10 years and has now transited in to the operating phase which will require additional integrity management and inspection expertise.
"We identified that the market is ready for a new entrant and we will leverage the relationships established by EnerMech to showcase our capabilities."
Micheal Munro, who has been appointed as MInteg's operations director in Australia, said: "A combined service offering which pulls in EnerMech's core services and compliments our strengths in NDT and rope access will offer something new to the oil, gas, LNG and industrial sectors, and we are looking forward to extending our footprint in Australia, which will be a precursor to further international growth."
In December, EnerMech chief executive Doug Duguid said MInteg was poised for international growth.
LNG is a major export from Western Australia, with sales of £7.1billion in 2016-17.
Earlier this month, the state's Premier, Mark McGowan, announced the creation of a taskforce to capitalise on the resource.
EnerMech owns a 76% stake in MInteg, which was founded in 2012, following a six-figure investment in a majority stake in the business in December.
Recommended for you

EnerMech creating 170 jobs with first Ireland facility