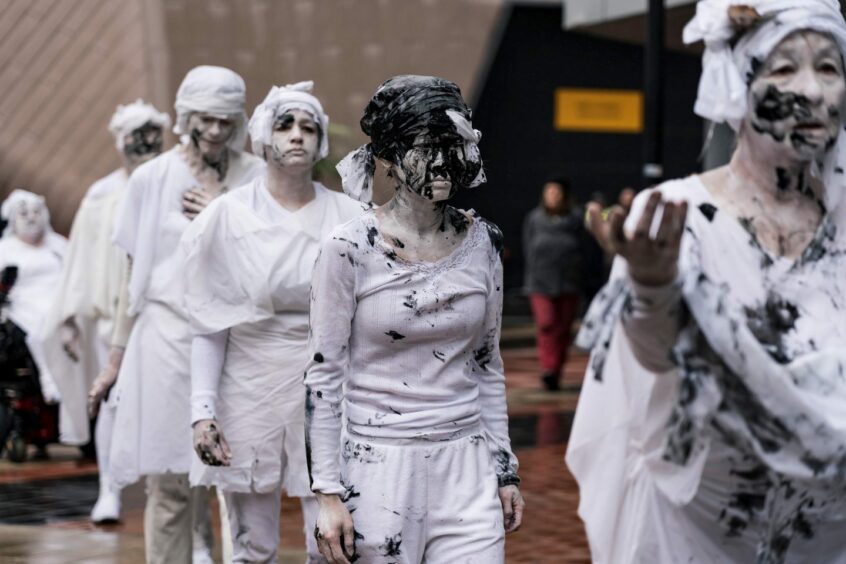 As the APPEA conference launched today, there was a stark divide between discussions inside and outside the event.
Police arrested a number of activists today in Adelaide as the conference began, hosting around 2,000 delegates.
Inside, Woodside Energy CEO Meg O'Neill talked about the opportunities facing the industry, while South Australia Minister for Energy and Mining Tom Koutsantonis rolled out the welcome mat.
Oil and gas companies are crucial to achieving net zero by 2050, he said.
"We are thankful you are here. We are happy to be a recipient of APPEA's largesse in the form of coming here more often," Koutsantonis said, in comments reported by the Guardian. "The South Australian government is at your disposal, we are here to help and we are here to offer you a pathway to the future."
Woodside's O'Neill noted the debate about the role of gas in Australia.
Awareness
"We know some in parliament, many in the community, including folks outside this venue, do not really appreciate the central role that natural gas plays in the Australian economy and everyday lives, the role, the vital role that natural gas is playing and will continue to play in reducing Australia's emissions," she said.
The industry sees a need to do more, she continued. APPEA is launching a public awareness campaign in an attempt to make the case to the Australian public.
O'Neill pointed to the need for gas as an alternative to coal and in providing energy security.
APPEA this year has the theme of "Lead, shape, innovate – accelerating to net zero". Hydrogen and CCS were hot topics at the show,
Woodside's O'Neill said Australia had an opportunity to become a "regional CO2 storage leader", offering to help countries such as Japan and South Korea.
"Our gas industry is extremely well placed to be that partner and develop CCUS, given our expertise in geological storage and large infrastructure projects," she said. Developing CCS projects in nine zones across Australia, the industry could offer a way forward to hard to abate sectors.
"In a way it's like carpooling emissions, with the goal of reaching net zero as quickly and cost efficiently as we can. But this will only happen if Australia gets the investment environment right," O'Neill said. Currently, it is falling short, the Woodside exec said.
Hydrogen
Minister Koutsantonis recently launched a hydrogen act for South Australia. The plan is to create a one-stop shop for oversight of the sector. The act, though, focuses on green hydrogen – produced from renewable energy.
O'Neill said such a move was welcome. However, she called for the "inclusion of low carbon hydrogen from natural gas with CCUS, which today represents the lowest cost and most advanced pathway available".
Protests outside the event involved Extinction Rebellion South Australia. Two activists were arrested at the South Australian Drill Core Research Library. More glued themselves to roads to prevent access to car parking.
The group made it clear there was "lots more planned" for this week. It is planning to carry out "Climate Criminal Awards" on May 17 and a rally on May 18.
Recommended for you

Worker who died at North Rankin described as 'humble, caring, genuine guy'