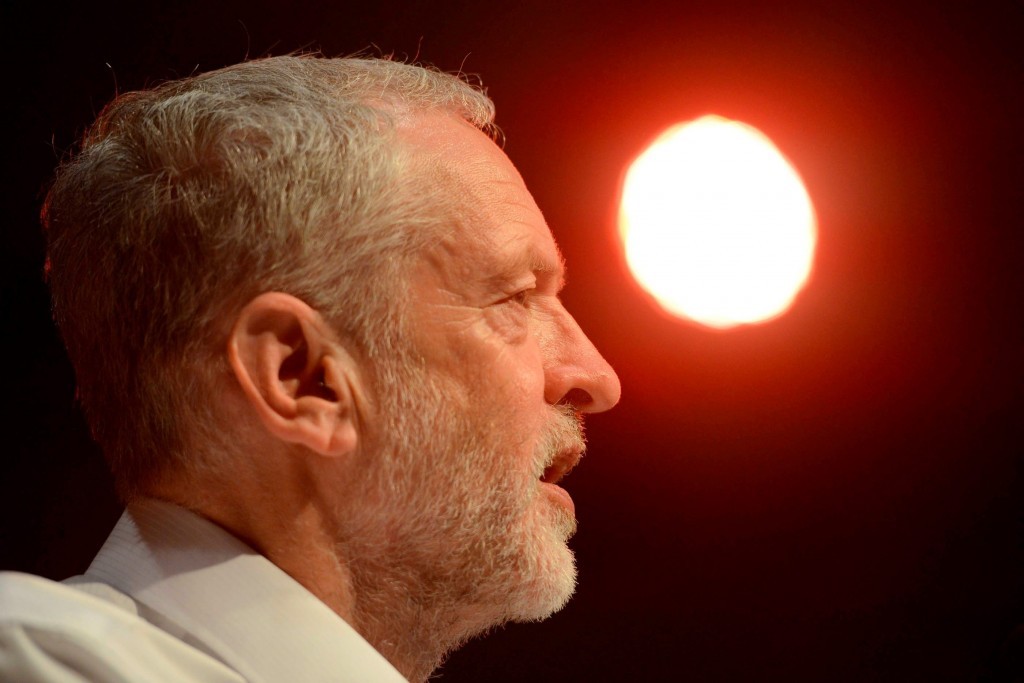 Jeremy Corbyn's policies on energy have been condemned as "naive and short-sighted" by one of Labour's major union backers.
The GMB union, which represents energy workers, warned that "wishful thinking" would not keep the lights on as it tore into the Labour leader's plans to ban fracking and phase out coal-fired power stations.
Mr Corbyn will set out his plans to create an energy policy "for the 60 million, not the Big Six" if he becomes prime minister, including the creation of 300,000 jobs in the renewables sector.
The Labour leader will set a target of generating 65% of UK electricity from renewable sources by 2030 in a bid to make the country a world leader in green technology.
A Corbyn-led Labour government would ban fracking, as extracting gas is "not compatible" with the UK's climate commitments because it is a fossil fuel.
The GMB, which is backing Owen Smith in the Labour leadership race, warned that Mr Corbyn's policies would not work.
Justin Bowden, the union's national secretary for energy, said: "Everyone gets how – over time – renewable energy sources have an important role to play in a sensibly conceived mixed energy policy.
"However wishful thinking doesn't generate the power we need to heat homes, keep the lights on and the economy functioning; this means that until there are technological breakthroughs in carbon capture or solar storage then gas and nuclear power are the only reliable, low-carbon shows in town for all those days when the sun doesn't shine and the wind doesn't blow.
"Limiting the UK's options on achieving energy self-sufficiency by proposing an outright ban on fracking is naive and short-sighted.
"Gas is four times cheaper than electricity, the main reason why over 80% of homes use gas for heating, and access to gas is a key part of every fuel poverty strategy.
"While we are waiting with our fingers crossed for the technology to arrive, or quadrupling the size of the electricity infrastructure and asking everyone with a gas boiler to rip it out and replace it with an electric one, we should not be having to depend on Russia, Qatar, Kuwait or some combination of these regimes to supply us with gas to heat our homes and supply the gas for our crucial chemicals industry."
Mr Corbyn would reinstate the Department for Energy and Climate Change scrapped by Theresa May when she took over as Prime Minister, a decision he described as "short-sighted and irresponsible".
Launching his energy and environment manifesto in Nottingham, Mr Corbyn is expected to say: "When Labour gets back into power Britain will lead the world in action on climate change.
"We will act to protect the future of our planet, with social justice at the heart of our environment policies, and take our fair share of action to meet the Paris climate agreement – starting by getting on track with our Climate Change Act goals.
"We want Britain to be the world's leading producer of renewables technology.
"To achieve this we will accelerate the transition to a low-carbon economy, and drive the expansion of the green industries and jobs of the future, using our National Investment Bank to invest in public and community-owned renewable energy.
"This will deliver clean energy and curb energy bill rises for households; an energy policy for the 60 million, not the Big Six energy companies."
The manifesto also contains plans to empower community energy companies and co-operatives, introduce a National Home Insulation plan for at least four million homes, adopt EU environmental regulations and back the Government's plan to phase out coal-fired power by 2025.
But leadership rival and Pontypridd MP Mr Smith highlighted comments from August last year in which Mr Corbyn said mines in South Wales could be reopened.
Recommended for you

UK 'too reliant' on gas says renewables boss as energy crisis continues