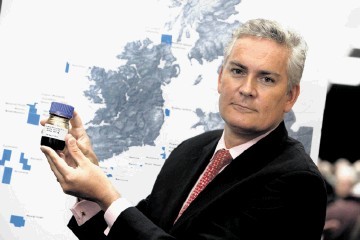 Providence Resources said today that Chinese firm Apec will buy into the Barryroe oil field, off the south coast of Ireland.
Apec has a strategic partnership with China Oilfield Services (COSL) and JIC Capital Management for oil development opportunities.
It will receive 50% of the licence containing Barryroe.
In exchange, it will pay half of the drilling costs and provide a drilling rig.
The deal will reduce Providence's stake to 40% from 80%, but the Dublin-based firm will continue as operator.
Project partner Lansdowne's working interest will drop to 10% from 20%.
The deal is expected to go through in the third quarter of 2018.
Providence chief executive Tony O'Reilly said: "This is a significant transaction for Providence and Lansdowne which will deliver multiple new penetrations of the areally extensive Barryroe field. In addition, it also provides for the acquisition of modern dynamic well test data that should assist in advancing the field to production.
"Over the coming months, we will be working with the APEC Consortium to close the transaction and finalise the specific timeline and the precise details of the drilling programme.
"We are very pleased to have agreed this deal, which will allow us to avail of 'state of the art' drilling units and technical capabilities in order to advance Barryroe to first oil."
APEC chairman Colin Lui said: "APEC, supported by Jianyin Investment Company and China Offshore Services Ltd, are very pleased to have strategically joined forces with Providence and Lansdowne to develop the Barryroe field.
"This field has significant recoverable resources and we look forward to jointly developing this opportunity. Whilst the Farm-Out Agreement has been agreed specifically for Barryroe, the parties have also agreed to jointly investigate further opportunities in other licensed blocks offshore Ireland in the future."