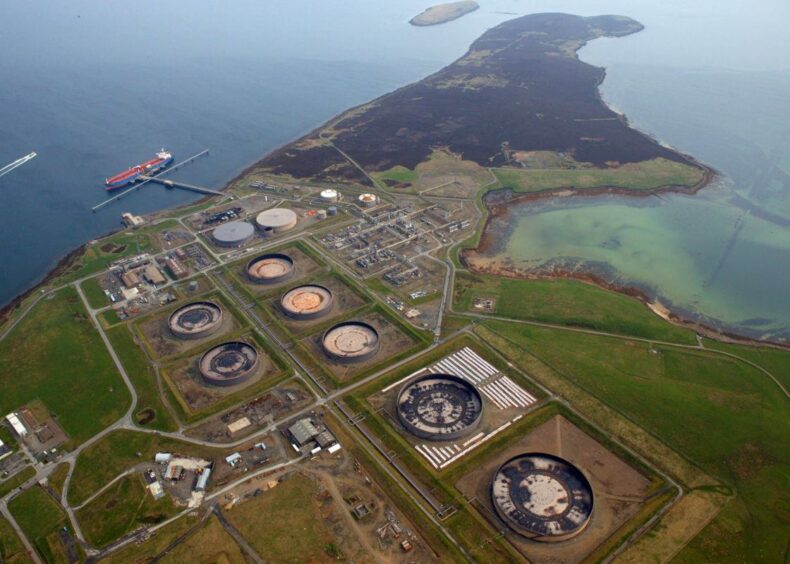 The MP for Orkney and Shetland has said allowing a Russia state-owned oil tanker to operate in Scapa Flow would "dishonour" the Isles' war dead and their fight against fascism.
In a letter to Prime Minister Boris Johnson, Alistair Carmichael urged sanctions against Russian shipping firm Sovcomflot, which is due to see its vessel NS Champion berth at the Flotta oil terminal in Orkney on Tuesday.
Last week another vessel, NS Challenger, berthed at Sullom Voe in Shetland, sparking outcry.
In his letter, Mr Carmichael highlighted that Scapa Flow in Orkney is the resting place of 835 men who were killed in October 1939 when the HMS Royal Oak was torpedoed by a German U-Boat.
Allowing a Russia state-owned oil tanker to operate there freely would "dishonour" them and their fight against fascism, he said.
"Scapa Flow was at the centre of the UK's naval effort in two world wars in the twentieth century. That remains a source of pride in our community to this day. It is also the final resting place of many of the 835 men and boys who lost their lives on 14th October 1939 when their ship, HMS Royal Oak, was torpedoed by a German U-Boat.
"The remains of the Royal Oak still lie on the seabed of Scapa Flow today. It is a designated war grave. To allow Sovcomflot to operate without let or hindrance in Scapa Flow would be to dishonour the memory of the sacrifice that the crew of the Royal Oak made in their fight against fascism of the sort that is currently engaged in attacking the people of Ukraine.
"I hope that you will act as a matter of urgency."
Last week, Prime Minister Boris Johnson said he would investigate circumstances around a Sovcomflot oil tanker which arrived in Shetland.
Sovcomflot is already subject to sanctions in the US, preventing the shipping group from raising money.
A spokesman for the UK Government said: "We are aware of concerns about Russian-connected ships potentially docking in the UK and we are working rapidly to explore a range of measures to restrict access for them.
"We are already discussing this issue with the Scottish Government and the sanctions being considered are part of a wider package being worked up across the UK Government."
A spokesman for Orkney Islands Council said: "As a council we are in an extremely difficult position.
"We recognise the strength of feeling around this – feelings that we share – but we are bound by our legal obligation to accept the vessel, until such a time as the UK Government tells us otherwise."