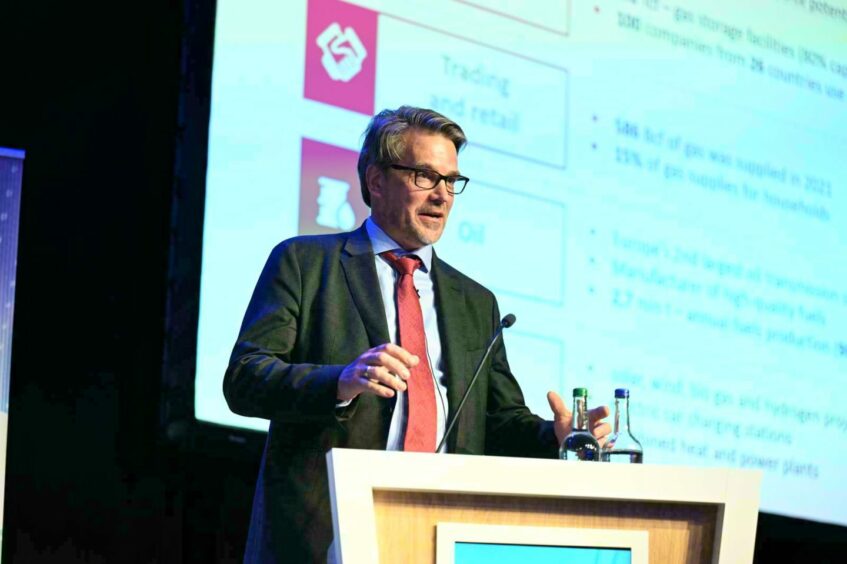 A top boss at Ukraine national energy firm Naftogaz received a standing ovation in Aberdeen today as he thanked the city for housing displaced families of his employees.
A total of 36 women and children from the war-torn city of Kharkiv are arriving in north-east Scotland this week.
They're all employees or relatives of employees for Naftogaz, being supported by industry trade body Offshore Energies UK (OEUK), Aberdeen City Council and the Scottish Government, via the latter's super sponsor scheme.
Speaking at the OEUK conference in Aberdeen on Tuesday, Naftogaz chief operating officer Mavriky Kalugin was met with huge applause as he expressed his appreciation.
"I'd like to underscore again: thank you to the United Kingdom, and OEUK, as well as Aberdeen City Council for taking care of our families, our people, for supporting us throughout this difficult time.
"Thank you from the bottom of my heart, and Slava Ukraini", he closed, receiving acclamation from the P&J Live audience.
Many of the conference's main themes around security of supply were directly triggered by the recent events in Ukraine.
Scottish Just Transition minister Richard Lochhead condemned Russia's "illegal, unprovoked invasion" of the country.
Meanwhile Lord Malcolm Offord, UK Scotland Office minister, said the atrocities have delivered "dreadful suffering on a scale more like 1942 than 2022".
He condemned Putin "weaponising energy supplies" in reference to cutting off Poland, Bulgaria and, more recently, Finland, but praised the "astonishing tenacity" of Ukraine's armed forces against Russia.
Mr Kalugin set out the efforts of his company in supplying Ukraine with energy, as well as some of the country's immediate and long-term requirements.
"We need petroleum products like diesel. We were a vertically integrated company, (but) our refinery was bombed three bombs with three or four cruise missiles each time."
Along with those products, Ukraine has a more immediate challenge.
Naftogaz estimates Ukraine will need to acquire 3-4 billion cubic metres (bcm) of gas in order to meet the coming winter demand – equating to about a third of its overall supply at present.
At today's spot prices, the country simply cannot afford it, he said.
"Our supply is roughly still close to 17 bcm – maybe a little less, 15, 14 bcm – in total. Our demand is significantly less.
"But we believe we will need to procure 3-4 bcm of gas for the next heating season. We really don't have a source for that and we're reaching to the European community, the American government and others to help us acquire that.
"It's our biggest challenge in the very near future."
The session was chaired by OEUK health, safety & environment director Mark Wilson, who underscored the "horror" of the events unfolding and praised the humanitarian efforts underway.
It's hoped more will follow the 36 new arrivals in Aberdeen this week.
He said: "We hope that, with your support, in the future more will be able to move from Ukraine to Aberdeen, supported by OEUK, its members and Aberdeen City Council, with future options for energy industry employment while they wait to return to their home of Ukraine in the future."
Recommended for you

How can Aberdeen ensure its getting the best skills for the energy transition?