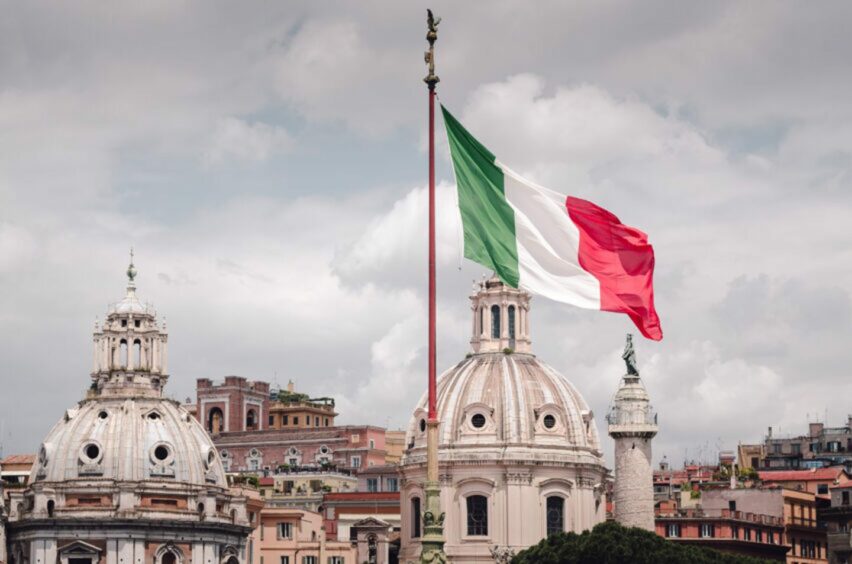 The Italian government is considering financing for international fossil fuel projects that would generate emissions 3.5 times greater than Italy's, Oil Change International warns.
The Italian government export credit agency is actively considering supporting major international fossil fuel projects.
New oil and gas extraction is not compatible with the Paris Agreement goal and is at odds with Italy's own climate commitments.
It represents yet another example of the disconnect between governments' promises and their actions.
Supporting new fossil fuels
According to an analysis by Oil Change International, Servizi Assicurativi del Commercio Estero (SACE), the Italian government export credit agency, is looking at fossil fuel projects that could generate or enable 1.2 gigatonnes of CO2 – equivalent to at least 3.5 times Italy's annual emissions. Researchers cautioned this is a "bare-minimum figure", as SACE is not required to publish information on these projects.
In fact, the calculation did not include two other known fossil fuel projects being considered by SACE, the Balikpapan refinery in Indonesia and the Petrovietnam LNG import project, as there is not enough data to estimate the impacts of their life-cycle emissions. According to the advocacy group, this suggests these projects are "likely just the tip of the iceberg", and many more may be under consideration. Other projects mentioned by the analysis were a gas field in Turkey, a liquefied natural gas (LNG) project in the Rovuma Basin, Mozambique and offshore oil and gas processing vessels in Brazil.
SACE is one of the world's largest public financiers of fossil fuels, making Italy the sixth-largest public financier for international fossil fuel projects globally, ahead of Saudi Arabia or Russia and behind only Japan, Canada, Korea, China and the US.
The agency has a long history of supporting controversial fossil fuel infrastructure. In 2020 SACE supported Total's LNG project in Mozambique, where gas infrastructure has exacerbated conflict in the war-torn Cabo Delgado region, contributing to half a million people being displaced from their homes and thousands killed.
Simone Ogno, finance & climate campaigner at Rome-based activist organisation ReCommon, commented: "Through its export credit agency SACE, Italy has become the biggest European fossil fuel financier, enabling the development of strategic oil and gas projects for the Russian Federation, refineries in Egypt and LNG projects in Mozambique."
He added: "The reason behind this delay in implementing the Glasgow Statement could be related to SACE's involvement in Eni's Rovuma LNG gas mega-project, which could reach a final investment decision by 2023. The time has come to end this record, without any loopholes for fossil gas or CCUS."
Why do we need to stop new fossil fuel projects?
Investing in new fossil fuel infrastructure is incompatible with the energy transition, as it will lock in emissions for decades to come, destroying the carbon budget. It involves climate, environmental, and social risks and is likely to result in stranded assets.
The Intergovernmental Panel on Climate Change's (IPCC) and the International Energy Agency's (IEA) scenarios that maintain a 50% chance to limit warming to 1.5°C, in line with the Paris Agreement, have no new oil and gas extraction. Moreover, there are no investments in new LNG under the IEA's net zero scenario.
The same money – which is billions – should instead be spent on projects that will meet the growing energy demand without contributing to global warming, such as renewables or biofuels.
Italy's climate commitments
SACE's interest in fossil fuels is also at odds with Italy's own climate commitments. The EU country signed the Glasgow Statement at COP26 alongside other 38 countries and financial institutions, whereby signatories would "end new direct public support for the international unabated fossil fuel energy sector by the end of 2022, except in limited and clearly defined circumstances that are consistent with a 1.5°C warming limit and the goals of the Paris Agreement."
Many of those governments, such as the UK, France, Denmark, Sweden and Finland, have developed new policies to respond to this pledge, ending public finance for almost all fossil fuel projects ahead of the deadline. Not only is Italy yet to publish relevant policies, but it also reportedly attempted to water down EU efforts. In November 2022, Reuters revealed that Italy tried to weaken a pledge to end export finance support for fossil fuels via the Export Finance for Future initiative.
With a far-right coalition gaining power following the September 2022 elections, there is little hope that climate will become a priority for the new government. Prime Minister Giorgia Meloni pledged to address these issues at COP27, but it is unclear whether this rhetoric will translate into significant action. Considering that just in June 2022 she called the EU's Green Deal "climate fundamentalism" and said that Greta Thunberg's ideology will lead to job losses, it seems fair to take any of her pro-climate statements with a pinch of salt.
For example, her administration seems to be focused on energy security in the wake of the war in Ukraine with a 'whatever it takes' mentality, instead of finding sustainable solutions. A telling sign was that the 'Ministry for Ecological Transition' was changed to 'Ministry for Environment and Energy Sovereignty'.
This mentality appears to be applied to the economy as a whole, as Meloni tries to drag Italy out of decades of crisis. And while the country is already suffering the consequences of extreme weather events, it is still lacking any adaptation strategies.
Promises and action do not match
The work carried out by Oil Change International is yet another example of the disconnect between promises and action. Italy's plans to invest in international fossil fuel projects appear to suggest that it is not factoring them into its carbon footprint – leaving other regions to suffer the immediate damages, and contributing to global warming. It is also worth noting that an increasing number of litigation cases are being filed against governments for falling short of climate action.
In the words of Adam McGibbon, public finance strategist at Oil Change International: "Support for these fossil fuel megaprojects, would make a mockery of Italy's promise to stop financing fossil fuel projects. SACE can either drop these projects, or break the climate promise Italy made last year in Glasgow. But it can't do both."
Recommended for you

The case for COP28 and developing nations' needs