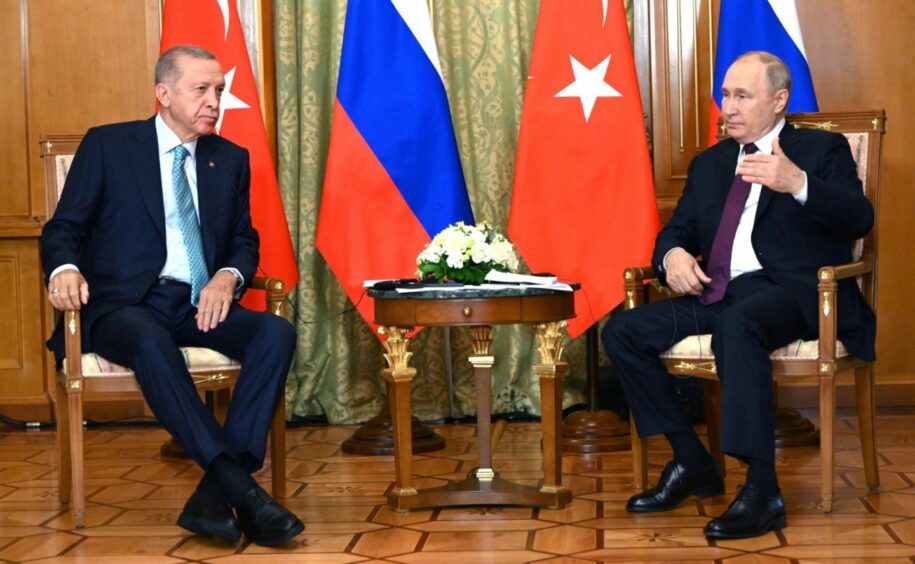 Russia is close to an agreement with Turkey to set up a natural gas trading hub as the Kremlin seeks alternative export routes for the fuel.
"I hope that in the very near future we will complete our negotiations," President Vladimir Putin said in the Black Sea resort of Sochi as he opened a meeting with Turkish counterpart Recep Tayyip Erdogan. A gas hub in Turkey will "make the energy situation in the region more stable and balanced."
Moscow is looking to tighten ties with Ankara after relations with the European Union deteriorated sharply amid Putin's war in Ukraine. The president came up with the gas-hub plan last year, suggesting that building more Black Sea links to Turkey would make that route Russia's main westbound export corridor.
The project "will enrich" bilateral ties, Erdogan said Monday.
The venture will take the form of an electronic trading platform rather than a physical facility to store large volumes of Russian fuel, Putin said in July. He didn't specify whether such a setup would mean less gas trading there than initially envisaged.
Russian gas producer Gazprom has submitted a draft road map for the gas hub to Turkish state energy importer Botas, Putin said at a press briefing after meeting Erdogan. The two sides now need to set up a joint working group, discuss the legal framework for the hub and agree on trading rules, he said.
Russia piped more than 10 billion cubic meters of gas to Turkey in the first eight months of the year, according to Putin, who said last year's flows reached 21.5 billion cubic meters.
Ankara has been a close political and economic ally of Moscow as vast numbers of Western countries shun Russian trade following the invasion of Ukraine. The two governments are already cooperating on construction of a $20 billion nuclear power station in southern Turkey.
The nation had previously hoped to see the first of four reactors at the 4,800-megawatt Akkuyu plant operational this year. The initial batch of Russian nuclear fuel has been delivered to the site and the unit will now come online in 2024, Putin said Monday.