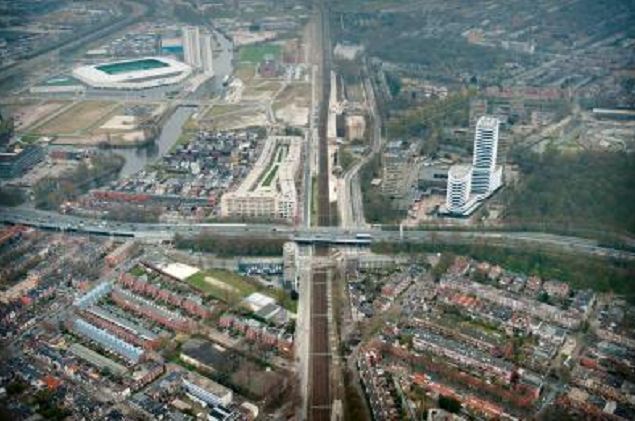 Dutch communities rattled by earthquakes are upending Europe's energy market.
Towns in the northern province of Groningen sit atop the continent's biggest gas field, where the Dutch government says exploration by oil and gas majors Royal Dutch Shell and ExxonMobil has triggered 196 earthquakes since 2013, damaging buildings and making home sales difficult.
Lawmakers, seeking support in provincial elections next week, have responded to residents' complaints with a proposed cut in gas production – the second since December – in the hope that less output means fewer tremors.
The reductions would put the European Union in a predicament. Countries may have to turn to Russia to replace Dutch gas at a time when they're trying to isolate President Vladimir Putin for his involvement in Ukraine.
For the Netherlands, the EU's biggest gas producer, less gas could reduce national income by nearly £1.4billion, according to the country's ministry of economic affairs.
"The coalition parties are overall under pressure," said Frank van Doorn, head of gas trading at Vattenfall Energy Trading Netherland, the country's largest retail supplier.
He added: "They have to do something to make voters happy and at the same time balance the impact on the Dutch government budget."
The Netherlands counts on its energy industry for about 11% of gross domestic product. Export customers include Germany, Belgium and the UK.
It produced 91.5billion cubic yards of gas onshore and offshore last year, according to data from network operator Gasunie Transport Services. That's more than Italy's total 2014 demand.
The Groningen field accounted for 61% of that and generated an estimated £7.5billion in revenue, according to data from Nederlandse Aardolie Maatschappij, or NAM, the joint Shell-Exxon venture that owns 40% of the field, and the ministry of economic affairs.
Dutch lawmakers have progressively cut the 2015 output target for Groningen gas.
In December, they announced a 7.3% reduction. An additional cut proposed on February 9 sent prices up 11% that week – more than in the period following Russia's Crimea incursion. Now lawmakers are proposing an 11% cut for the full year.
Only conventional, vertical wells have been drilled in Groningen, making the tremors there unique, said Heleen Haverkort, a spokeswoman at the ministry of economic affairs.
In the Groningen village of 't Zandt, artist Wout van Mullem, 57, said he decided to make his house earthquake-proof after almost five years of unsuccessfully trying to sell it. The structure is one of many in the area that have suffered from cracking walls or shifting foundations.
"You have to face the reality that Dutch society needs the gas from Groningen," Mr van Mullem said, adding: "We have to find a way to extract gas from the field in an acceptable manner for everybody."
Down the road, Jan Boer, 75, is waiting for the community centre in the village of Leermens to be reinforced.
In nearby Loppersum, wpaintings in the Petrus and Paulus Church dating from the 1500s have needed restoration.
Tremors in the province started in the 1980s and intensified in the 2000s.
The biggest quake, with its epicenter in Loppersum, measured 3.6 on the Richter scale in 2012, resulting in about 12,000 damage claims, according to the Paris-based International Energy Agency.
While the scale might seem small, tremors are felt more because their epicenter is at the gas field, only 10,000 feet deep, said Harry van der Meijden, inspector general at the State Supervision of Mines.
While NAM said it has plans to strengthen 3,000 buildings in Groningen province this year and has set aside £842million for projects including repairs and the strengthening of homes, Loppersum Mayor Albert Rodenboog said initial calculations show that 30,000 buildings will need reinforcement – costing as much as £4.2billion.
Cutting production will likely reduce the frequency and intensity of the earthquakes, according to Mr van der Meijden.
NAM takes a different position. Earthquakes aren't only caused by the volumes of gas produced, said Sander van Rootselaar, a NAM spokesman.
"When gas production in Groningen climbed to a record in the 1970s, there were no tremors, suggesting other factors may also have an influence, he added.
The Netherlands will decide on July 1 whether to reduce 2015 extraction to a maximum 45.8billion cubic yards.
Read more Europe news here.
Recommended for you

'It felt like a body blow': Shell CEO reflects on 2021