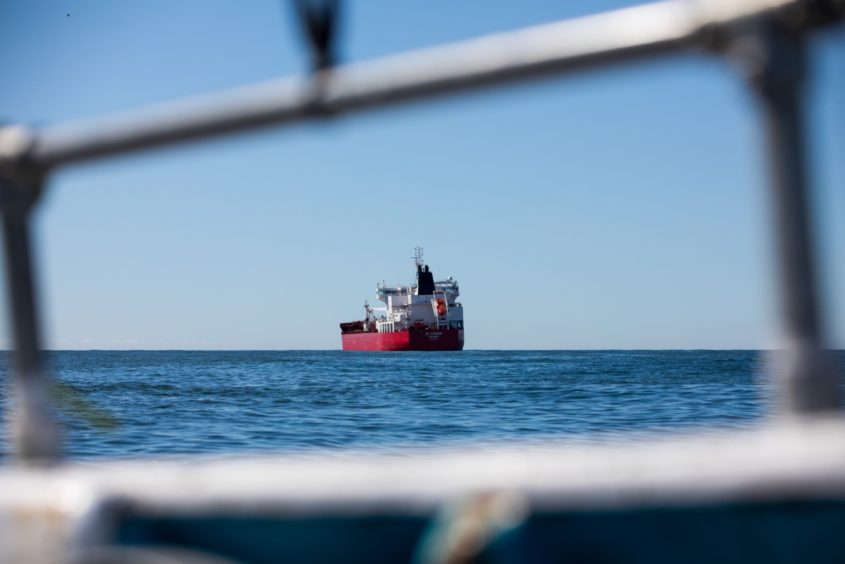 Following a day during which the Nave Andromeda product tanker was held by stowaways, UK special forces have retaken the ship offshore the Isle of Wight.
The Ministry of Defence (MoD) said that the Defence Secretary Ben Wallace and Home Secretary Priti Patel had approved the boarding of the vessel by armed forces, following a request by the police. The ministry said the decision had been taken to "safeguard life and secure a ship that was subject to suspected hijacking".
The MoD went on to say that its forces had regained control of the ship and detained seven individuals. "Police investigations will now continue. Initial reports confirm the crew are safe and well."
Wallace commended the "hard work of the Armed Forces and police to protect lives and secure the ship. In dark skies, and worsening weather, we should all be grateful for our brave personnel. People are safe tonight thanks to their efforts."
The Special Boat Service (SBS) is reported to have retaken the vessel. The HMS Richmond provided support.
Sky News reported that 16 SBS commandos had taken part. The agency said two Royal Navy Merlin medium lift helicopters had taken part, in addition to two Royal Navy Wildcat helicopters.
Tanked up
"It looks like a very similar rerun to the Grande Tema incident, in December 2018," Dryad Global's Munro Anderson told Energy Voice, speaking before the SBS retook the Nave Andromeda.
The Grande Tema was taken over by four West African stowaways. The authorities were alerted to the problem on board and special forces seized the vessel.
"There are seven stowaways from Lagos and they appear to have been known about when the vessel called in France. There are potential questions about why they were not unloaded at that point," Anderson said.
"A Chinook helicopter is picking up a squadron of SBS from RM Poole, who will be inbound to the vessel. The police will attempt to make contact first. If that fails, and it looks like harm come to the crew, the SBS will come into action. But in the first instance the focus is on establishing contact."
The Nave Andromeda product tanker is Liberian flagged and owned by Greece's Navios Maritime Acquisition.
The ship came to the UK from Nigeria. It left Lagos on October 5.
The stowaways were reported to have been known to the crew.
Reports have suggested that when the crew attempted to lock the seven in a cabin they became violent. As a result, the crew withdrew to the citadel.
Isle of Wight MP Bob Seeley told Sky News that the captain "may not be in full control" of the vessel. The MP said contingency plans would involve the use of Maritime Counter Terrorism forces. Seeley said the military point of view would involve looking at options to board the vessel "either peacefully … or not so peacefully".
Updated at 6:06 pm with comment from Dryad's Anderson. 
Updated at 9:25 pm following the SBS assault.