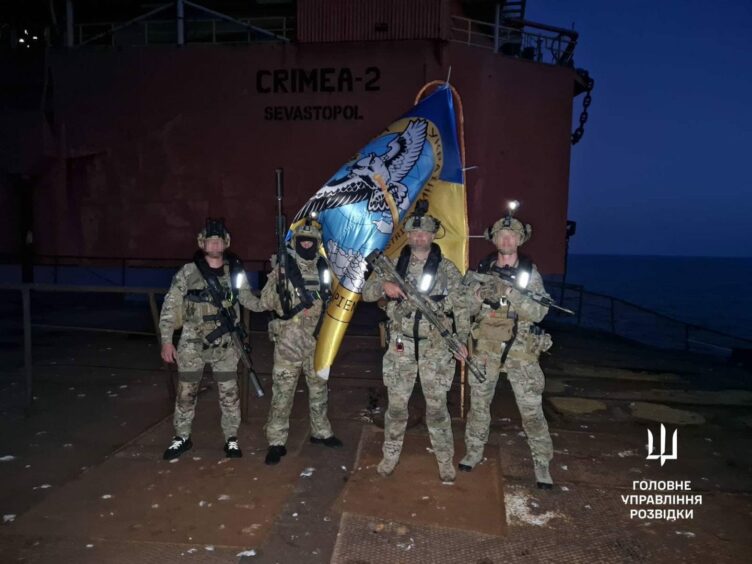 Ukrainian special forces have declared success in retaking platforms and rigs in the Black Sea, known as the Boika Towers.
Russia seized the platforms, Ukraine and Petro Godovanets, in 2014 during the invasion of Crimea. Ukraine's GUR – a special unit within the Ministry of Defence – overran the facilities, they reported today.
Russia renamed the platforms Crimea-1 and Crimea-2 respectively.
A video released by the GUR reveals troops on RIBs heading to the platforms and then securing them. They removed equipment including Neva radar equipment and unguided missiles.
Ukraine has said Russia used the platforms to monitor movements in the area. Russia also used the facilities to land helicopters, according to Ukraine.
In addition to the two platforms, the GUR said they had also seized control of two rigs, Tavrida and Syvash.
The video from Ukraine also shows skirmish with a Russian fighter, claimed to be a Sukhoi Su-30. Scouts on the boats open fire at the jet and fire a missile.
The fate of the jet was unclear but the GUR statement claimed it was damaged and had to retreat.
Ukraine and Russia have clashed a number of times in the Black Sea. Russia's Ministry of Defence reported in August that an Su-30 had destroyed a Ukrainian reconnaissance boat near a "Russian gas platform in the Black Sea".
It is not clear whether the Russian and Ukrainian statements apply to the same incident.
The UK's Ministry of Defence said Ukraine and Russia have periodically occupied offshore platforms.
"The platforms command valuable hydrocarbon resources. However, like Snake Island to the west, they can also be used as forward deployment bases, helicopter landing sites, and to position long-range missile systems," the MoD said.
Back and forward
Ukraine also struck the platforms in June 2022. At the time, there were 109 employees on the rigs.
After Russia seized the platforms and rigs in 2014, they moved the equipment from the Odesa gas field into the Black Sea.
Russia's Chernomorneftegaz had control of the facilities. The US announced sanctions on the company – and various Crimean officials – in 2014. The US declared Crimea was "occupied territory".
Chernomorneftegaz, the US said, was "complicit in the misappropriation of state assets of Ukraine or of an economically significant entity in Ukraine".