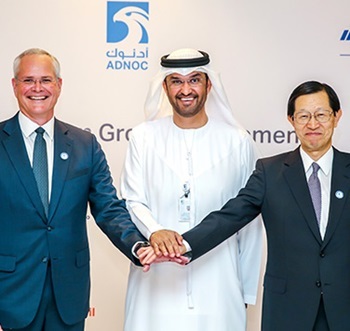 Abu Dhabi National Oil Company (Adnoc) has reached an agreement to increase production capacity from the offshore Upper Zakum oil field to 1million barrels per day (bpd) by 2024.
The agreement, announced at the Adipec conference in Abu Dhabi, gives ExxonMobil and Japan's Inpex a 10-year extension for the concession from 2041 to 2051.
Upper Zakum is the second largest offshore oil field and the fourth largest oil field in the world.
Oil was first discovered in 1963 and Adnoc decided to develop the field in 1977.
Inpex subsidiary Jodco partnered with Adnoc in developing the field in 1978, followed by Exxon in 2006.
The mega project involved the construction of four artificial islands.
Sultan Ahmed Al Jaber, UAE minister of state and chief executive of Adnoc, said: "ExxonMobil and INPEX, alongside our other partners, have played an important role in the development of our oil and gas assets. This agreement is another milestone in our efforts to forge partnerships that bring technology, expertise and capital aimed at delivering greater economic value and levels of recovery from our resources.
"As we continue our transformation into a more commercially driven and performance led oil and gas company, we are focused on securing partnerships to allow us to unlock and maximize value and secure market access. In the upstream, we are adapting to the evolving market environment by driving down production costs and increasing our crude oil production capacity. We are also focusing on the application of value add and innovative technologies and are leveraging big data to drive efficiencies and optimize production."
Adnoc will also upgrade its huge onshore Bab field to increase its production capacity by 30,000 bpd by 2020.
The China Petroleum Engineering & Construction Corporation (CPECC) will carry out the engineering, procurement and construction work..
The work will lift capacity from 420,000 bpd to 450,000.
Al Jaber said: "The decision to modernise our production infrastructure at the large Bab field, is another clear signal that Adnoc is making smart investments to increase production capacity, enhance the long-term productivity and maximize the profitability of Abu Dhabi's oil reserves, as we create a more profitable upstream business, in line with our Supreme Petroleum Council approved 2030 growth strategy."
Recommended for you

Adnoc stacks three discoveries with 650 million barrels