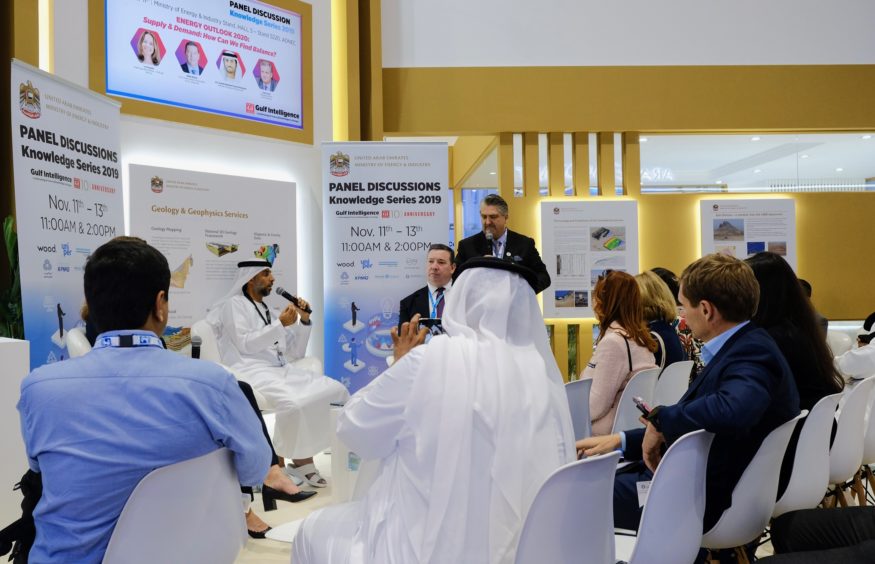 Forecasts for future demand and supply may fluctuate, but cutting costs and increasing efficiency will serve Abu Dhabi in the long term, Minister of Energy and Industry Suhail Al Mazroui said during a panel discussion at ADIPEC.
The minister, citing OPEC's recently released World Oil Outlook (WOO), said oil and gas would contribute more than half the world's energy to 2040.
"It is more beneficial to prioritise the shift from the burning of coal, or petroleum liquids, to gas for power generation than it is to just talk 100% renewables. That's not a financially possible option," Al Mazroui continued. Abu Dhabi is targeting a 70% reduction in CO2 emissions by 2050.
The state has made progress on a number of fronts, for instance by working on higher efficiency gas turbines in power plants or in the reclamation of water. "Water is a big issue for us but by combining the highest efficiency processes with solar power, we have been able to reduce desalination costs by 60%."
Increasing efficiency unlocks a number of aspects, the minister said, it "reduces CO2 emissions, it reduces costs, it's good for the environment".
On the subject of price efficiency, Al Mazroui said there was a need to balance the market, with OPEC placing store in reports from its technical analysts and the importance of unanimity in agreements. "If we all over produce, like the US did, we will see bankruptcies, people will lose their jobs and their houses, we need to avoid that."
In the broader OPEC+ agreement, some are over producing, while others are under. "We send letters to the governments [on the importance of adhering to output quotas], but it's a sovereign right for a country to determine its own production level," Al Mazroui said.
The attack on Saudi Arabia's facilities at Abqaiq and Khurais, in September, had a short term impact on prices but these concerns quickly subsided. "We commend Aramco and its employees and contractors for turning this sad incident into a success in a remarkably short time. It's a testament to the abilities of NOCs," he said, noting the importance of securing infrastructure. "We need to wait for the results of the investigation to reveal the truth" of the attacks, he continued.
The danger of an out-of-the-blue attack such as that on Saudi, widely believed to be by Iran, highlights the importance of storage for exporters, both in domestic markets and in the countries to which hydrocarbons are exported. While the attack did serve to concentrate minds, ADNOC was ahead of the game having announced at the beginning of the year plans for the construction of a 42 million barrel underground storage facility in Fujairah.
Recommended for you

In Scholz's UAE lighthouse talks, RWE scores a first LNG cargo