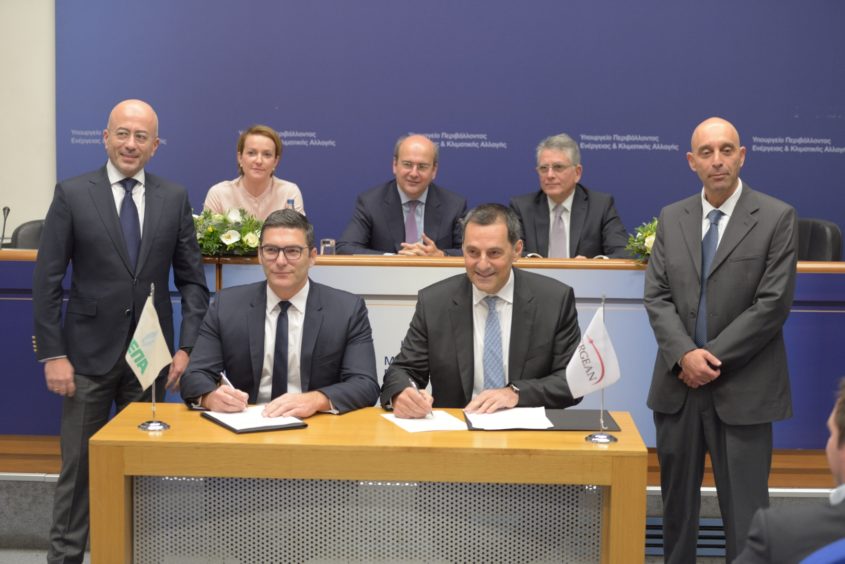 The proposed East Mediterranean gas pipeline will be "impossible" without consent from Turkey, according to Northern Cyprus' Prime Minister Ersin Tatar.
A statement from Tatar said the maritime agreement signed by Turkey and Libya have made the EastMed pipeline untenable. The pipeline plan would act to destabilise the region, he said.
An agreement on the proposed pipeline, which would run from the gas fields offshore Israel, Cyprus and Egypt into Europe, via Greece, was signed on January 2. That Cyprus is working with Israel and Egypt but not Turkey is a "hostile act", said Tatar.
Turkey invaded Cyprus in 1974 and established the state of Northern Cyprus, which lacks international legitimacy. Turkey's toehold there has given it some cover to carry out exploration of its own in the area, despite opposition from Cyprus.
Turkey and Libya's Government of National Accord (GNA) signed an agreement dividing up the offshore in a way that has alienated the EastMed backers, and the European Union.
In return for the GNA signing off on the division, Turkey has approved plans to deploy support for embattled forces in Tripoli. The Libyan National Army, led by General Khalifa Haftar, has been besieging Libya's capital since April but made little progress.
Greek Minister for the Environment and Energy Kostis Hatzidakis, Israeli Minister of Energy Yuval Steinitz and Cypriot Minister of Energy Yiorgos Lakkotrypis signed an accord on January 2 on the EastMed link. The pipeline would cost $6-7 billion, carrying 10 billion cubic metres into Europe.
The chances of developing the pipeline seem remote, with little clarity on financing and gas prices, let alone Turkey's potential to disrupt the project. However, Greece's DEPA signed a letter of intent last week on the purchase of 2 bcm per year via the link from Israel's Energean.
DEPA is a participant in the IGI Poseidon joint venture, with Edison, which is developing the pipeline, while Energean has gas interests off Isreal. Energean's CEO Mathios Rigas said the deal with DEPA demonstrated that it was not just governments that were interested in the pipeline project, but also "commercial interest from buyers and sellers of gas in the region".
The US has showed support for plans to develop gas resources in the East Mediterranean and is in the process of lifting an arms embargo imposed on Cyprus. Allowing arms to be exported to the country would serve US interests and comes with the proviso that Cyprus continues to "take the steps necessary to deny Russian military vessels access to ports for refuelling and servicing".