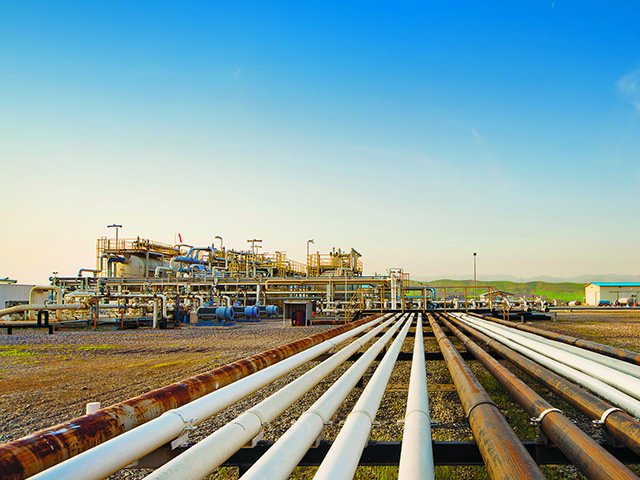 DNO's Peshkabir gas capture and injection project, in Kurdistan, has launched and already captured 1 billion cubic feet of gas injected, in a major move to reduce emissions.
The Norwegian company said the project would reduce yearly emissions by more than 300,000 tonnes of CO2 equivalent, equal to the emissions of around 150,000 cars. DNO's emissions in 2019 were 639,200 tonnes of CO2 equivalent.
The Peshkabir project is on the Tawke licence. Engineering and construction began in mid-2018 and commissioning was completed in mid-2020. The scheme captures around 20 million cubic feet per day of gas that had previously been flared.
The scheme captures gas at Peshkabir then transports it 80 km by pipeline to the Tawke field. It injects gas at Tawke, where it helps sustain reservoir pressure.
As of June 2020, the project has reduced emissions from 14 kg of CO2 equivalent per barrel to an average of 7 kg of CO2 equivalent. DNO's scheme has cut flaring at Peshkabir by more than 75% with work under way for further cuts.
"Gas injection and the associated carbon capture and storage is proven, practical and potentially profitable," said DNO's executive chairman Bijan Mossavar-Rahmani.
"Our project was completed on schedule and on budget notwithstanding the challenges of working in what is still a frontier oil and gas operating environment and the obstacles posed in the late stages by the Covid-19 pandemic," he said.
The Norwegian company believes the reinjection will increase recoverable volumes at Tawke by 15-80 million barrels gross.
Mossavar-Rahmani has also launched a plan to monitor methane leaks from DNO's operated sites.
DNO has a 75% stake in the Tawke licence and is the operator. Genel Energy has the remaining 25%.
Refinance
Genel has also appointed Pareto Securities to organise a roadshow for international investors. The company is aiming to raise a new five-year bond worth up to $300mn. This will replace Genel's bond that is maturing in December 2022, assuming the terms are acceptable.
As of the end of August, Genel has cash of more than $350mn and net cash of $55mn. The company said it was "proactively managing" its liquidity and debt maturity.