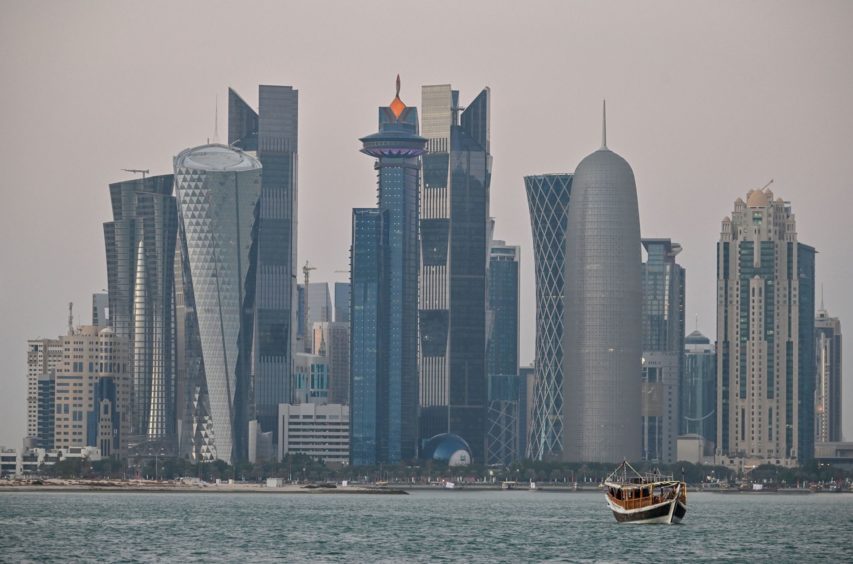 Qatar's ruler landed in Saudi Arabia on Tuesday to a warm embrace from host Crown Prince Mohammed bin Salman, hours after their nations re-established travel ties and eased a longstanding regional dispute.
Qatari Emir Sheikh Tamim bin Hamad Al Thani attended the Gulf Cooperation Council (GCC) summit for the first time since a 2017 row that cut trade, travel and diplomatic ties with Saudi Arabia, the United Arab Emirates, Bahrain and Egypt.
The visit came after Saudi Arabia reopened its airspace and land and sea borders to Qatar on Monday, a leap toward relaxing the divisions that had complicated US efforts to isolate Iran amid heightened tensions. Many outstanding issues that led to the rift remain unresolved, however.
Prince Mohammed, Saudi Arabia's de facto ruler, met Sheikh Tamim at the airport in the northwestern town of Al Ula, wearing a formal black and gold robe. The men – who were both wearing masks – hugged, after a moment of hesitation when Qatar's emir greeted the prince simply by putting his hand on his own heart. It was the only physical contact as other leaders tried to maintain social distance.
The summit represented a breakthrough, but it's unclear how far the reconciliation will go – and to what extent the UAE and Bahrain could follow suit. While disputes within the six-member GCC had arisen in the course of its four decades, the 2017 split cut deepest. The GCC comprises Bahrain, Qatar, Oman, Saudi Arabia, Kuwait and the UAE.
"The Gulf summit will formally end the Gulf rift and usher in some form of soft détente," said Ayham Kamel, head of Middle East and North Africa at the Eurasia Group consultancy. "However, the fundamental issues that led initially to the dispute were only partially resolved, and the trust deficit between the Gulf leaders will not be healed immediately."
During Tuesday's gathering, held in a mirrored concert hall in the desert, the leaders of each country's delegation were shown signing a document that Prince Mohammed said confirmed Gulf solidarity and stability.
UAE Minister of State for Foreign Affairs Anwar Gargash wrote on Twitter that a "shining new page" was beginning, and Prince Mohammed said "courageous steps" were being taken. They didn't immediately disclose what the statement contained.
Meanwhile, Egypt agreed in principle to open its airspace for Qatari planes and will do so if unspecified conditions are met, Saudi-backed Al Arabiya TV reported. Egypt's government didn't immediately respond to requests for comment. The Egyptian president didn't attend the summit, sending his foreign minister instead.
Jared Kushner, U.S. President Donald Trump's son-in-law and senior adviser, travelled to Saudi Arabia to witness the signing.
The partial resolution was pushed through as Trump prepares to leave office and his successor, Joe Biden, vows to renew diplomacy with Iran, Saudi Arabia's regional rival and a foe to most Gulf states. It is timely – on Monday Iran seized a South Korea-flagged tanker and announced it would ramp up its nuclear enrichment activities.
The wider economic and financial implications will be felt particularly in Qatar, the world's largest exporter of LNG. The country's main equities benchmark rose the most in the Middle East on Tuesday.
It's also good news for Qatar Airways, which had to abandon plans to add new routes and make lengthy diversions when barred from Saudi airspace. If the UAE and Bahrain follow its peers, the carrier could slash its fuel bill and resume flights to the four Arab nations, which included up to 52 daily trips before the rift.
Qatar had increasingly turned to Iran and Turkey – another regional rival of Saudi Arabia and the UAE – for support, relying on Iranian airspace for overflights. That troubled the Trump administration, which had initially backed the boycott, as it sought to expand its offensive to weaken Iran.
Even so, economists say trade is unlikely to return to its former levels. In the year before the split, Qatar's total trade with the kingdom stood at around $1.7 billion, according to Bloomberg data. Qatar's total trade with the UAE was $3.5 billion.
What Bloomberg Economics Says
"Qatar had to change its trade routes. Goods from the UAE and Saudi Arabia, which were among the most important sources of imports, were replaced by other countries like India, Turkey and Oman. The easing of the rift is unlikely to restore the old trade relationships soon, at least not fully."
— Ziad Daoud, chief emerging-markets economist
Political wounds could linger as well. The boycotting nations accused Doha of meddling in their internal affairs, supporting hardline Islamist groups and building ties with Iran. Qatar denied the charges. The dispute stretched beyond the region, with countries lining up on opposite sides of conflicts and geopolitical squabbles in the wider Middle East and in Africa.