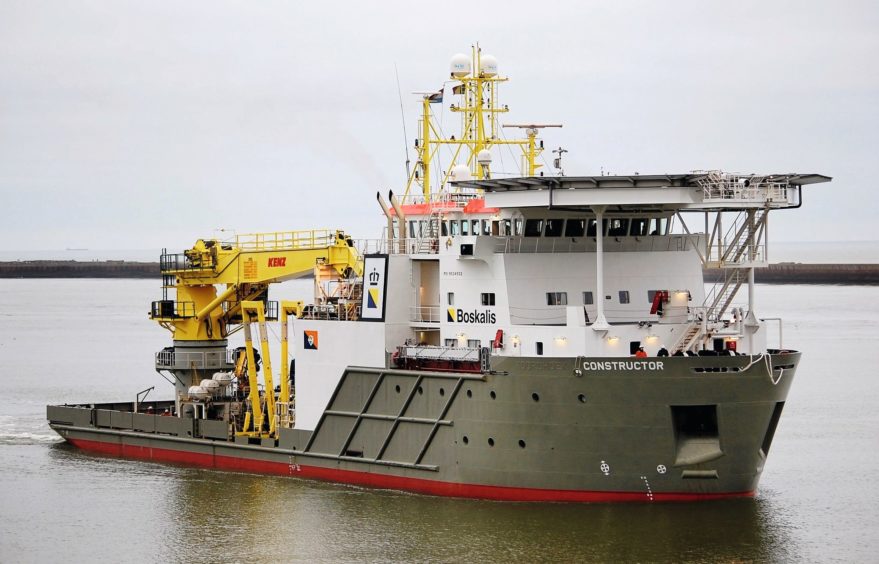 Dutch vessel contractor Boskalis is buying Rever Offshore's subsea services business, formerly known as Bibby Offshore.
The business being acquired specialises in subsea construction, inspection, repair and maintenance services and manages its North Sea operations from Westhill, Aberdeenshire.
Boskalis said it would "obtain" two diving support vessels through the transaction.
Rever Polaris is fully owned and Rever Topaz is under charter from Volstad Maritime.
Polaris was recently used for conducting maintenance work on Serica Energy's Rhum field in the UK North Sea as part of a framework agreement which commenced in November 2018.
Rever's subsea services business also creates employment for around 130 onshore staff members, most of whom are based in north-east Scotland, and 220 offshore workers.
A spokesman for Boskalis said those employees would be transferred to the new owner, but highlighted that some offshore crew members were contractors and, therefore, "not on the payroll".
The spokesman said the next step would be to "look carefully" at how operations can be run more efficiently.
He said it was "too early to make any statements" about whether that process would require changes to staffing levels.
Boskalis declined to provide a transaction fee, but said the operations it is acquiring generated revenues of about £80 million in 2020.
It also estimated that the acquisition would pay for itself in less than three years.
The buyer described itself as a "solid top three player" in the North Sea subsea market with ample opportunities for operational efficiencies and synergies.
It said the deal strengthened its position in the oil and gas and offshore wind subsea services markets in north-west Europe, Africa and the Middle East.
In 2019, the Dutch company announced its subsea services business had set up a new base in Westhill, Aberdeenshire, from where it could manage its UK North Sea contracts.
Operations in other parts of the world were mainly to be managed out of its global headquarters in the Netherlands.
In the space of a few months, Boskalis Subsea Services, which is part of Boskalis' offshore energy division, had raised its north-east headcount by about 30 to more than 80.
Boskalis' spokesman said today that the firm's Westhill office wouldn't be big enough to accommodate the enlarged workforce and that the company would have to optimise its footprint.
Bibby was founded in 2003 in Aberdeen and combined with Rever Offshore in 2018.
The merger took place after lenders came to Bibby's rescue by agreeing a refinancing in return for full ownership.
Bibby's new owner – Jersey-registered Fara Holdco – also held a majority stake in Rever.
Fara is led by York Capital Management, founded and run by New York-based financier James Dinan.
Post-merger, Bibby Offshore was rebranded as Rever Offshore as part of the divorce settlement between Fara and former owner Bibby Line Group.
Rever Offshore was asked to clarify which parts of its business would continue to operate under its existing brand following the sale of its subsea services division.
The company's website indicates that its fleet includes seven vessels, not counting Rever Topaz and Rever Polaris.
It also provides project management services and has an office in Newcastle.
Recommended for you

Regulator launches new tool to maximise offshore infrastructure repurposing