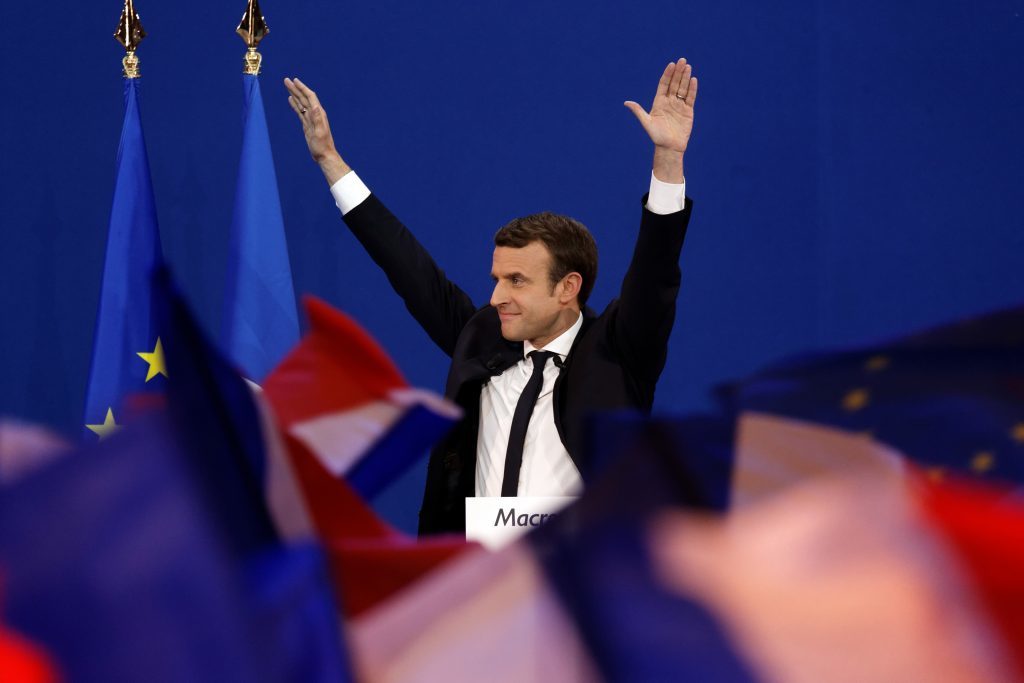 French President Emmanuel Macron has overseen a number of commercial deals during his visit to the Middle East.
Saudi Aramco signed deals with various French companies, with a particular focus on hydrogen. The memorandums of understanding (MoUs) were signed in Jeddah, at a ceremony attended by French Minister for Foreign Trade Franck Riester and Saudi Minister of Investment Khalid Al Falih.
Agreements were also signed during the United Arab Emirate leg of the French tour.
Abu Dhabi's government said Adnoc had signed a strategic deal with TotalEnergies. This covers areas of "mutual interest", it said, including capture and storage (CCS), low carbon hydrogen and talent development.
Adnoc head Sultan Al Jaber signed the deal with TotalEnergies CEO Patrick Pouyanné. The two companies agreed to work together on these areas under a deal signed in November 2020.
Technip also signed up to work on the Borouge 4 project during the Macron trip.
A joint Franco-UAE statement said the agreement between Total and Adnoc "should open up new opportunities for sustainable growth for both companies".
Low carbon
It also reported that Engie and Masdar had signed an alliance to consider the joint development of a green hydrogen facility in the UAE. The plan sets a target of 2 GW of capacity by 2030, with an investment of around 4.4 billion euros ($4.5bn).
Furthermore, Electricité de France (EDF) and the UAE's nuclear power company ENEC also signed an MoU. The two companies will work together in "low carbon hydrogen, high voltage transmission, localisation and industrialisation as well as research and development."
The most significant part of Macron's trip to the UAE was an agreement to sell 80 French-made Rafale fighter jets, for $19 billion.
Macron said the deal was the largest military contract with France. The agreement also "sent a strong signal of mutual trust. Yes, we act together for our safety. Yes, we stand together in the face of threats."
Saudi
Aramco highlighted an agreement signed with France's Gaussin on a hydrogen powered plan.
The Saudi company's president and CEO, Amin Nasser, said Aramco had a "long-standing relationship with a number of leading French companies. It represents an opportunity to promote hydrogen as a low-carbon solution, not just for motorsport, but eventually for mass transportation as well.
"Such collaboration helps us to advance economic growth in the Kingdom as part of the Namaat industrial investment program and takes us a step closer to our shared vision of a more sustainable future."
Aramco and Gaussin have agreed to create a manufacturing facility for on- and off-road hydrogen-powered vehicles in Saudi. The first step will involve a feasibility study on a plant and a distribution business in the Middle East.
The companies also agreed that Aramco's Advanced Innovation Center (LAB7) would be involved in the development of vehicles with Gaussin. This would include hydrogen-powered vehicles and the development of a remote controlled or autonomous hydrogen racing truck.
Aramco will sponsor the first hydrogen-fuelled racing truck, which will compete in the 2022 Dakar Rally. This will take place in Saudi. Aramco is working on new composite materials, which will be used in Gaussin's vehicles to cut weight and energy consumption.
Gaussin CEO Christophe Gaussin described the Middle East as a "key region" for the company. Saudi "shares with Gaussin an ambitious determination to decarbonise mobility and to address global warming."
Aramco acquired an option in November to subscribe for 20% of Gaussin's common stock.
And beyond
Aramco signed three more agreements. With Air Liquide, the companies agreed to work on low-carbon hydrogen and ammonia production. They also agreed to consider carbon capture and storage (CCS) opportunities.
Aramco and Alteia agreed to work on artificial intelligence in geospatial imagery interpretation and processing capabilities. Finally, with Axens, Aramco agreed to work on manufacturing and maintenance of furnaces and fired heaters.
In official comments from Macron, the French president said Paris would work with Saudi Arabia to support reforms in Lebanon.
Macron gave a speech where he talked about resolving crises, particularly in Lebanon and Libya, and engaging with local powers. The president had visited the UAE, Qatar and Saudi.
Recommended for you

Middle East sets eyes on scaling up CCS