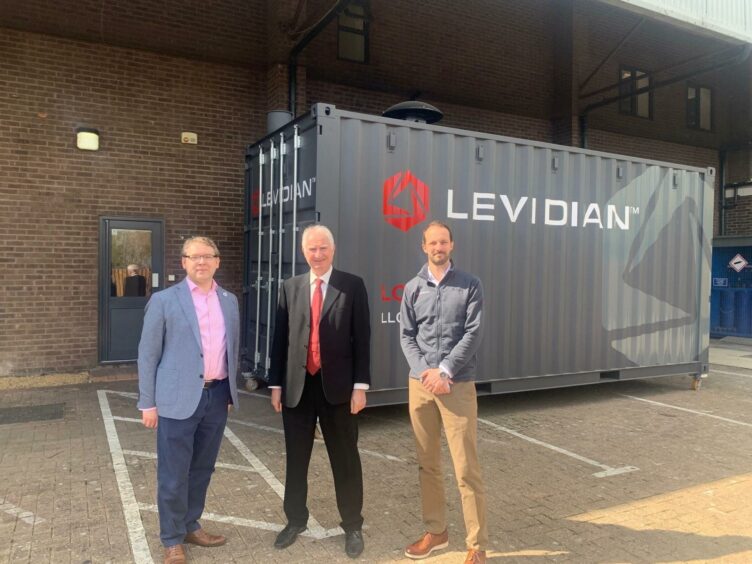 A pioneering company has struck a deal to help decarbonise flaring sites in the United Arab Emirates, while producing hydrogen and graphene.
Levidian announced a deal with Zero Carbon Ventures to deploy 500 of its Loop systems in the UAE over the next five years.
Each of these units will capture 100 tonnes per year of CO2 equivalent. These 500 Loop 50 systems will capture 500,000 tonnes of CO2e over the 10-year period.
The company is sending a first Loop unit – a slightly smaller Loop 10 version – to Abu Dhabi, to a site owned by IDC.
Levidian CEO John Hartley said the Loop system was "at its most powerful when decarbonising waste gas to generate hydrogen and graphene. We look forward to seeing Zero Carbon's network of LOOPs growing over the coming years."
Zero Carbon Ventures' CEO Martin Reynolds described the Loop as "game changing". Levidian's technology will produce "both green hydrogen and high-quality graphene, right here in the UAE. Both products in turn will have a positive impact on many industrial processes. We can't wait to get started."
In the loop
The device uses electromagnetic waves to ionise methane into a plasma. Loop combines three areas of interest in one. It can tackle a gas problem, a need for hydrogen and a need for graphene.
Levidian started in 2012, focused on making graphene from Cambridge University laboratories. In 2019, the company shifted into a look at how to cut emissions.
"You take gas in, you strip the carbon out, you produce hydrogen. Decarbonising gas, making hydrogen and making graphene is all part of this global megatrend," Levidian CEO Hartley told Energy Voice. "The focus of growth for the company is in hydrogen, that's where most of the demand for Loop comes from."
Speaking in the company's Cambridge R&D centre, Hartley explained that the Levidian system on its way to the UAE would help decarbonise upstream operations. "We have a huge issue with methane, if the Loop can capture that it will be hugely useful."
The Loop system is modular and stored in a shipping container, making it easy to move around the world.
Levidian is sending a Loop 10 device to the UAE in the next few weeks. Input to the unit of 1.5 cubic metres per hours of methane – effectively 1 kilogram – produces 120-150 grams of graphene and about 190 grams of hydrogen.
The company also has designs for a Loop 100 and Loop 1000, 10 and 100 times larger than the Loop 10.
National Grid has signed up to try out using Levidian's graphene to reinforce its pipelines to be able to carry hydrogen. Graphene could make the pipes more resistant to corrosion, allowing them to carry more hydrogen and be less likely to crack.
Hydrogen
In terms of the energy transition, hydrogen is going to play a key role – even if there remains some uncertainty over how to find the right mix of supply and demand.
Levidian is eager for the industry to rethink how hydrogen is classified.
"Electrolysis is only as good as its energy is green. Blue hydrogen is only as good as its carbon capture. The colour classification does not reflect the carbon associated with how hydrogen is produced," marketing director Rebecca Zeitlin noted.
"The way we crack gas, by firing it through a nozzle and directing microwaves at it. Which of those colour classifications is it? National Grid has called it cyan-turquoise. Our preference would be for classification by number, to say this is the amount of carbon emitted," Hartley said.
The CEO sees areas that need substantial amounts of heat as being one market for hydrogen. "That heat demand has historically been the hard-to-decarbonise part of the energy system."
Operators can use Levidian's Loop in a cluster, where gas sources meet this heat demand and a desire – or a need – for decarbonisation. The other opportunity for the technology is where demand for one part of the three is so compelling that it makes the case.
Graphene
Adding graphene to materials can help increase efficiency. Manufacturers can add it to paint, to rubber for tyres and to building materials.
Production of cement and concrete account for 8% of global emissions. "Put graphene in it and you can increase the strength per cubic centimetre twofold, so you only need half the amount," Hartley said.
The substance has a part to play in tackling climate change, he continued. "You make things last longer or you make things more efficient than they were before." Graphene has a part to play in the present, the CEO said, not 10 years down the line.
Manufacturers use the finest graphene – of a single layer – for high precision tasks. Companies can use lower purities for more mundane tasks.
The graphene market is not yet commoditised. However, it has grown at 39% in the last few years. "It is out there in the world," Hartley said.
Company plans
Beyond the initial Loop, Levidian is working on "more and bigger of those" devices, Hartley said. It is also carrying out research on where to apply graphene.
The executive went on to note a potential application at a water site in Manchester. Most demand is from off grid sources, such as oil and gas, wastewater and coal mines.
Levidian, for now, does not sell its Loop devices but rather leases the units. Companies can take the hydrogen and tackle their emissions problems with "payback of less than five years, typically".
The developer will provide remote monitoring and maintenance. The plan involves sending an engineer "every few weeks" to harvest the graphene and handle checks.
Levidian, meanwhile, handles the graphene production, guaranteeing a price for asset owners.
The company may come to sell its devices as it moves into a commercial phase – but does intend to keep control of the graphene production. "We don't want to create lots of little graphene producers all over the world. We want to make sure they can be used onsite or we sell it and use the money to make it cheaper for the customer."
Hartley said half of the company's discussions were on meeting UK requests, with the rest international. In addition to UAE, potential opportunities include Brazil and Malaysia.
"Graphene is a great British invention and export. And we're on the front foot for hydrogen," Hartley said. "If government regulators can help explain the carbon footprint of our hydrogen and categorisation of graphene, that can really help us."