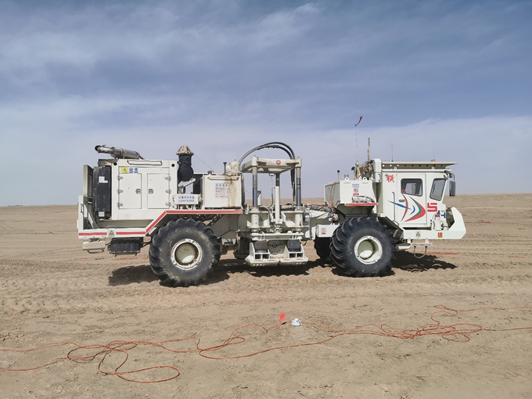 Adnoc has awarded the world's largest 3D seismic shoot to China's BGP, under a contract worth $519 million.
The Abu Dhabi-based company said the seismic would now cover 85,000 square km. BGP, a subsidiary of China National Petroleum Co. (CNPC), is represented in the United Arab Emirates by Al Masaood Oil Industry Supplies & Services. The award extends the current on- and offshore shoot, which Adnoc awarded to BGP in July 2018.
Adnoc has increased the scope of the contract to include coastal areas, islands and shallow water.
Adnoc said that 50% of the contract sum would stay in the UAE economy, under the company's in-country value (ICV) programme.
"This award builds on the solid progress we are making in executing the world's largest combined 3D seismic survey, which is an important part of our strategy to accelerate the exploration and development of Abu Dhabi's hydrocarbon resources," said Adnoc's upstream executive director Yaser Saeed Al Mazrouei.
The award "further demonstrates Adnoc's commitment to realising the full potential of our conventional and unconventional oil and gas resources to ensure the UAE remains a long-term and reliable energy provider to the world."
The Abu Dhabi-based NOC awarded the seismic contract following a competitive tender. The ICV metric played an important part in the award.
Adnoc noted seismic's role in allowing it to discover new resources, such as its recent 22 billion barrel unconventional oil announcement.
The 3D data will provide high resolution images of complex subsurface structures at ultra-deep locations. The company will use information from the shoot to identify potential hydrocarbon-bearing reservoirs. Adnoc will analyse the data at its Thamama subsurface centre.
Adnoc said the first seismic award was worth $1.6bn. BGP has completed 60% of the work, Adnoc said. The company expects to complete the entire survey in 2024.
Recommended for you

Adnoc stakes its claim to meet the world's energy needs