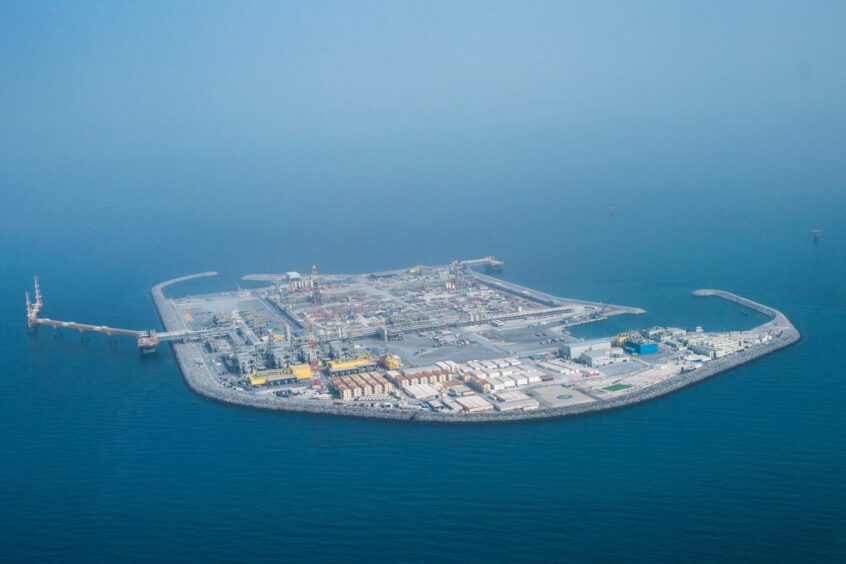 Eni has discovered gas at its first exploration well drilled offshore Abu Dhabi, in the offshore Block 2.
It is drilling the XF-002 well in 35 metres of water. Initial results from the well show it has found 1.5-2 trillion cubic feet of gas in multiple Jurassic reservoirs.
The company is drilling onwards in order to test the Khuff and Pre-Khuff formations. The well should be completed in the second quarter of this year, the Italian company said.
Eni has a 70% stake in the block and is the operator, while Thailand's PTTEP has the remaining 30%. Adnoc awarded the block to the companies in January 2019.
Adnoc CEO Sultan Ahmed Al Jaber said the discovery "underscores how Adnoc's expanded approach to strategic partnerships is enabling us to accelerate the exploration and development of Abu Dhabi's untapped hydrocarbon resources and create long-term value for the UAE, in line with the Leadership's wise directives".
Al Jaber went on to congratulate Eni and PTTEP on the find. "We look forward to continuing to work with all our strategic partners to sustainably unlock Abu Dhabi's hydrocarbon resources and stay ahead of the world's growing demand for lower-carbon energy."
The block covers 4,033 square km, northwest of Abu Dhabi.
Seismic works
Adnoc Upstream's executive director Yaser Saeed Almazrouei highlighted how the company's ongoing seismic campaign had played a part in this and a December 2021 find.
"Both discoveries leveraged insights from ADNOC's ongoing 3D mega seismic survey, underpinning the important role the survey is playing for us and our strategic partners as it utilises state-of-the-art technologies to help identify new hydrocarbon resources across Abu Dhabi," he said.
Adnoc went on to note Eni and PTTEP had also won the offshore Blocks 1 and 3.
In mid-December, Inpex and Adnoc announced a 1 billion barrels of oil equivalent discovery at onshore Block 4. The find was mostly of Murban grade crude and marked the discovery of a new formation.
Recommended for you

Taqa and ADNOC take control of UAE's Masdar in $2bn deal