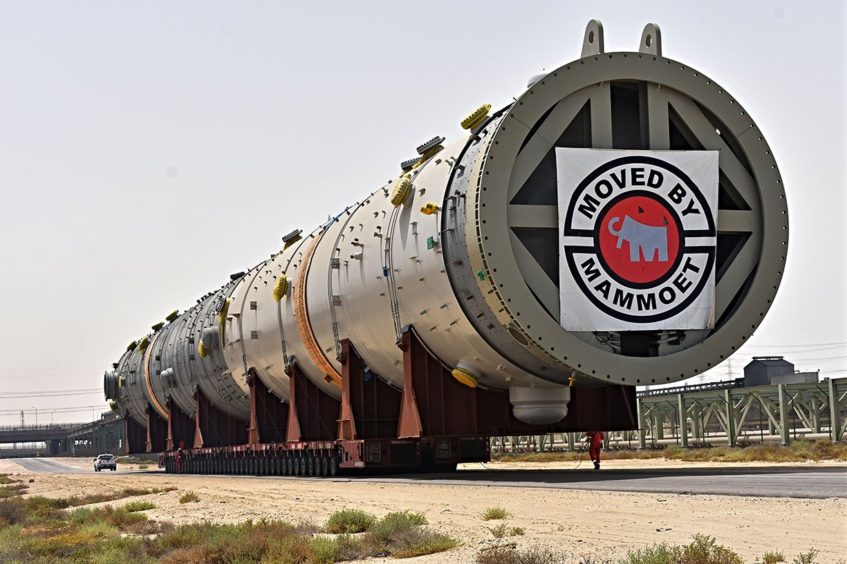 Mammoet has won heavy lifting work from Samsung Engineering at Saudi Arabia's Aramco Hawiyah Unayzah Gas Reservoir Storage (HUGRS).
The project is a gas injection facility. It can inject 1.5 billion cubic feet (42.5 million cubic metres) per day of gas and can withdraw up to 2 bcf (56.6 mcm) per day of gas.
Mammoet's Saudi branch will carry out work on transportation and installation. Samsung won the $1.85 billion work for HUGRS in January 2020. Mammoet expects the facility will be complete in 2023.
This will consist of transporting more than 60 components from the King Fahad Industrial Port, in Jubail, or a fabrication facility in Damman.
The company will shift them to the site, 260 km east of Riyadh.
The heaviest parts it will carry are four slug catchers, each weighing more than 400 tonnes.
Mammoet will oversee port handling and customs clearance. It will take 17 months to carry out more than 200 lifts.
"This contract award follows on from the successful delivery of other projects for Samsung Engineering in Saudi Arabia, such as the Shaybah petrochemical plant construction project and Jubail United Petrochemical Company's EO/EG plant," said Mammoet Saudi Arabia general manager Kevin O'Sullivan.
"It was secured primarily on the back of the client's confidence in Mammoet's technical expertise, quality and safety standards and we are confident in the success of this project."
The company has been working in Saudi for more than 45 years, it said. It has an extensive local fleet and local workforce, in line with the In-Kingdom Total Value Add programme (IKTVA).
The HUGRS project is intended to absorb surplus gas in the winter and produce it during summer.
Recommended for you

China, Saudi sign deals as Xi gets warm welcome in Riyadh