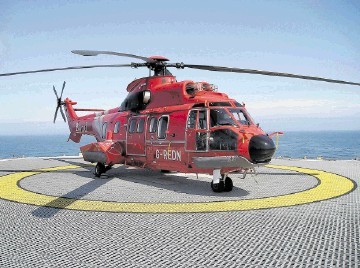 North Sea Super Puma helicopters must all be modified after the European Aviation Safety Agency (Easa) highlighted a potential hazard for emergency evacuations.
Manufacturer Airbus Helicopters said yesterday the changes were straightforward and could in most cases be carried out during downtime or perhaps as part of routine maintenance.
It is up to Super Puma operators to decide how and when the work should be done within 100 flying hours or three months, whichever is sooner.
A spokesman for Airbus Helicopters also insisted the problem with a window release system highlighted in the new Easa air worthiness directive was no more than "stiffness".
And he said the model of Super Puma involved – a VIP version for private flights – has thicker windows, which may have contributed to the jettisoning system being stiffer than expected.
The modification work, requiring a couple of technicians per aircraft, affects the entire fleet of Super Puma family helicopters globally – meaning around 800 aircraft, including about 30 in the North Sea.
Easa said: "An occurrence was reported, experiencing difficulty in jettisoning a window, requiring the application of high pushing force.
"Subsequent investigation determined that the associated window seal was in a good condition, with no indication of contamination with paint or hardening.
"Excessive friction between the window seal and the helicopter airframe was identified to be the root cause of the failure mode."
The regulator added: "This condition, if not corrected, could prevent the jettisoning of a helicopter window, possibly affecting the evacuation of passengers during an emergency situation."
Easa called for all Super Pumas to have a Teflon film applied between evacuation windows and the airframe.
Marignane, France-based Airbus Helicopters said: "As a responsible aircraft manufacturer, Airbus Helicopters has issued an ASB (alert service bulletin) which will make it easier to jettison the emergency windows on Super Puma aircraft.
"This is part of our continuous safety improvement practices."
Recommended for you

The bell tolls for the North Sea's dead wells