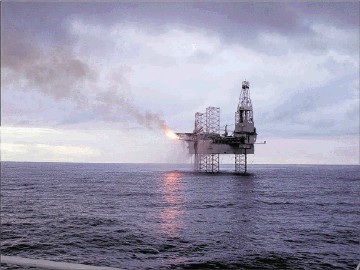 As many as 50,000 people in the north-east have lost their jobs as a result of the oil price downturn, a Scottish Government minister has admitted.
Energy Minister Paul Wheelhouse acknowledged that tens of thousands of workers have been made redundant in the North Sea.
It is the first time an SNP minister has publically estimated how many jobs have been lost.
His comments came as the Scottish Government was accused of "burying its head in the sand" over the scale of the oil and gas crisis in the north-east.
But Mr Wheelhouse defended his administration's record on protecting and growing the industry.
The SNP MSP pointed to the work of the Energy Jobs Taskforce – which has seen more than 8000 people – as well as the Transition Training Fund, as evidence of his government's work to help the
north-east.
Speaking during the Holyrood debate on the economy, he added: "Falling oil prices have presented significant challenges for the sector.
"I heard first-hand the challenges faced by this sector earlier this month when the Cabinet Secretary (Keith Brown) and I met with the industry leaders in Aberdeen to discuss what more can be done in the sector.
"The Scottish Government is working closely with the industry, the workforce, trade unions and the UK Government to secure a long-term future for the sector."
But Scottish Labour's Jackie Baillie said: "There is a duty on the SNP Government to use the new powers of the Scottish Parliament to promote effective economic growth.
"We can't wait any longer – there is a need for urgent action right now.
"For Labour that means taking action to give our workforce the skills they need to compete for the jobs of the future by investing in education and skills.
"The SNP Government in Edinburgh need to take their heads out of the sand."
Labour's debate came after INEOS wrote a scathing letter to Kezia Dugdale's party criticising their stance on fracking.
The Scottish Conservative's Murdo Fraser said Labour's position on shale gas was "hopelessly confused".
He told the Scottish Parliament: "Labour's stance on fracking implies that they are now against fossil fuel development in general. This implies that they are also opposed to further North Sea developments, and conventional onshore oil and gas development.
"This flies in the face of what we've already heard from Labour and suggests that they really need to make up their minds.
"If they want to be taken seriously on the economy and other issues, they need to make up their mind as to whether they are for or against the oil and gas industry."