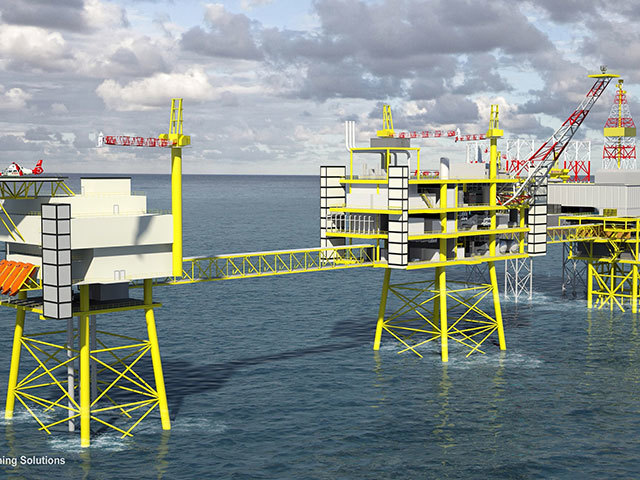 Gaming technology has inspired engineers from Maersk Oil to build efficient platforms and produce future cost savings for its Culzean project.
Digital technology was revealed by Martin Urquhart, the company's project director on the high pressure, high temperature (HPHT) North Sea field to have the potential to save up to $10million.
In a focus session on supply chain innovation at the Oil and Gas UK 2016 conference at Aberdeen Exhibition and Conference Centre, the boss revealed how he can carry out a virtual walk through
of Culzean with colleagues on the other side of the world to identify how changes and potential savings could be made.
He was joined by BP's regional president for the North Sea Mark Thomas who was chairing the session as well as Eric Walton from OneSubsea and Michael Scott from Babcock's LGE Process .
Speaking to delegates at the event he said: "I love this because I have in my top left hand drawer I have an X Box controller and sometimes people walk past my office and they say 'what the hell is Martin doing, he's playing games!'
"But I'm not playing games I'm actually inside the virtual model on my PC and I have it on my IPAD and I can use the X Box controller and I can walk around all of Culzean, so I can walk from the accommodation and we're using avatars, we're using gaming technology.
"This is a real size, human avatar and what we can do is I can phone the guys in Singapore and we can say 'right, let's go for a walk on level two round the pumps , guys tell me what you see' So we do that every day going in, looking around and looking at human factors, engineering, safe access – how do we take pumps out, how do we move valves around?
"How do we use technology which is just available every day and to the team worldwide on tablets, iPads.
"It's great and the operations team now are really making savings by looking at how long will it take me to walk through the third level back through to the accommodation and that might justify putting some different facility in a different place or doing something different so that's a very useful technology."
Recommended for you
X

Servelec shares plunge by a third after profit warning