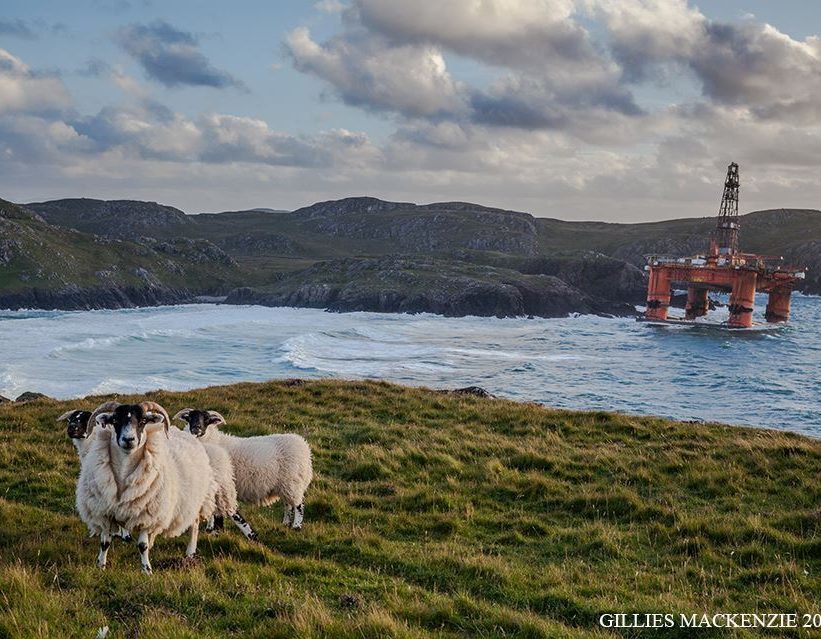 Fierce weather forecast for tomorrow threatens to hamper the salvage of an oil rig grounded in the Western Isles.
Strong winds and rough seas were expected as operations continued to assess the damage.
Some oil appeared to have leaked from the 33-year-old drilling platform Transocean Winner that was being towed from Norway to Malta for scrapping.
It got into serious trouble in severe weather when attempting a deepwater route down the west coast of the Hebrides. No-one was on board at the time.
Storm force winds and a heavy swell banging into the rig meant the tug MV Alp Forward could not maintain headway in the wind.
By 4.20am on Monday the oil rig was drifting towards shore pushed by 50mph westerly winds after the tow was overpowered by wild seas and a wire line snapped. Shortly after 6am it hits rocks and grounded at Dalmore beach.
A film of diesel was seen on the sea surface in a neighbouring cove while fumes could be smelt on the beach. Coastguards on the scene were issued with masks as a precaution.
Two investigators from the government's Marine Accident Investigation Branch arrived at the beach at lunchtime yesterday to probe the incident.
A drone was employed for the first time in a UK maritime inquiry flying over the platform to collect footage of the layout and any damage.
A break in weather conditions allowed six people to be airlifted onboard the semi-submersible.
Four salvage experts and two representatives from rig owners Transocean were lowered onto the deck to assess the damage and report back to the taskforce.
People were urged to stay clear of the beach and a temporary 300-yard exclusion zone was established at the popular beach.
At the scene, Hugh Shaw, the UK government's maritime salvage representative, said: "This initial recce will be checking a number of things including fuel tanks. It's then intended to put a second larger group of salvors on to carry out a more detailed inspection."
Three vessels, including the emergency towing vessel (ETV) Herakles, remained at the scene.
While environmental groups have raised concerns about the incident the coastguard said the pollution risk was believed to be low.
A spokeswoman for Texas-based Transocean said: "During severe weather, the Transocean Winner lost its tow and subsequently grounded off the Western Isles. No rig personnel are at risk.
"We're working closely with authorities to resolve the situation as quickly as possible. Further information will be released as it becomes available."