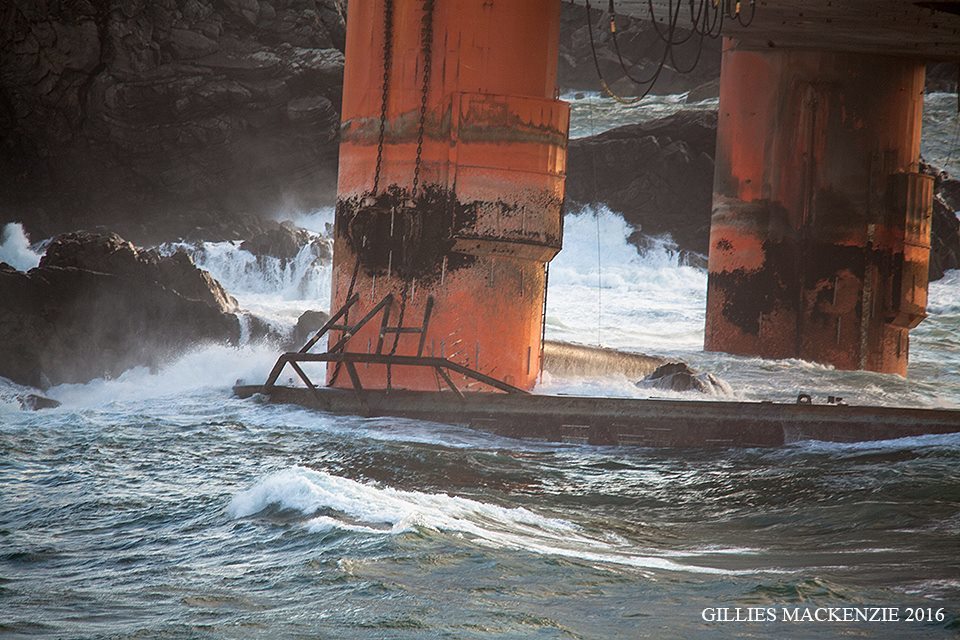 Vantage points surrounding the stricken rig which so dramatically ran aground off Lewis have been placed "in lockdown".
Mark Mackay is holidaying in the area with his wife Sandra.
He said conditions on Lewis had been wild — but that the weather had not initially deterred people from trying to clamber up on to the cliffs to get a closer look.
However, all roads around the site have now been closed, with local beaches and cliff paths also cordoned off.
"The beach in question is pretty popular with tourists and is regarded up here as something as a surfers' paradise," said Mr Mackay, from Dundee.
"All the clifftop walks and roads surrounding it have now been closed off and apparently will remain so for days.
"The whole area is pretty much in lock-down."
Mr Mackay said the stranded rig was proving to be quite a talking point among tourists and locals alike.
"You can see the top of the rig for miles around as it is towering above the cliffs," he added.
"So even though you can't physically get anywhere near it, everybody is aware of it and talking about it.
"The locals are not particularly concerned but it is the subject of much conversation, not least as there are lots of members of the press about.
"It has been lovely today but it was wild on Sunday and Monday — the gales were incredible.
"To be honest I think you would be mad to try and get any closer on the cliffs as even when it feels benign it can be wild up there but the police and coastguard are maintaining a strong presence in any case," added Mr Mackay.
The drilling rig Transocean Winner ran aground after severing its towline in severe storm weather.
UK Coastguard commander Mark Rodaway said: 'We understand that this incident is of interest to people living in the area, but we're really asking them to stay away to ensure easy access for emergency services and salvors.
"Also the last thing we want is for people to be injured or worse trying to get a closer look on remote cliff paths."
Storm weather threatens to hamper the rig's salvage plans.