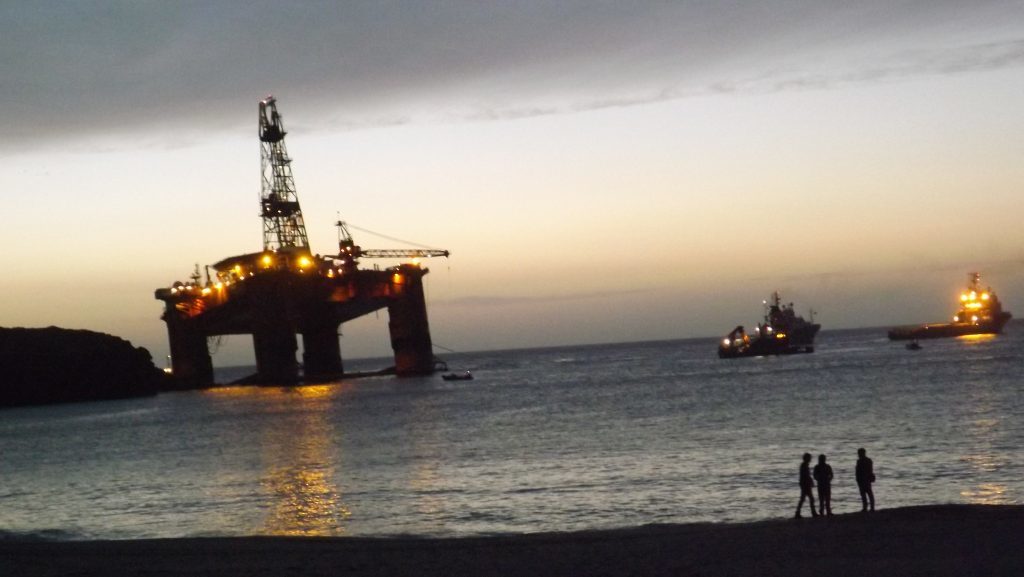 A 17,000-tonne oil rig that ran aground in the Outer Hebrides has been safely towed off the rocks by two tug boats.
The Transocean Winner drilling rig was successfully refloated in Dalmore Bay at 10pm on Monday.
It comes a fortnight after the semi-submersible structure was blown ashore in bad weather at the bay, near Carloway on the Isle of Lewis, during a towing operation.
A Stornoway coastguard spokesman confirmed to that the Transocean Winner drilling rig was "safely off the rocks" as of 10.10pm on Monday.
The two tug boats were towing the rig to the east side of Lewis in Broad Bay, where experts were expected to assess the condition of the rig.
Salvage team Smit agreed the latest towage plan – which was focused around high water on Monday night.
A spokeswoman for the Maritime and Coastguard Agency said that as of 11.40pm on Monday "the drilling rig is currently being stabilised but will shortly resume its journey later this evening and is expected to reach Broad Bay by tomorrow evening, on schedule".
The towline between the rig and its tug was lost en route from Norway to Malta amid high winds and heavy seas in the early hours of Monday August 8.
The rig grounded with 280 tonnes of diesel on board and two of its four fuel tanks were damaged in the incident.
It resulted in the loss of up to 53,000 litres of fuel, most of which is thought to have evaporated.
The remaining 200 tonnes of hydrocarbons, mainly diesel oil with small amounts of base oil and brine, were transferred from the rig to the supply vessel Olympic Orion at the weekend.
A 300m exclusion zone around the rig will remain in place while the salvage work continues.
There will also be a 1km exclusion zone around the Transocean Winner while it is being towed from Dalmore Bay to Broad Bay, on the east coast of Lewis, some 54 miles (87km) away.
Recommended for you

OGA names winners of £1m platform electrification competition