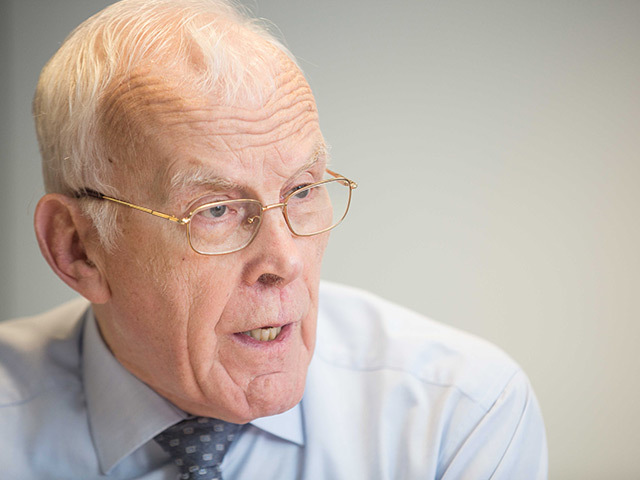 Oil and gas billionaire Sir Ian Wood said the north-east has "woken up" to the challenge of transforming the region's economy.
As chairman of private sector economic development body Opportunity North East (One), Sir Ian warned of a return to "complacency" as the oil price looked set for a modest recovery. .
Speaking to an audience of almost 300 people at the Chartered Banker Institute dinner in Aberdeen, Sir Ian predicted the region's economy would recover from the current oil price downturn but "not to the activity levels we have seen in the UKCS in the past".
Sir Ian said: "Opportunity North East (One) has been set up by the private sector to face the very obvious economic challenge of our region. There are two very contrasting visions. The first is renaissance, which will require economic planning and development to stimulate, diversify and broaden our economy to reduce the dependence on North Sea oil. The second is that, as the oil price recovers, we relapse into complacency, fall back on bad habits, don't plan and invest ahead, and in 30 to 40 years' time we become a historical monument to the heyday of oil and gas.
"I believe we will recover from this oil price downturn, not to the activity levels we have seen in the UKCS in the past, but we should have a reasonably prosperous period through the 2020s and 2030s and that should enable a wider renaissance in our economy if we make the right investments to broaden and diversify activity now and into the medium term. However, this will only happen if our local authorities, business and industry interests and other initiatives with similar objectives all adopt the renaissance mind-set and participate accordingly," said Sir Ian.
He urged the region's local authorities to focus on the development of digital infrastructure to create an attractive environment for inward investment.
Sir Ian said: "We've frankly had it easy in the last 40 years. We haven't had to fight for inward investment, in fact the reverse is true. That era has gone. We now need to fight to retain the companies we have and become aggressive and competitively look for and attract diversified activities. That requires a mind-set change for us all."
He added: "Since the beginning of the oil price downturn, Aberdeen and the north east of Scotland have woken up and realised that we have a huge challenge on our hands to avoid a major economic recession in the city in 20 to 30 years' time, and that's a good start. Some fundamental changes have already taken place in the oil and gas industry and we have a very enterprising business community with quality companies and high quality technical and trade skills. We also have a number of flagship projects in various stages of development and delivery, including the harbour extension at Nigg; the new exhibition centre; The Oil & Gas Technology Centre; the airport renovation; and the city bypass."