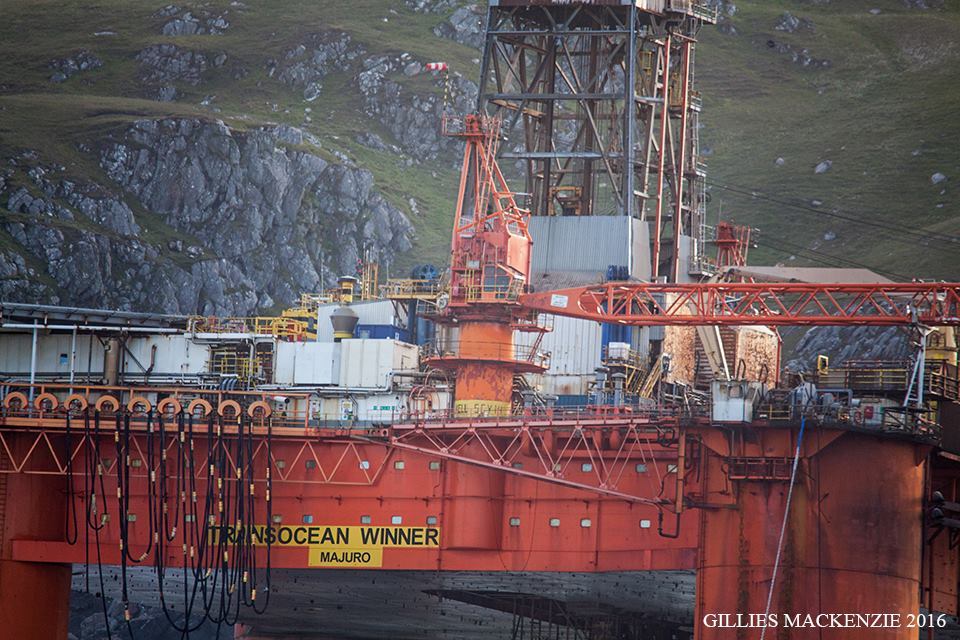 An operation to load a stricken Transocean oil rig on Lewis onto a heavy lift ship at the weekend had to be called off due to wind whipping up the sea.
And the Transocean Winner rig may be towed away from the Western Isles to more sheltered waters for the next attempt to load her onto the Hawk.
Salvors are considering whether the 17,600 tonne rig, which crashed on the west coast of Lewis eight weeks ago, could be towed to a mainland sea loch for the procedure.
The 33-year-old redundant structure snapped her tow line and was blown ashore with 280 tonnes of fuel onboard during severe weather on August 8.
After being salvaged off rocks, the platform was towed to a temporary anchorage in Broad Bay on the other side of the island.
Around 27 fuel tanks were gashed and flooded with seawater during the collision making it too hazardous to continue her tow to a scrap yard in Turkey.
The plan is to load the rig onto the wide-decked Hawk as deck cargo and four tugs manoeuvred it to the mouth of Broad Bay, where the Norwegian-flagged heavy lifter was submerged 33ft into the sea.
Other weather conditions were ideal for the exercise, but the sea swell was rolling more than 6ft high over the submerged deck of the Hawk and her captain suspended the operation.
The Hawk remained on scene and it was hoped that it could be resumed, but a forecast of bad weather for last night (Sunday) meant the rig was hooked back up to eight seabed anchors.
And Hugh Shaw, the UK government's salvage advisor, has asked salvors to consider looking at alternative positions with less swell, either on the Western Isles or the mainland.
He added that the forecast was not expected to improve enough for the operation to be completed this week.
He said: "There is a small window around about Thursday, but we don't think that is sufficient time.
"We will keep the resources on scene and if the opportunity arises we will be ready to go for it."
Recommended for you
X

Rentair takes over at ATR Power Solutions