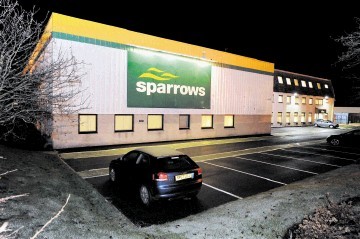 Aberdeen crane engineering company Sparrows Group said yesterday it suffered a "modest" drop in turnover to £200.5million in 2015.
The firm, which employs more than 1,600 people globally, including about 900 in the Granite City, also reported a large drop in operating profits to £5.8million, from £17.8million the year before, amid the storm unleashed by the oil price rout.
Pre-tax losses from ordinary activities widened to £30.9million last year, from £23million previously, as turnover slid by about 9%.
Sparrows said revenue remained almost evenly divided between the UK (51%) and its global operations (49%), highlighting its "continued strong presence in key international energy hubs".
Chief executive Stewart Mitchell added: "This has been a very challenging year and, like the majority of organisations, we have had to implement significant changes in our business and make some very difficult decisions in order to weather the continued impact of the lower oil price environment.
"The controlled, proactive approach we have taken to our reorganisation and refinancing has resulted in stability in our business.
"This, combined with the investment we have made in our overseas markets, product lines and service offerings, has helped us to create a business that is more robust and positioned us well to capitalise on opportunities in the marketplace in the coming year."
Mr Mitchell said the group's focus in the months ahead was on continuing to drive cost efficiencies for customers, broadening its services and expanding into new sectors and geographies.
Sparrows specialises in the provision of lifting, crane engineering and mechanical handling services to the offshore energy industry.
Founded in Bath in 1946, the group moved into the oil and gas market in 1975 and celebrates 40 years working offshore this year. It is owned by Jersey-registered Hawk Caledonia.
Earlier this year, Sparrows said it was reducing its workforce, with up to 90 people expected to lose their jobs after oil prices plunged below $30 a barrel.
The group's 2015 accounts reveal a £25million cash injection from its principal investors towards the end of last year.
Giving his outlook for future trading in the firm's strategic report, Mr Mitchell said: "The directors expect market conditions to continue to be challenging due to the instability in the oil price and the impact of this on the wider oil and gas market."
Recommended for you
X

SPE president spells out why fracking is "part of the solution"