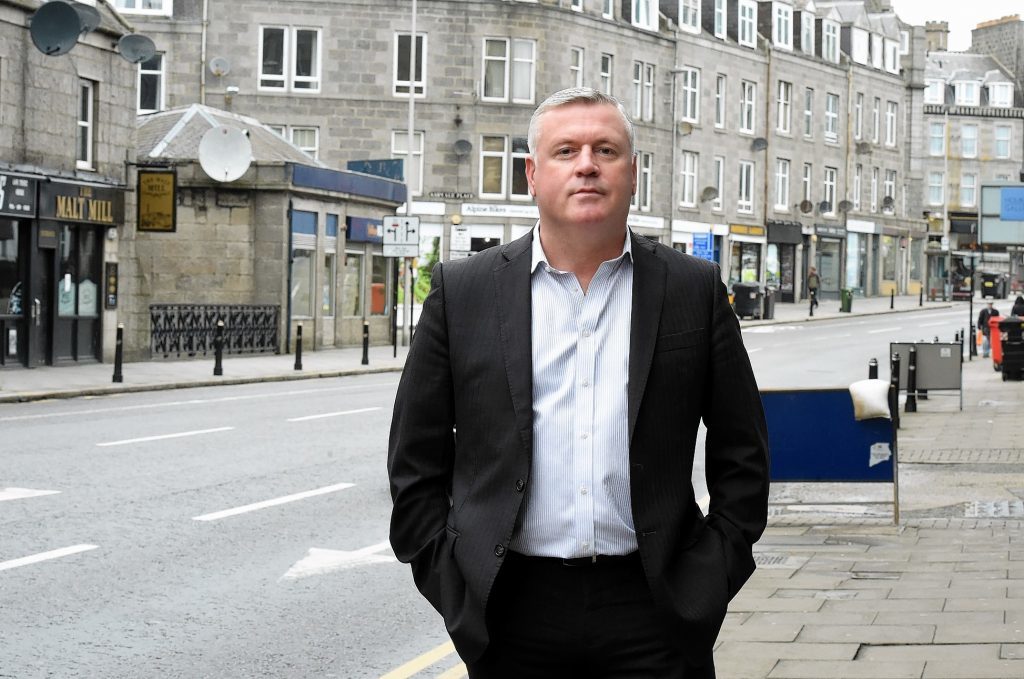 A north-east oil chief has revealed how his business was allegedly ruined by the "dash for cash" scandal at the Royal Bank of Scotland (RBS) which emerged this week.
Rod Coffey owned Stable Services, which supplied drilling tools, and after it went into administration he felt driven out of Aberdeen.
He took over the firm in 2006 and by 2008 had a turnover of £29.5million.
But when the financial crash struck he encountered a cash flow problem and needed funds to sustain the business.
His company was put into the bank's Global Restructuring Group (GRG) unit in 2008. His business was subsequently put into administration and sold for just £1.7million the following year with the loss of 40 jobs .
Mr Coffey, who now runs Key Energy Ventures, said: "The business was doing fine in 2008. It just needed cash flow.
"If you look at the growth in turnover it went from £2million, £6million, £29.5million so we were on an upwards trajectory.
"RBS put us unto GRG, who got 18% of the company and paid us £2,000 for this.
"The fees were forced on us, the directors were forced on us.
"They drain you of confidence and make you feel like you are a bad businessman."
He claimed GRG "forced" his company into administration despite having received at least one offer to buy the firm.
The bank appointed PWC as administrators who Mr Coffey claimed "made a mess" of the process.
The bulk of Stable's assets were sold to Dutch oil services group Paradigm after PWC reported receiving more than 50 offers of interest from potential buyers.
He added that he felt driven out of town by his company's downfall.
"Aberdeen is a village, I went from being constantly in the newspapers to being something of a villain.
"The suppliers lost a lot of money and I lost my confidence.
"I moved to USA for three years and I felt forced out of town.
"On one occasion a supplier approached me in a restaurant and there was an altercation."
The bank's chief conduct and regulatory affairs officer, Jon Pain, said: "In the aftermath of the financial crisis we did not always meet our own high standards and we let some of our SME customers down."
PWC said that the company was sold "for the best offer received in the best interests of the creditors."
Stable Services is among hundreds of businesses which were allegedly pushed into administration as part of a "dash for cash" at RBS.
An investigation by BBC and Buzzfeed alleges that firms earmarked for help from RBS were hit with hefty fees and fines, which eventually led to their assets being sold on the cheap.
Confidential files leaked to the media organisations suggest bank staff could also pocket bigger bonuses by pinpointing firms for a restructure in what an RBS executive described as a "dash for cash".
The bank, which is 73% owned by the taxpayer, set up its turnaround arm – the Global Restructuring Group (GRG) – following the banking crisis in 2008.
It is alleged that GRG brought in extra fee income to the bank by squeezing small firms.
The bank has admitted it did not always meet its own high standards and it let some businesses down. But it denies that it "artificially distressed otherwise viable SME businesses or deliberately caused them to fail".
It added: "Since that time, RBS has become a different bank and significant structural and cultural changes have been put in place, including in how we deal with customers in financial distress. We continue to learn the lessons of the past and seek to do better for our customers. RBS is a fundamentally different institution today as a result."