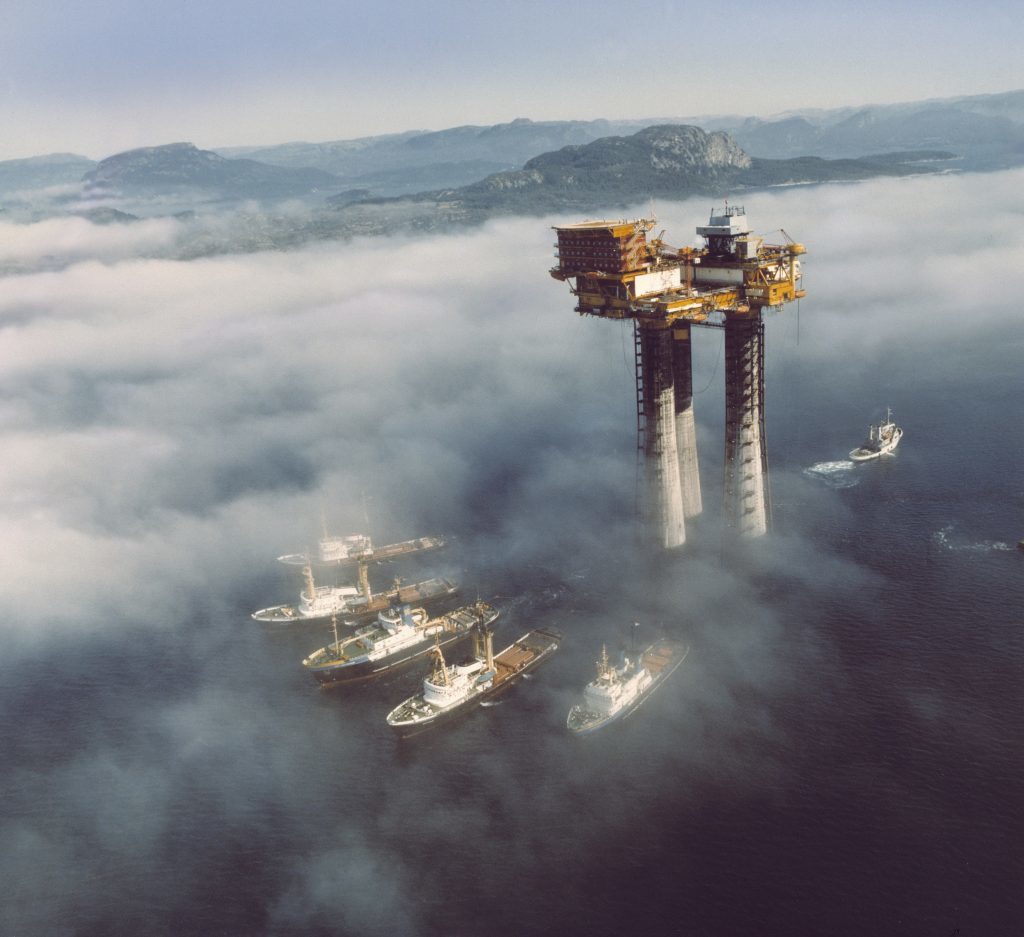 I'm old enough to remember the amazing Brent advertising in the Sunday colour supplements of the mid-1970s that likened the challenge of developing this first generation North Sea oil giant to Nasa's moon shots.
Both projects were on a heroic scale and represented massive steps forward.
Man's expeditions into space had, prior to the Apollo missions, been confined to near-Earth orbit.
Big Oil's forays offshore had been confined to relatively benign shallow waters like the US Gulf of Mexico Shelf and, from the mid-1960s, the Southern North Sea gasfields.
In short, it was frontier-busting stuff in every way. There wasn't really much of a track record of any kind to draw upon … from the early seismic, to exploration & appraisal drilling, to engineering design & construction, to installation, commissioning & operation.
At that time, arguably the greatest feats of Big Engineering had been bridges, dams, ports, ships and the M1 motorway. And, for sure, no one anywhere had tried to build concrete and steel behemoths of the type that have made Brent an engineering legend in its own lifetime, unless you count the Maunsell forts of World War II.
This month marks 40 years of production from Brent, though it was found five years earlier.
In the Brown Book, once the vade mecum of the UKCS industry, there is a terse entry that records well 211/29 drilled on Third Round licence P117 as being a Jurassic discovery and it is dated July 1971.
But the story behind such brevity is enormous. To give some idea of the utter boldness of 50:50 Shell Exploration & Production partners Shell UK and Esso Exploration & Production UK, when Shell/Esso's North Sea joint venture, Shell Expro, spudded exploration well 211/29-1 in the East Shetland Basin and some 240km the north of anything else yet drilled in UK waters, no one was sure that anything would be found, let alone one of the three or four biggest discoveries ever landed on the UK Continental Shelf.
The well targeted a prominent seismic marker called the Base Cretaceious Unconformity.
A large structure was clearly there, but what if there wasn't any reservoir rock within it, wrote Mike Shepherd, an offshore veteran who two years ago published Oil Strike North Sea: A first-hand history of North Sea oil.
However, the well did come in and it came in big. Such was the level of confidence in what had been found, the well was apparently never tested by Shell Expro.
The company went on to appraise the find with six further wells but said nothing about the success until August 1972.
Shell's exploration manager at that time was Miles Bowen who it is said even had fictitious maps of the area made up to throw other oil majors off the scent. North Sea folklore perhaps but it would not be surprising if that was indeed the case.
John Jennings was the company's chief geologist at the time, while Reim van Nierop was the exploration & production co-ordinator.
Jennings had joined Shell in 1968 and, within a year, was already looking at the geology that generated Brent, which became the largest North Sea discovery ever made by the JV.
Such was his prowess that he went on to hold an array of senior posts within the Shell group, plus he was conferred a knighthood.
BP might have beaten Shell to the first really large oil find on the UKCS with its Forties giant located due east of the major fishing port Peterhead, but Brent was the first discovery in the northern part of the North Sea and it wasn't the last.
There are two separate major accumulations within Brent: one in the Middle Jurassic (Brent Group reservoir) and one in the Lower Jurassic/Triassic (Statfjord Formation reservoir).
The original oil/condensate-in-place, was at the start of 1989 estimated at 3.5billion barrels, plus around 6,700trillion cu.ft of gas.
The JV was quick to get on with development based on three concrete (Condeep) gravity platforms and one of steel. Primary oil export began using the Brent Spar loading facility and a gas export line was laid to St Fergus in the Scottish north-east.
The first North Sea structure that I encountered was the Brent Condeep built at Ardyne Point on the Clyde and which lay off Portavadie, Loch Fyne, for a while before being towed to the East Shetland Basin for installing. Looking up from the deck of a fishing vessel, it was staggeringly huge.
Brent, like Forties, was developed with astonishing speed by today's standards … just five years in the case of core Brent (November 1976) with Brent South following in August 1992. Peak production was not achieved until 1984, according to the Brown Book.
It rapidly became an offshore village with its own distinctive culture; out of sight and out of mind of the British public, and understandably so.
Now for a leap in time to the present day. More than 3billion barrels and massive quantities of produced gas and liquids later, Brent is winding down and producing only from the Charlie platform. Decommissioning, flagged to the marketplace a decade earlier, has become very real.
Brent was a frontier buster at the start. It's a frontier buster again … pushing the limits of large platform removal not in bits but entire topsides lifted off in one go and, similarly hopefully, one of the largest steel jackets ever built for North Sea service.
Last year on average, there were around 1,500 people working on the Brent decommissioning project at any time … both onshore and offshore, many of them from companies locally based in the north-east of Scotland … Wood Group, Rovop and Cut UK to name but three.
The pace is quickening and, already, around half of Brent's well stock has been fully decommissioned … plugged and finally abandoned. A lot of subsea infrastructure has been dealt with too.
But the headline grabber has been and will always remain the removal of each topsides in one go using a ship built for Allseas of Switzerland and which will be capable of handling such loads.
Next year, once the weather is reasonably stable, the largest ship in the world, Pioneering Spirit, will head for the Brents and first uplift the 24,200 tons Brent Delta topsides and deliver by barge,
the massive unit to Able UK's decom facility on Teesside for recycling.
I've little doubt that the operation will go smoothly and that the remaining topsides units will be dealt with successfully too.
The topsides of Alpha, Bravo and Charlie will follow in due course, assuming no significant hitches.
And what that will do is set a precedent that will surely be followed by other operators with large platforms that they would rather not piece small or dismantle in some other way.
This too is heroic stuff and, in its way, every bit as exciting as what happened in those now far off days… the 1970s.
Energy Voice has teamed up with Shell to celebrate 40 years of Brent. This promoted series will examine the people, milestones and technology that helped make this historic North Sea find possible. It will also analyse what lies ahead for the breakthrough discovery. Happy 40th Brent!
To celebrate and capture the rich history of Brent, Shell is commissioning an e-memory book and an oral history project. If you have an unforgettable Brent story, or have an old photo or memory you would like to share, you can submit them at www.shell.co.uk/brentmemories. The oral history project will be interviewing a selection of candidates from a variety of roles and years to record the highlights and uncover the less widely known stories from the last 40 years. Digital recordings will be donated to The University of Aberdeen who will share these stories with anyone who is interested, from family members and researchers, to students and the public. Please contact Brentinfo@shell.com if you would like more information about these projects.