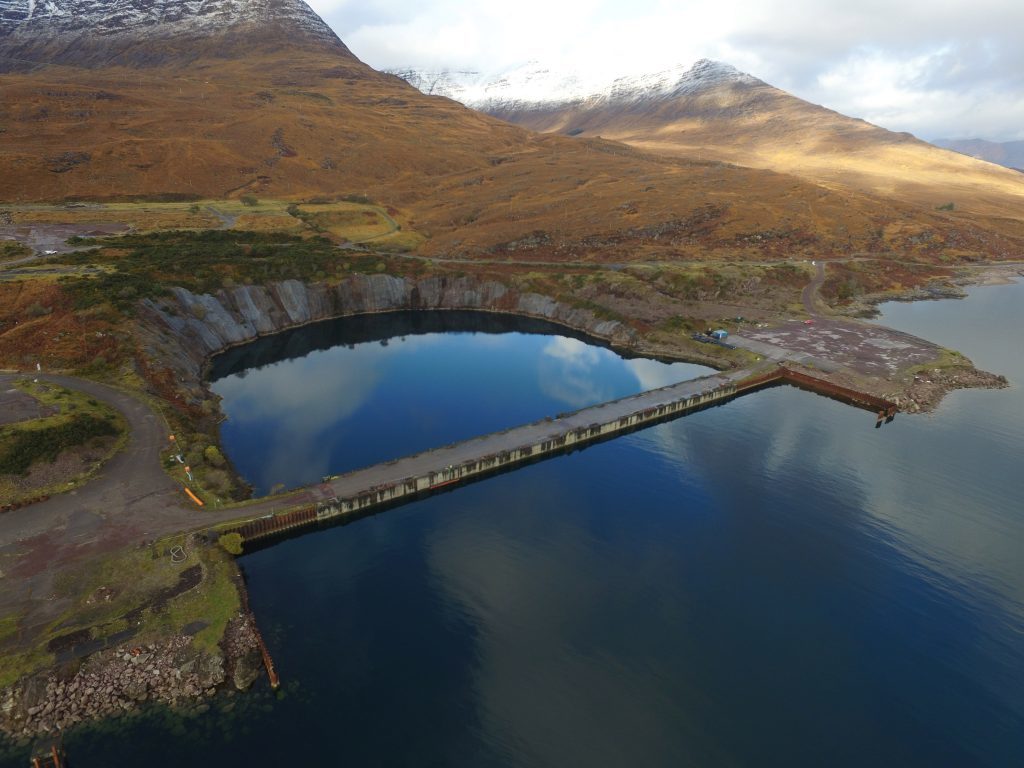 A Highland fabrication yard that last operated almost a quarter of a century ago is poised to be resurrected as a "goldmine" following a new £500,000 investment.
Kishorn dry dock, in Wester Ross, will see action for the first time since it was used for work on the Skye Bridge as Welsh marine engineering company Harris Pye conducts a trial to check it is still functional.
The port employed about 3,000 people in its 1970s heyday and accommodated some of the largest floating structures ever to be fabricated for the North Sea oil and gas industry.
And hundreds of new jobs could be created in the coming years, with the port now consulting the relevant authorities to licence the yard this year as a decommissioning centre for barren North sea oil and gas infrastructure.
The dry dock at Kishorn is one of the largest in Western Europe and spans nearly 525ft across, which means it is capable of taking the largest structures.
The projected cost of decommissioning the North Sea oil and gas infrastructure has been estimated at £75billion.
Last night Ross, Skye and Lochaber MP Ian Blackford, who has pushed hard for the dry dock reinstatement, said he was "massively enthusiastic" for the future of the port.
He added: "This is a gold mine, simply because the facilities at Kishorn are utterly unique in terms of the scale of the dry dock and the depth of water there.
"We know there will be fantastic opportunity with decommissioning through the next few years and decades to come and we're all keen to make sure Kishorn is a key destination.
"If you think of the potential billions involved in oil and gas decommissioning, Kishorn will be able to get a fair share of that."
Mr Blackford also highlighted the broader context of the new investment in terms of how it can help "re-industrialise" the Highlands following a £330million investment by GFG Alliance to expand the UK's last aluminium smelter in Fort William.
GFG executive chairman, Sanjeev Gupta, also pledged to diversify into steel production within the decade, and help create up to 2,000 jobs.
Mr Blackford added: "If you link these two things together, GFG Alliance says it has the potential for processing steel, and at Kishorn it can decommission steel which can be taken down to Corpach (Fort William). Holistically there is real industrial capacity – we can not underestimate the importance of this."
The new contract at Kishorn will involve fabricating a new set of gate seals and culvert tube covers, which when installed will allow the dry dock to be pumped dry for the first time in nearly 25 years.
After the dock is emptied there will be an inspection of the facility to ensure it can be re-used for a wide range of prospective contracts.
The investment was made by Kishorn Port Ltd joint venture, between Ferguson Transport & Shipping and Leiths (Scotland) Ltd, with the backing of Highlands and Islands Enterprise.
Proving and cycling the dry dock at Kishorn will be the first phase of its development and licencing for handling decommissioning projects is the next hurdle.
Further development work of shore side facilities and infrastructure will be needed and Kishorn Port is actively seeking partners with decommissioning experience to take the yard forward.
The port has has also been working in recent years to garner interest from oil and gas fabricators and the offshore renewables industry.
Alasdair Ferguson, a port director, said: "If Scotland is to capture a share of this market, it is essential to invest in and bring on stream sites such as Kishorn and make them 'decommissioning ready.' Dry docks are ideal for decommissioning floating structures in a contained environment, particularly if they can be accessed by super heavy lift vessels that need sheltered deep water up to 38 metres in depth where 70 metres is available to tranship their loads."
Recommended for you

New plans revealed for Ardersier Port include McDermotts heritage centre